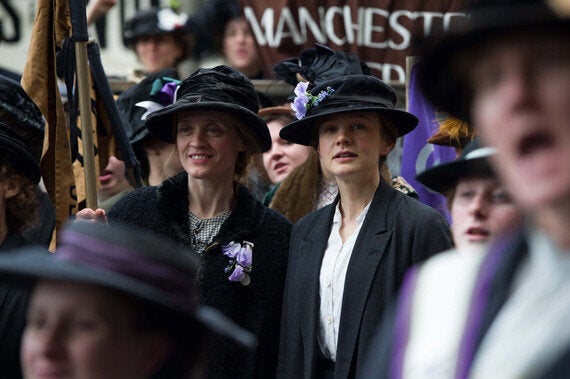 I can barely hide my glee, the 59th BFI London Film Festival opened last night with the rousing, vital Suffragette and it kicked off 12 jam-packed days of some of the most exciting new films filling London's cinemas. There are films for all tastes throughout the programme and tickets are still available for many of the films, so get on to the BFI website and get booking.
Festival Director, Clare Stewart, has declared this year's programme 'the year of the strong woman', so Suffragette was an obvious choice of opening film. Covering the early feminist movement, Carey Mulligan leads the cast and with a female director, writer and producers, it's not just a strong opening film, but an important one too. It's in cinemas on Monday, so if you can't get to see it at the festival, you won't have to wait long to see it.
Strong women appear throughout the programme, including Cate Blanchett and Rooney Mara in Todd Haynes' Carol, which scooped the Best Actress award at this year's Cannes Film Festival. It's playing as the prestigious American Express gala and is already an early contender for next year's awards. Blanchett and Mara could well be up against Saoirse Ronan for next year's acting prizes, as her performance in the May Fair Hotel gala, Brooklyn, has people running out of adjectives for her performance, but 'captivating' has been used more than a couple of times.
Helen Mirren stars alongside Bryan Cranston, in true-life drama Trumbo, about black-listed screenwriter, Dalton Trumbo. Tilda Swinton re-unites with director Luca Guadagnino (I Am Love) in glossy drama, A Bigger Splash and Maggie Smith is in comic mode in Nicholas Hytner's The Lady In The Van. I took my mum to see The Second Best Exotic Marigold Hotel back in March and the trailer for The Lady In The Van played before it and my mum nearly lost her shit. Quite rightly too, any lead performance from Maggie Smith is to be savoured.
Tickets to Room are fast becoming some of the most sought after in the festival. Brie Larson plays, Joy, a woman imprisoned with her son, Jack, for years in a room in a garden outhouse. They manage to escape and Jack begins to discover the outside world for the first time. Directed by Irishman, Lenny Abrahamson, it picked up the coveted audience award at this year's Toronto International Film Festival, and when you consider previous winners include 12 Years A Slave, Slumdog Millionaire, The King's Speech and The Imitation Game, it's in good company.
Black Mass is potentially the point where Johnny Depp manages to turn his ailing career around, playing notorious Boston gangster, Whitey Bulger. Depp is unrecognisable in the role, which hopefully isn't the reason it's already managed to crack the $50m mark in the US. It's the Virgin Atlantic gala at the festival and is a great chance to catch it before its 27 November release.
I'm particularly psyched to see how many times Blue Ruin director, Jeremy Saulnier can make me wince with his follow-up film, Green Room, which stars Patrick Stewart as the leader of a gang of neo-nazis. I'm also hoping to be front row for Jacques Audiard's follow-up to Rust and Bone, the Palme d'Or winning Dheepan. These aren't high profile galas, they are just part of two of the seven strands (same seven as last year) and just manage to highlight the strength and breadth of the program.
I could use up my entire word count just naming films to check out but I want to particularly highlight Tangerine, which has been getting rave reviews everywhere it's played and was shot entirely on an iPhone 5s. Winner of the Grand Prix at Cannes, Son Of Saul is perfect for those who wish to be put through the wringer by one of the most talented new filmmakers in the world and get a sneak preview of a major contender for next year's Best Film Not In The English Language category. Another film that's been a hit at previous festivals is The Witch, which has a spectacularly eerie trailer and, more importantly, features Chris Finch from The Office in a lead role.
The festival concludes, for the third time, with a Danny Boyle film, after Slumdog in 2008 and 127 Hours in 2010. Steve Jobs is written by Aaron Sorkin (The West Wing, The Social Network) and stars Michael Fassbender as the eponymous Apple founder, alongside Kate Winslet and Jeff Daniels. It's reportedly electric and if the pretty buff Fassbender can convince us he's such a familiar and iconic character, it must be good. The next eleven days will go in a flash, so don't get to a week on Monday wishing you'd caught something. It's open to everyone and tickets are reasonably priced, so get involved in one the world's premiere film festivals.
Popular in the Community