Costa Rica is one of the greenest destinations in the world. For first time travellers, it's an overwhelming arrest of the senses; unbelievable sights, a breathtaking backdrop, and a once-in-a-lifetime encounter with some of the most incredible creatures on earth.
With the magic of its untouched rainforest and the colourful wildlife stretching to over 800 species of birds and over 200 mammals, the Costa Rican experience is truly an exotic one. But there's so much more; miles of unspoilt coastline, heavenly forests tucked into the clouds, and volcanoes waiting to be trekked by the most intrepid of us travellers.
This incredible destination is not a one hit wonder but a country you will want to return to time and time again. Because there's simply not enough hours, days or months in the world to discover all of Costa Rica's landmarks and sites of natural beauty. And best of all? You don't have to be rolling in riches to get the best out of Costa Rica.
Here are five amazing experiences that you just have to dive into during your visit to this wonderful country.
Monteverde Cloud Forest Biological Reserve
Imagine trekking at altitudes so high that you can prod your head through wispy clouds and smell the fresh mountain air. Surrounded by Montverde's 25,000 acre reserve of emerald green forest and endless hiking trails to lure you into this beautiful natural maze of greenery and wildlife, Monteverde Cloud Forest Biological Reserve is a must-visit for all. Located in the Northern Plains and three hours from the vibrant city of San José, Montverde is easily accessible and a inexpensive day ($15 for admission).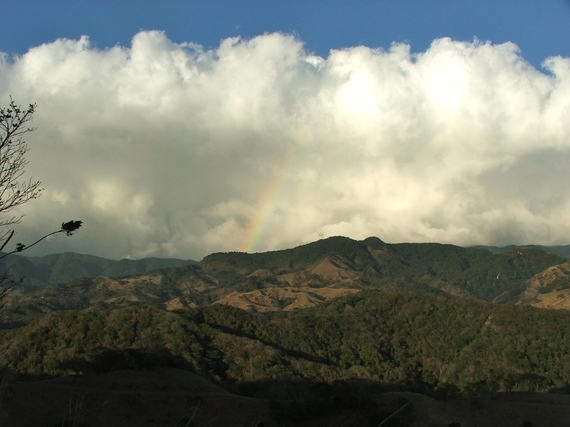 "Rainbow" by Barbora Nemcova is licensed under CC BY 2.0
Volcán Arenal
Parque Nacional Volcán Arenal is the lush, green gateway to the dazzling yet destructive (now dormant) volcano which caused havoc from around 1500 AD until 2010. Back when it was truly active for the last time in July 1968, some 80 people and over 40,000 cattle were killed but it wasn't until 2010 when the threat of ash, explosions and streams of molten came to an abrupt finale. This national park is now a fantastic doorway into an untouched land of beautiful hiking trails, waterfalls, and the stunning Lake Arenal, perfect for adventure. Tours are available from around £30/40 and upwards and you will find the view of Arenal striking both in the day and at night.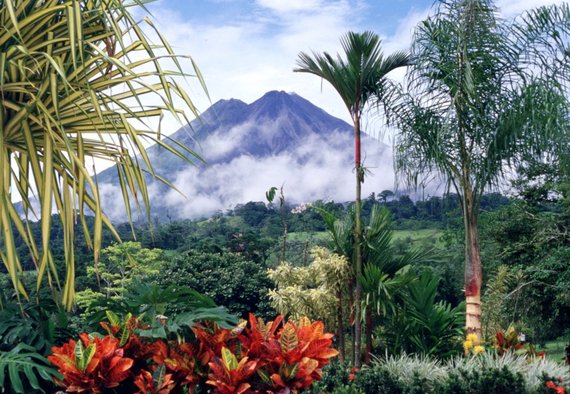 "Costa Rica... No artificial ingredients!" by Arturo Sortillo is licensed under CC BY 2.0
Tabacón Hot Springs
If you're exploring Volcán Arenal, just down the road you'll find the Tabacón Hot Springs. Although the entrance fee isn't much of a bargain, you're paying for a one-of-a-kind experience that can be exploited all day long and the day pass will include lunch or dinner so you don't have to think about forking out for food. Day passes start from $85 USD for adults and $30 USD for children. There are many different packages available so you can upgrade for a little added luxury or you can take advantage of the most serene accommodation at Tabacón.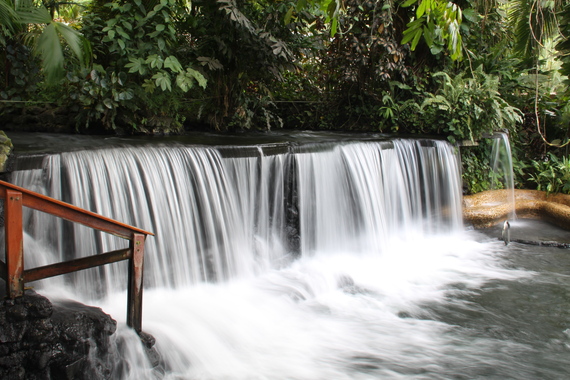 "Hot Springs Blur" by Jeremy Vandel is licensed under CC BY 2.0
Montezuma
The famous Montezuma beach town is not to be missed during your visit to Costa Rica. Ditch your 4WD and spend the rest of your time on foot or balancing on a surfboard. This sleepy, boho town is all about the simple things in life, most of which cost you nothing at all. Cycle, swim, stroll or simply enjoy the views of the beach over the pages of your favourite book.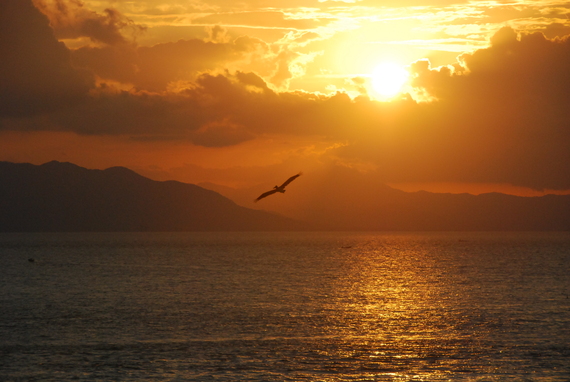 "Montezuma, Costa Rica" by Vsevolod77 is licensed under CC BY 2.0
Puerto Viejo de Talamanca
No experience to Costa Rica is complete without a true taste of the Costa Rican lifestyle, its culture and its incredibly moving music. Reggae runs through the veins of many of the country's residents, and certainly through the heart of Puerto Viejo de Talamanca village. On the Caribbean coast, this wonderful jewel comes alive with funky reggae, loud bamboo bars and a thrilling nightlife.
Whilst you're here enjoying the food, drink and crazy atmosphere with the locals, be sure to pop to the black sand beach or visit the national parks and pretty beaches of neighbouring Cahuita.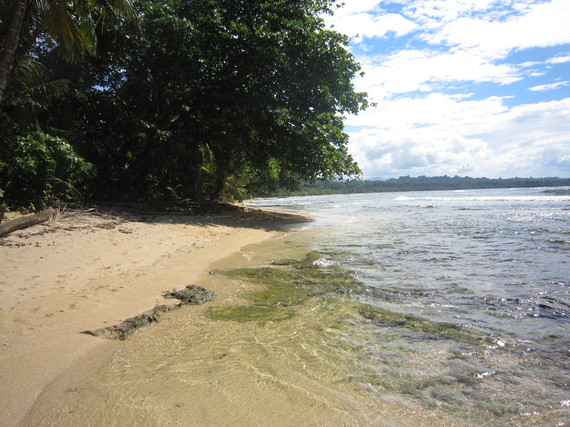 "Puerto Viejo Beaches" by Wilma Compton is licensed under CC BY 2.0
I loved Costa Rica and there's no doubt that it's hard to find anywhere around the globe that delivers as much bang for your buck in such a small area. Whether you've got a week or a month, you won't run out of love for this Central American gem.