Berlin is a city steeped in rich history and is famous for its stunning architecture and creative industry that has produced some fantastic fashion, music and art. The streets are littered with monuments, tributes and reminders of the city's turbulent past.
The city boasts more than 175 museums, more than 50 theatres and over 250 cinemas. For those looking for some nightlife, there are more than 1000 bars, clubs and discotheques to choose from - as well as over 4,500 restaurants.
With so many things to see and do, you want to make sure that you make the most of your time in Berlin. Along with favourites such as the Brandenburg Gate, Berlin Zoo and the Reichstag, here are some of the lesser known attractions and places to visit that you have to experience: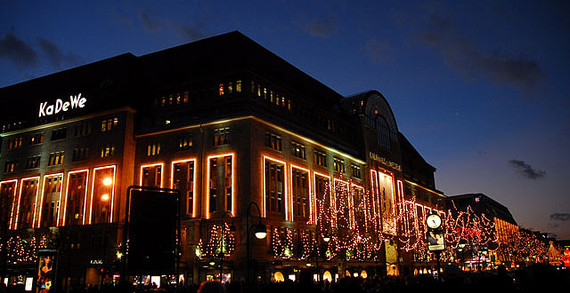 "KaDeWe" by chriscom is licensed under CC BY 2.0
KaDeWe
KaDeWe (The Kaufhaus de Westens) is the largest department store on continental Europe. Opened in 1907, it boasts more than 60,000 square feet of retail space and attracts 50,000 visitors a day. There are more than 350,000 items on sale across its 7 floors (elevators and escalators available!). The top two floors of the building are devoted to food. The 6th floor (delicatessen floor) has more than 30 gourmet food counters stocked by more than 100 chefs and 40 bakers. The top floor boasts a 1000 seat winter garden restaurant offering stunning views of the Wittenbergplatz Square. It's also worth mentioning that the 3rd floor of the building houses Germany's largest luxury shoe department.
Just a short bus ride from Berlin centre and within walking distance, a trip to KaDaWe will live in your memory forever.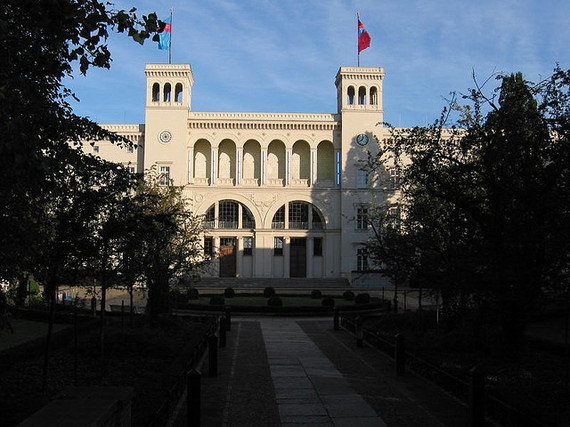 "Hamburger Bahnhof" by Michael is licensed under CC BY 2.0
Hamburger Bahnhof
The Hamburger Bahnhof building is a former train station that closed in 1884. It is now home to a spectacular collection of contemporary art featuring world-renowned artists such as Andy Warhol, Robert Rauschenberg and Anselm Kiefer. There are over 100,000 square metres of art and the entire western side of the ground floor is devoted to the rare works of Joseph Beuys.
This amazing museum is a short walk from the Berlin Nordbahnhof station and is within walking distance of the Brandenburg gates.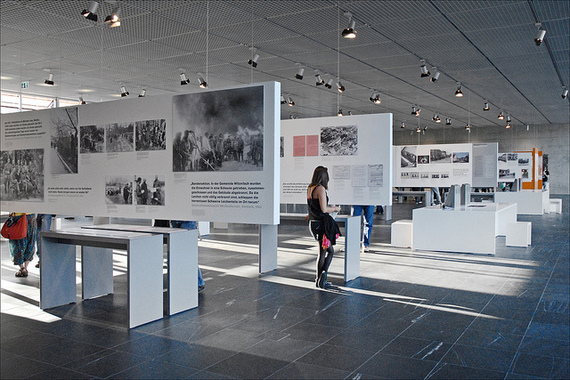 "Topographie de la terreur" by Jean-Pierre Dalbéra is licensed under CC BY 2.0
Topography of Terror
This museum provides a very frank and clinical account of the Nazi State Police, who occupied the site off Wilhelmtrasse between 1933 and 1945. The museum itself is underground and is in renovated Gestapo torture chambers and exists to remind people of the Nazi's rise to power through a vast collection of propaganda, documentation and first person accounts.
The museum is within walking distance of Potsdamer Platz (one of the main train stations in Berlin). Nearby is Checkpoint Charlie, a living monument to a former checkpoint between Russian and American controlled zones and a short section of original Berlin Wall.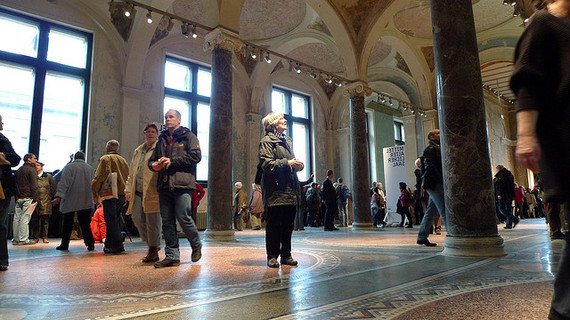 "Neues Museum" by Achim Bodewig is licensed under CC BY 2.0
Neues Museum
This museum is home to one of the world's best Egyptian artifact collections that includes the bust of Queen Nefertiti. Also housed in this building is the Museum of Prehistory and Early History, including the skull of a Neanderthal discovered at the Le Moustier site in France. The museum contains exhibits that trace human evolution from 1,000,000 BC to the Bronze Age and contains many original pieces of gold, ceramics and weaponry.
The museum is next to the famous Pergamon Museum and is within walking distance of the Friedrichstrasse station. Due to it's immense popularity visitor numbers to the museum have been limited, to ensure you don't miss out you really need to book tickets in advance. On rare occasions you can chance it and buy tickets over the counter when you visit, but this is unlikely.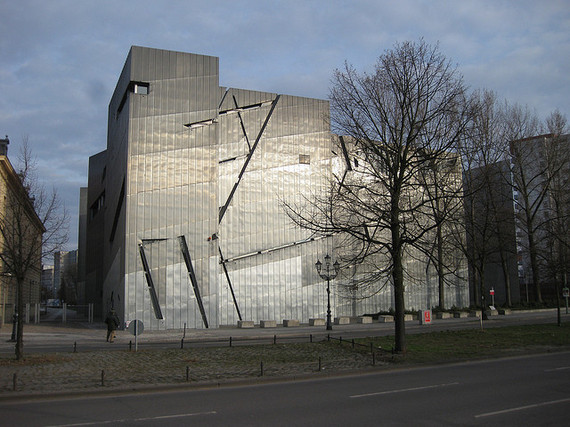 "Jewish Museum Berlin 8" by Dominic Simpson is licensed under CC BY 2.0
Jewish Museum
The Jewish Museum is located in the district of Kreuzberg which is to the south of Berlin centre. When built, the architect aimed to evoke as much emotion from visitors as possible through an eccentric design and route through the exhibits that can be confusing. This is achieved with different level floors and harsh, clashing lines on the main building. The museum focuses on more than the holocaust but shows Jewish history over the past millennium in art, film and the impact that Jewish people have had on the world.
Only a short walk from Checkpoint Charlie, be prepared for security checks when entering the museum.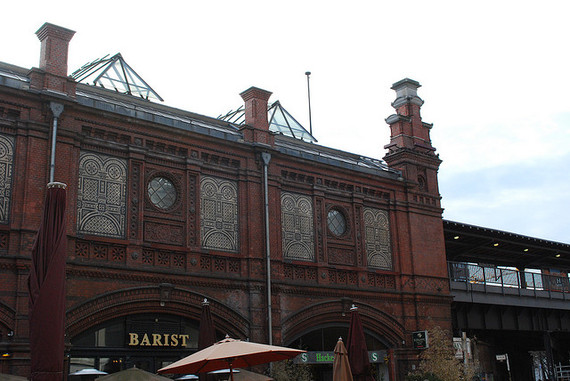 "Hackesher Markt" by Kevin Gessner is licensed under CC BY 2.0
Hackesher Markt
Hackesher Markt in the Mitte district is a busy and active part of Berlin. This is the home of famous designer stores and newer, independent clothing labels offering a variety of unique clothes, boutique items and unusual accessories.
One of the markets main features is a remarkable labyrinth made up of eight individual courtyards that you access through a large, 40's style arched entrance. Along with KaDeWe, this is one of the best shopping experiences in the city. When you're tired of shopping, Hackesher is not short of small independent cafes and restaurants, street vendors and bars.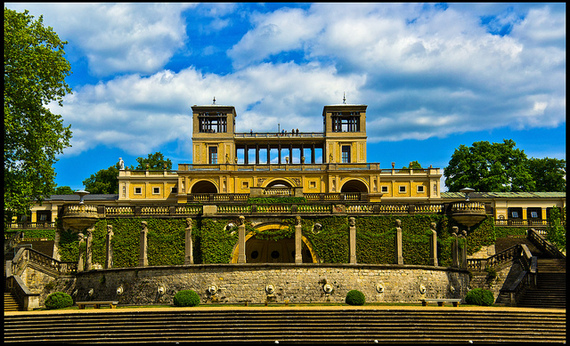 "Orangerie" by Guillén Pérez is licensed under CC BY 2.0
Sansoucci Park
Situated in the South West of the Berlin city district, the Sansoucci Park is the legacy of King Frederick the Great who was the King of Prussia between 1740 and 1786. What started out as an elaborate terraced garden became a sanctuary when he later added a place. The phrase 'Sans Souci' means 'without worries' and the palace grounds became a calm place where the king could pursue his philosophical and cultural interests.
Visitors to the site today can walk around parts of the palace and grounds including a fabulous Orangery and a Spielfestung (a large, childrens play fortress complete with a toy cannon). There is also an exhibit of Chinese and Meissen porcelain and a pagoda café. Visiting the park is outside of the main Berlin city centre, but perfect if you want to escape the city for a day.