There are three things universally acknowledged about the Amalfi Coast: it is beautiful, it is cultured, and it is expensive.
But this article isn't mere click bait; you really can experience this stunning section of Southern Italian coastline without being a Hollywood star or heir to an olive oil fortune. It's a simple question of planning ahead and considering a few sensible, euro-saving tips...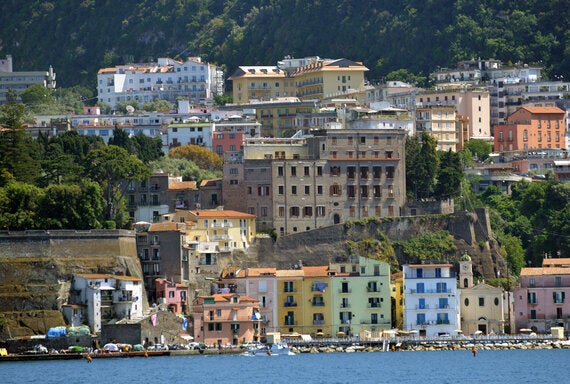 Flights of (not so) fancy
Flights always cost a decent chunk but thankfully there are numerous budget airlines taxiing into Naples International Airport (the closest to the Amalfi Coast) every day. They may not be glamorous but they will convey you conveniently to the heart of Southern Italy, leaving you extra spending money for the rest of your trip.
The cheapest and most scenic way to get down from Naples to Sorrento is on the Circumvesuviana. A short bus ride from the airport will take you to the Circumvesuviana station, from where you take the train through suburbs of varying salubriousness, and then beyond to the coastal stretch of track that provides some painfully stunning views. They are literally awesome, as you rattle down the line looking out at the aquamarine Gulf of Naples and Mount Vesuvius, which the train traverses.

Sorrento is usually the first stop for most travellers on the Amalfi Coast as that's where the train and most coaches from Naples land. And that's because it's a hugely popular place, and for good reason. But if you want to explore other towns on the coast - and you really should - the ferry is great way to do it. Tickets are very reasonable and from Sorrento you can travel around the peninsula to the achingly gorgeous Positano, and onward to the historic centre of this area, Amalfi. Regular, comfortable ferries also go to the isles of Capri and Ischia, and back to Naples too. Ferries are much cheaper than taxis, which aren't inexpensive in this part of the world, they are more comfortable than buses, and approaching towns from the sea is the only way to do it on the Amalfi Coast.
In towns like the mountainous Positano you have no choice but to walk, which seems to come as a shock to numerous red-faced tourists who might not be in the best shape. But walking on the Amalfi Coast is a great way to explore. There are innumerable little lanes to explore and it doesn't cost you a cent. There are also some countryside walks offering yet more amazing views. The Path of the Gods near Praiano is a top tip if you fancy a very special stroll.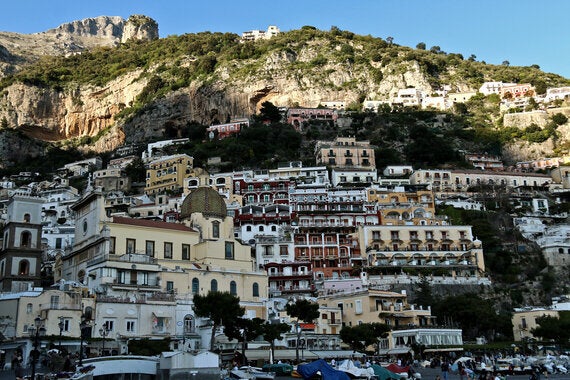 "Positano" by Yomo 13 is licensed under CC BY 2.0
Lots of travellers visit Naples and the Amalfi Coast to explore ancient Roman sites, most often Pompeii and Herculaneum. This is certainly not a bad way to spend a couple of hours, but unless you have money to burn skip the tours. A guide book combined with the free literature available at these sites will do the job nicely, and you can walk around at your own pace.
Italian wine, chilled beer and limoncello make abstaining from booze almost impossible on the Amalfi Coast. Luckily you don't have to, even if you're touring on a budget. Here are a few top tips:
1) Wine and Prosecco especially is much cheaper in shops than bars and restaurants.
2) In a lot of restaurants you'll be brought a limoncello with the bill, so wait it out for a free digestif.
3) Nearly all restaurants offer wine by the glass and half bottle.
Do as locals do (when in Rome, nearly)
To save on food and drink while enjoying top quality refreshment, go where the locals go. Local Italians know better than to waste money on tourist trap restaurants and bars, so keep your eyes open for places full of the more modestly dressed Italians (there are plenty decked out head to toe in designer labels), and follow them (in the least creepy way possible).