Childbirth has become a battleground of opinion. Any discussion about birth can quickly descend into a polarised debate; natural childbirth vs technological birth, home birth vs hospital birth, your view vs someone else's view on what is the safest or best way to give birth.
I believe underpinning all these issues is respect for a woman's right to make decisions about her own body. When I started making the documentary film FREEDOM FOR BIRTH with my partner Alex Wakeford, we (naively) thought how could anyone argue against a woman's fundamental Human Right to choose how and where she gives birth?
FREEDOM FOR BIRTH features academics, lawyers, doctors and midwives all calling for women's rights in childbirth to be respected and women to be afforded real choice in birth. The film highlights how, in some countries today, women who want to have a normal vaginal birth are sometimes forced by judges to have c-sections or are threatened with having their child taken away by child welfare services. In some countries, if a woman wants to have a home birth supported by a midwife, those midwives face criminal prosecution. Some midwives like Ágnes Geréb in Hungary have even been imprisoned.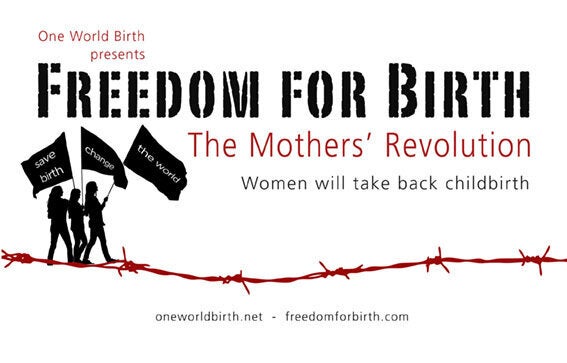 We launched the film on 20 September this year with over 1,000 screenings in 50 countries in 17 different languages. We estimate that up to 100,000 people worldwide saw the film on that day. After the screenings, we had thousands of supportive messages from people appreciative that we were raising awareness of this as an important global issue.
There were also some objections. Australian obstetrician and former Australian Medical Association President, Dr Andrew Pesce, said the film was not relevant to Australia as it was "a long bow to draw" to compare the experiences of a jailed Hungarian midwife and Australia.
"from the perspective of the professional responsibility model, insistence on implementing the unconstrained rights of pregnant women to control the birth location is an ethical error and therefore has no place in professional perinatal medicine. An editorial in Lancet succinctly summarized this point: "Women have the right to choose how and where to give birth, but they do not have the right to put their baby at risk.""
The obstetrician Dr Amy Tuteur recently wrote a blog-post criticising the film (which she hasn't seen) and the Human Rights in Childbirth conference which took place at the Hague earlier this year (which she didn't attend). Dr Tuteur's main objections were that the organisers of the conference and myself are well-off white Western women holding conferences and making films for well-off white Western women. That we don't focus on abuses happening in developing nations and hence the use of the term "Human Rights" to describe violations in rich industrialized nations is "morally grotesque."
It's true, the film exposes routine Human Rights abuses happening in the developed nations. If you total up populations, that's over one billion people. This includes the 800 million citizens living within the jurisdiction of the Council of Europe who are directly affected by the European Court of Human Rights holding (Ternovszky vs Hungary, no. 67545/09, 15 December 2010) saying that a woman has the legal right to choose the circumstances of her birth.
Horrific abuse in childbirth happens every day in developing nations where women and their babies are often denied access to life-saving obstetric care. In fact, we intend to focus on this in a future film.
I believe that just because "worse" Human Rights abuses are happening elsewhere doesn't mean that a film shouldn't draw attention to what is happening now across Europe, the Americas, Australasia and beyond. With the incredible wealth and resources of industrialised nations, you might hope that these countries would get things right, that women's rights would be fully respected, that these countries would set a positive example.
Generations of women have fought for the right to equality, for the right to make decisions about your own body, for the right to have full informed choice and for the right to be respected, yet it seems when it comes to childbirth, some people believe those rights should be surrendered.
We are about to release a free-to-view 15 minute abridged version of the film. We want people to watch it and make up their own minds. We made the film not just because we wanted to reveal a difficult truth but because we wanted to start a conversation with all sides that will bring these issues into the mainstream. We want the film to spark a debate and for that debate to lead to change.
We want all women to be afforded real informed choice as to how and where they give birth, for all women's rights to be fully respected by all care providers and for Human Rights violations to end.
Can anyone argue against this?
Related