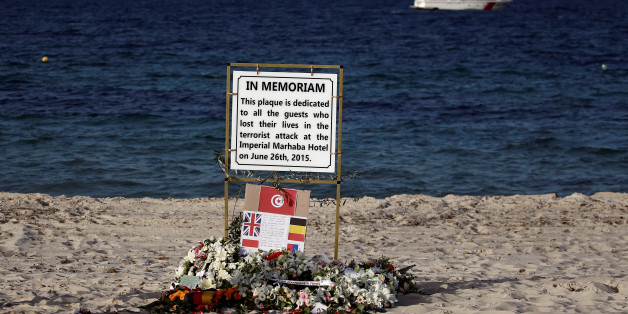 Zohra Bensemra / Reuters
I spent a quarter of a century serving in the armed forces as an RAF Engineering Officer. The RAF train us to protect the UK and its interests and so we are equipped to deal with countless different scenarios and crises.
When I heard the sound of automatic gunfire ringing out on a peaceful Tunisian beach, my training was put to the test. I have personally fired many weapons and distinctly recognise the sound of gunfire. But this was different, this was not a firing range. The screams of terrified holidaymakers, the explosions and incessant gunfire filled the air, how could this be happening on our holiday? For once in our lives, my wife Christine and I were frightened and feeling vulnerable.
We booked a last-minute holiday to Tunisia, joining friends at the Riu Imperial Marhaba Hotel. The morning of the 26th June 2015 was the first and last day of our holiday. We were sitting by the pool like hundreds of other tourists; my wife was relaxing on her sun lounger reading a magazine and I had just stood up to admire the idyllic and serene location.
Within a split second everything had changed and suddenly gunfire echoed along the beach. People were screaming in terror and running in a desperate panic to find safety. Nobody really knows how to react when terror hits. It's confusing, disorientating and it takes time to register what's happening. Actually believing that it's happening is a whole other matter.
Now we know what happened. A lone Islamist terrorist opened fire, killing 38 innocent people and injuring 39 in a swift horrific act. My wife and I were both shot after becoming trapped in a dead end corridor within the hotel administration area whilst seeking refuge with 25 other tourists.
Seven operations later, although Christine still suffers from life changing injuries to her leg and foot, we are so grateful to be alive and at home with our loved ones. We owe this in part to the incredible treatment we received from the medical staff at The Sahloul University State Hospital, Sousse.
After returning by Air Ambulance to the UK and while recovering in hospital, I couldn't help but reflect on the ordeal we had gone through. Despite the excellent medical treatment we received at the hospital, it was noticeably underfunded and lacked many basic facilities. I decided at that moment that I wanted to give something back to the Hospital and staff who saved so many lives that day, so my wife and I launched a JustGiving crowdfunding campaign.
We first shared the page among family and friends, but almost overnight contributions accelerated online and we raised more than £13,000. The funds provided Sahloul University State Hospital with the vital medical equipment they needed. It was an absolute privilege to be able to return to the hospital and personally deliver the proceeds. The Hospital Director was present to receive the equipment in front of a crowd of delighted staff and stated that this was the first time any funds had been raised for their hospital. He continued to say that the medical equipment would have a significant positive impact and would dramatically enhance the care they are able to provide to the local community in and around Sousse. The sirector's sentiment emphasised to me the real power of crowdfunding in action.
Unfortunately, Tunisia is a country now crippled by terrorism. European flight bans have damaged tourism to the once thriving holiday resorts - with figures from the Tunisian tourist board showing a 90% fall in British holidaymakers. This was our own personal way of saying 'thank you' and ultimately a way to shed some positivity on what was such a tragic ordeal. Thank you to all the people who joined forces to donate and make this happen. I hope our 'story' inspires many more people to turn to the power of crowdfunding and help a cause close to their heart.
For more information, or to donate, head to the JustGiving site here