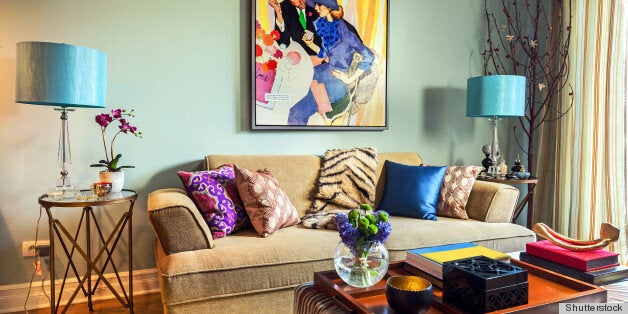 For a new generation the second screen is now their first screen and the expectation is that they should be able to watch whatever they want, wherever they want. Layers of technology fragmentation and battalions of rights lawyers stand in their way.
Social changes in the home are driving new developments in the living room, which are enabled by technology, not driven by it. Trends in the US reveal that the partitions are falling between the traditional living room, dining room and kitchen. The open plan Family Room which sweeps through to the kitchen is on the rise. Anyone looking for a new home in the UK this spring may have noticed a similar trend as families make the most of limited space.
But there's another driver at work here. Today's parents want to engage more with their kids and there seems to be a backlash against the atomisation of the 80s that saw the kids disappear to their bedrooms to watch their portable TVs, listen to their music and play games on their computers. They can now do all these in the living room on second screens - mobiles and tablets - which are increasingly regarded as the first screen of choice by the younger generation.
So what does the future of the living room look like? Henry Jenkins suggests "we can understand the future if we understand what people are doing when it's hard". People are consuming more TV content than ever and the trend is growing, and they are doing it across devices which aren't compatible, do not share common standards and do not make content search and discovery easy. An arcane rights model divides the world into regions and can render content licensed for Northern Ireland illegal less than a mile across the border in the Irish Republic. It also makes content which you can enjoy in your home as a pay TV subscriber, inaccessible beyond your front door (or your trash can if you're in the States). But people persist in the quest to watch what they want when they want, and when it's not legally available, they turn to piracy.
Watching TV beyond the living room or outside of the home altogether, TV Everywhere, is hard to do, so only 10% of those watching on the second screen are doing this out of the home. In the US 2TB PVRs like Dish Network's Hopper record all the main channels during three hours of primetime making the hassle of timed recordings unnecessary. Integration with Slingbox make it possible to take this content away on mobile devices. Content owners are sharpening their lawyers in response, but I don't believe even the lawyers will be able to hold back the wave of consumer demand. Expect rights models to change making it possible for subscribers to take their content with them. Also, expect three to four dominant technology players to eventually consolidate standards and operating systems, making catch up and content discovery services more accessible and effective. Put simply, you should be able to find the show or film you want easily regardless of who you subscribe with or what device you're using. But this consolidation is going to take quite some time...
For the past few years much of the talk about future living room trends has focused on Smart TVs: people interacting with TV programmes, taking part, communicating with friends and buying outfits or products 'as seen on TV' directly through the telly. But the quality of the user experience design has let consumers down and the more natural place for all the above activities is the second screen device, be it tablet, mobile or laptop. Messaging your Facebook friends via your Smart TV Facebook app using a remote control doesn't seem as personal or easy as using your smartphone or tablet.
But the future living room offers more than shopping and commenting while you watch TV. More exciting from a consumer perspective, immersive entertainment experiences, both in film and gaming, could bring the power of spectacle into the home. Microsoft Research's IllumiRoom video brings to life the potential of film and games projections which burst out of the TV frame and across your living room. Don't watch a film, be in it. On a less sedentary note, new sensor tracking technology, such as the Xbox One's enhanced Kinnect sensor, could unleash a wave of participatory fitness and leisure products and services that provide personalised coaching in the home. A 21st Century makeover for Jane Fonda's work out.