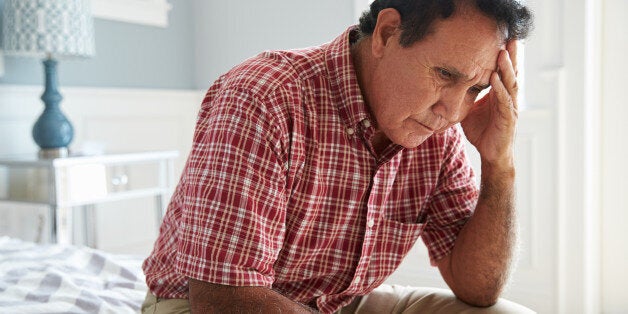 It's 1pm on Saturday 19th November 2016, as many of the male population of the UK prepare to go to watch or play sport, International Men's Day is the top trend on Twitter. Few if any posts mention men over 50, the demographic referred to as 'Invisible Men' by Big Lottery Fund as recently as 2012.
The Statistics for those 'Invisible Men' in the UK do not make for great reading
• The Men's Health Forum states one man in 5 dies before the age of 65
• Depression affects around 22% of men aged 65+ years, yet according to the Mental Health Foundation it is estimated that 85% of older people with depression receive no help at all from the NHS.
• 550,000 men over the age of 65 in England are lonely. Age UK warned in June 2016 that demographic change in the coming years will see many more older men living alone. The number is set to rise by a massive 65% by 2030.
• 323,000 men in the UK are estimated to have dementia, with this figure projected to rise significantly as people live longer.
• 42% of people aged 55+ are inactive compared to 29% of the population as a whole. (Sport England 2016)
Chuck in some equally dispiriting figures around obesity, type 2 diabetes and cardio-vascular problems in fellas and you might be forgiven for wondering if there is any good news for those of us fast approaching 'old age'.
There is hope however. Three clear elements to living well and ageing well involve remaining connected; to our families, friends and communities, being physically active and being mentally stimulated, through learning, reading, conversation etc.
What's good for the heart is good for the brain. Public Health England's strategy of getting Everybody Active Every Day remains a core priority in improving the outlook for the nation's health and Sport England's brand new report 'Towards An Active Nation' has earmarked a £10m investment for projects that help older adults (55+) to get active.
So how can we reach out to those Invisible Men? In launching Building Modern Men, Huffington Post Guest Editor Andy Murray used one of his own Sporting Memories of Wimbledon to introduce the conversation about emotion and mental health. Sport connects, Sport is community, Sport is about is about sharing those moments with fellow supporters. Men may not be great at talking about health and emotions, but many of us will happily wax lyrical with anyone willing to listen about the merits of the beautiful game, muddy pitches, the smell of Winter Green and the taste of Bovril. Sport is a great connector.
Five years ago I co-founded the Sporting Memories Network with Chris Wilkins. Along with The Sporting Memories Foundation charity, our social enterprise uses peoples' sporting memories to promote mental and physical wellbeing in people over 50. We work with communities to establish volunteer-led, intergenerational activities in partnership with sports clubs, libraries, museums, housing associations and care environments. Free weekly groups are established for sports fans to come together to recall tales of great victories and of course, the inevitable defeats we all endure as sports fans.
From a simple concept of using iconic images of sporting greats to help stimulate memories, we now work with hundreds of partner organisations and volunteers to provide safe, fun and friendly environments where men can find their voice once more, rediscover the sports they once loved, make new friends and share problems or concerns with their peers and try out sports such as Walking Football, New Age Kurling & Boccia. Many of our volunteers are older men; the benefits of volunteering on mental wellbeing are widely documented.
The groups are open to anyone over the age of 50. The majority of our participants are men. Any health or social issues are secondary; a passion for sport is our only requirement. Images, film, commentary and memorabilia immediately sparks conversation, debate, sharpens the mind. Many remarkable personal stories have emerged.
Sporting memories groups have men living with dementia attending alongside those who may have depression or those who just love sharing stories and talking sport.
Grant funding has helped us develop training, resources and to evaluate the impact we are having. Our free App makes the reminiscence aspect of Sporting Memories available to anyone regardless of where they may be living. Our emerging work around intergenerational interventions has already provided exciting early data on the positive impact these have on the mental wellbeing of children and younger adults and the perception of values between generations.
Fun and tears of laughter are a frequent positive feature at Sporting Memories groups. Old Boys Do Cry too......
HuffPost UK is running a month-long focus around men to highlight the pressures they face around identity and to raise awareness of the epidemic of suicide. To address some of the issues at hand, Building Modern Men presents a snapshot of life for men, the difficulty in expressing emotion, the challenges of speaking out, as well as kick starting conversations around male body image, LGBT identity, male friendship and mental health.
To blog for Building Modern Men, email ukblogteam@huffingtonpost.com. If you would like to read our features focused around men, click here