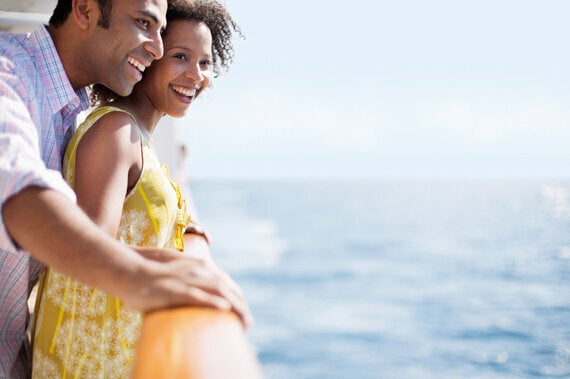 With National Cruise Week running until 29 September, cruise companies will be doing their best to woo new customers onto their ships. If you've been considering setting sail, but still aren't convinced, this one's for you: a list of the top five misconceptions about cruising.
Fear not, pasty landlubbers! The chances of seasickness are slim at best. Modern cruise ships are equipped with powerful hydraulic stabilisers, which regulate motion and keep the vessel nicely balanced. Most of the time, you'll be blissfully unaware of any movement - particularly on larger ships. And if you do feel sick, there are loads of over-the-counter remedies (anti-nausea wristbands and scopolamine patches for example) that will help take the edge off.
Cruising is only for old people
The idea that you will be the only young person on board, surrounded by old folks playing bridge, is probably the biggest misconception about cruising. Sure, old people go on cruises, just as they go on all holidays, but ships these days are kitted out with every age group in mind. On Royal Caribbean ships for example, you'll even find zip lines and rock-climbing walls. And the idea that young people aren't interested in cruising is starting to look increasingly dated. When we surveyed 2,000 adults this year, 60% of travellers aged under 25 said they'd be tempted to book a cruise if cruise lines introduced more overnight stays in port.
You have to eat with the same people every night
Once upon a time, this was generally true - you'd sit down to dinner on the first night and wait to see which dining companions you were to be saddled with for the coming week. As the drunken loudmouth with personal hygiene issues swerved towards your table, you had to quickly decide whether to make a quick dash back to port. Fortunately, the cruise industry has changed. Most cruise lines offer flexible dining options these days, with everything from buffet to speciality restaurants and even the odd celebrity-chef alternative.
I won't get a real sense of the places we visit
It's true that stopovers are rarely more than a day or so, and that you won't be able to immerse yourself in the ways and customs of the locals during a day in port. However, it's also true that cruising can be the best way to see some places. If you're visiting the Norwegian fjords, for example, you'd be hard pushed to find a better way of getting an up-close look than from the deck of a ship. Consider some of the smaller vessels (the Hurtigruten fleet for example), which will take you to small towns and explore narrower channels than can be reached by larger cruise ships.
Similarly, not all of us can afford to tick off the islands on our Caribbean wish list by returning year after year. Heading there on a cruise is great way of seeing a handful in one go, while giving you a chance to get a feel for the region as a whole..
Not likely. Competition in the cruise world is fierce; cruise lines are constantly attempting to outmuscle each other with newer, bigger, better and bolder facilities. Surf simulators, water parks, lavish theatre shows, 3D cinemas and state-of-the-art fitness centres are the norm now. For a snapshot of where the modern cruise ship is going, look no further than Royal Caribbean's new-for-2015 Anthem of the Seas. Facilities on this 5,000-passenger behemoth include the jewel-shaped North Star capsule, which juts out 300 feet above sea for 360-degree views; a sky-diving simulator; and the SeaPlex, with bumper cars, a circus school with a flying trapeze and roller skating.
Rory Batho is the senior copy editor at Travelzoo UK, and is based in the London office.