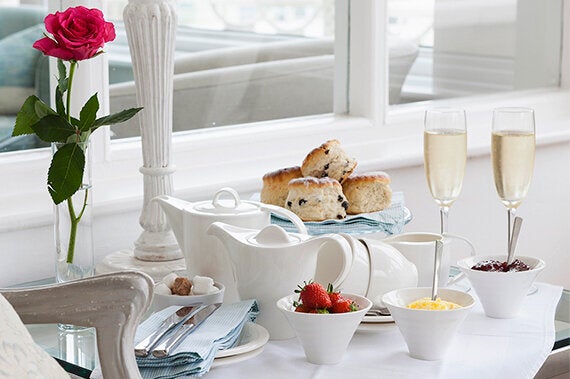 Legend has it that afternoon tea was invented by Anna Russell, the 7th Duchess of Bedford, in the early 1800s. At the time, many people would eat only two meals a day - one in the morning and another in the evening. Anna, perhaps unsurprisingly, found herself on the peckish and irritable side once too often and, being the well-heeled lady of leisure that she was, decided to do something about it.
Naturally, a pot of tea and a dainty snack was deemed the sensible solution and a tradition was born. Before long, everyone in fashionable society was at it. It's a ritual that has been observed ever since, but recent years have seen an explosion in the number of establishments serving up their version of this tasty treat.
So what makes the perfect afternoon tea? Opinions differ of course, but here are the five most crucial components according to us.
The humble scone - it's not much to look at and without its condiment toppings, it's not much to taste either. But make no mistake, this is the undisputed cornerstone of the whole afternoon tea experience. The perfect scone must be oven-fresh, light in texture and just a little crumbly. If a venue has got their scones right, you can be confident the rest will follow. The only thing you should be worried about is whether to put jam or clotted cream on first. (The answer is cream, just so you know.)
Afternoon tea might have started as a daily tradition for 19th-centuring aristocrats, but for the majority of us who don't have that luxury, it's a special event and something to savour. And given the degree to which afternoon tea is bound up with matters of tradition and etiquette, service is probably even more important than it would be during a regular meal.
These days there's an added dimension. People who go for afternoon tea are often treating a loved one to a special outing. They want to feel pampered and looked after - a little stuffiness is fine (actually expected in some cases), just as long as it doesn't spill over into surliness.
Some meals just demand to be taken in a certain setting. Fish and chips tastes better on the beach in Whitby; a roast dinner will almost certainly be improved if it's served in a rural pub, with an open fire crackling in the background; and of course, a kebab can only be fully enjoyed around 2am, at a city-centre bus stop.
Afternoon tea is no different. We're not saying there's a bad way of drinking tea or champagne and eating cakes, but if you can do it somewhere traditional and refined, then so much the better - something befitting of the Duchess of Bedford who started this whole thing.
Finger sandwiches to be precise - and they should be sufficiently dainty and light that you feel you could eat about 348 of them. And of course, we all know that crusts have no place at this particular party.
We love a traditional afternoon tea, but there are some places out there that have taken the experience to another level - Mad Hatter's Tea at the Sanderson (a Wonderland-themed experience), Japanese afternoon tea at the Hilton London Tower Bridge, chocolate afternoon tea at Flemings in Mayfair to name just a few. If you're a veteran of the tea scene, a little walk on the wild side won't hurt. One proviso: always scones, it's not afternoon tea without scones.
Rory Batho is the senior copy editor at Travelzoo UK, and is based in the London office.