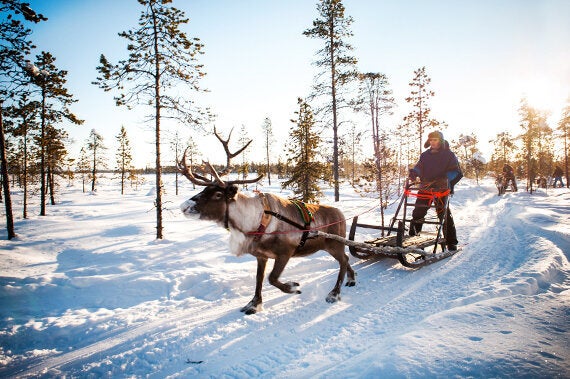 Thinking about a last-minute visit to Father Christmas? Or maybe a 2015 break to northern Europe's remote winter wonderland? Here's everything you need to know.
It's tempting to think of Lapland as a sort of compact, magical kingdom, with Santa's Grotto secreted away in a forest at its centre. In reality, it's a vast swathe of land just inside the Arctic Circle (much of it extremely inhospitable), stretching from Norway in the west, through Sweden and Finland and into Russia in the east.
But I just want to take my kids to visit Santa. Where should we go?
If you're looking for the quintessential Christmas trip, you'll find a range of 3- or 4-day holidays to Swedish or Finnish Lapland out there. Finland trips will typically include a visit to Santa Park or Santa Claus Village (both in Rovaniemi), where your kids can meet the man himself.
Holidays in Swedish Lapland follow a similar format, and some will combine a visit to Santa with a tour of Jukkasjarvi's Icehotel (yep, it really is a hotel made entirely of ice).
What else can we do in Lapland?
That will depend on your exact destination, but most trips will include some or all of the following: husky-drawn sleigh rides, snowmobile excursions, reindeer farm visits and Northern Lights tours.
You could always combine your Lapland experience with a city break -- Tromso in Norway (the jump-off point for many trips) is worth an extra day or two of your time. Located on an island and enclosed by fjords, this compact city is home to multi-hued wooden buildings and an impressive range of museums and restaurants. It's also a renowned spot for viewing the Northern Lights.
Is it true we can go to Lapland on a day trip?
Yes, absolutely. It could well be one of the most expensive days of your life, but there are plenty of trips available. Transun, for example, has day trips to Finnish Lapland from £489, which cram in return flights, a snowmobile trip, a husky-drawn sled journey, a reindeer sleigh ride, a family meeting with Santa and loads more.
Is Lapland suitable for kids of all ages?
Lapland is usually recommended for children aged four and up. Obviously the younger ones will be desperate to meet the man in the red suit, but older ones will also enjoy the outdoor activities.
When's the best time to go?
The most popular time is the run-up to Christmas, but it's worth remembering that Lapland isn't just a festive theme park. If you're unencumbered by Christmas-crazed children, but still want to experience the full wintery wonder of Lapland, any time between November and April is a good bet (January onwards being a good time to find reduced rates). Bear in mind that you'll stand a better chance of seeing the Northern Lights between November and February.
What's the easiest way to get there?
The easiest way is undoubtedly to join one of the organised trips mentioned above. However, if you want to make your own way, Finnair operates daily flights from London Heathrow and Manchester to Rovaniemi. You could also fly to Tromso (Norwegian operates regular flights on this route) and make your way from there. For a full range of options, search on Fly.com. If you're looking to organise accommodation separately, where better to start than the Hotel Santa Claus in Rovaniemi?
And finally, how cold is it?
In a word, very. Temperatures range from a balmy 0°C to a bone-numbing -25°C, so be sure to pack your finest thermals and woolly hats.
Click here to see more recommendations for ski and snow holidays.
Rory Batho is the senior copy editor at Travelzoo UK, and is based in the London office.