With the Tour de France well under way, Britain's Chris Froome is looking like a nailed-on certainty for the yellow jersey. This year's Tour hopefuls have already cycled through a range of flat and hilly terrains, encompassing the Netherlands, Belgium and of course France, ahead of the final stage in Paris on 26 July.
Cycling is in vogue right now and many cities across Europe are investing in cycling infrastructure in order to improve traffic conditions and promote green living. Here are ten cycle-friendly cities well worth discovering: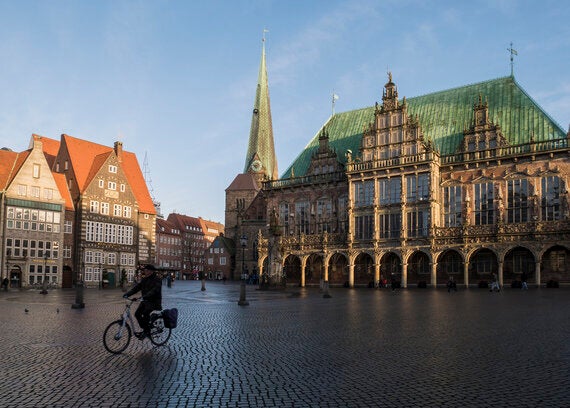 (Source: Robin TOURNADRE, Flickr)
Bremen is a beautiful city with a highly justified reputation for being outward-looking and hospitable. This German city state has a fairytale charm, no more evident than in its market square, which is home to a bronze statue of the Brothers Grimm's Town Musicians of Bremen and a Gothic city hall (pictured). Visitors can rent bikes from the Radstation just outside the central station and explore the area thanks to the ample cycling infrastructure. Whether it's a breezy ride along the River Weser or an afternoon cycle through Central Park Wallanlagen, you can be sure to feel at home in this charming municipality.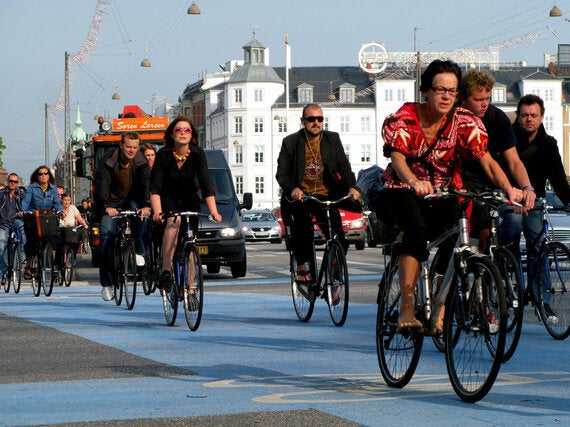 (Source: Colville-Andersen, Flickr)
Since time immemorial Copenhagen has been regarded as the cycling capital of the world. Its vast cycle network and uniform urban design remains the benchmark for inner-city cycling. The Danish capital is awash with cobbled medieval streets and broad 20th-century boulevards, ensuring a variety of favourable cycling conditions. By continuing to invest in boldly progressive infrastructure, Copenhagen refuses to stand still either. In addition to a newly-erected bicycle bridge over a motorway north of the city, two bridges over the canal were opened in December 2014, with four more on the way. The famous Cykelslangen ("bike snake") is an elevated bike ramp that has captured citizens' imagination and provided an important mobility link across the harbour.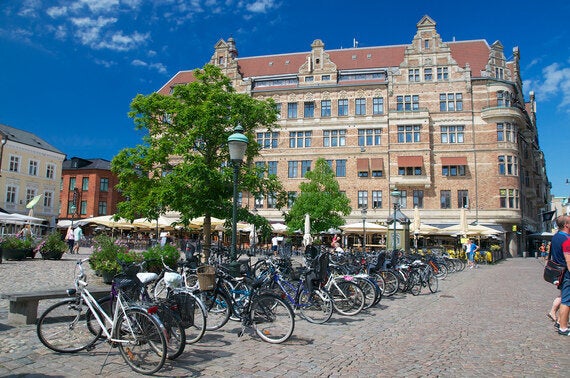 (Source: Maik Meid, Flickr)
Connected to Copenhagen by the Öresund bridge, Malmö is the main city in Sweden's most bicycle-friendly region and like its Danish cousin, invests heavily in cycling infrastructure. The city's government has committed €47 million to boosting bicycle traffic over the next seven years, and in 2013 opened an impressive bicycle parking facility at its central train station. Malmö promotes safe-cycling including the use of helmets without resorting to scare-tactics. Visitors to the city can expect to find a cosmopolitan environment with beautiful parks, contemporary museums and some seriously good cuisine.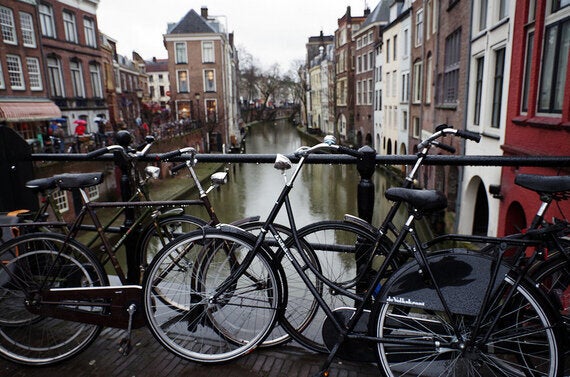 Utrecht is the smallest province in the Netherlands and has a diverse landscape. Visitors can be sure to cycle up and down wooded hills, through picturesque valleys and along lakes. With the highest proportion of bike users in the Netherlands, the city certainly has certified cycling credentials and it hosted the opening stage of this year's Tour de France. Currently under construction at its Central station is the world's largest bike parking facility, with space for 12,500 bikes. Like Amsterdam, Utrecht offers a number of guided tours which take in its historic city centre as well as the surrounding area. Given that bicycle rental is easy and relatively inexpensive, visitors can also embark on long-distance routes to explore more of what the Netherlands has to offer.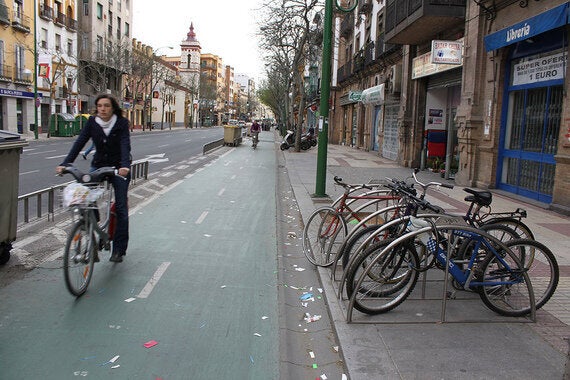 (Source: BikeTexas, Flickr)
Back in 2006, under 5,000 Seville civilians used bikes daily in the city. Then, thanks to visionary political will, within the space of a year 80 kilometers of green cycle routes were paved throughout the city. Now 70,000 bikes take to Seville's streets each day, and the city is considered the poster child of the modern bicycle planning movement. Its central boulevards are closed to all but cycle, tram and taxi traffic, and a city-wide municipal bike hire scheme offers 2,600 bikes from 260 docking stations - perfect for tourists who wish to get around. Visitors can explore the city's beautiful ancient architecture, including stunning UNESCO World Heritage sites Seville Cathedral and the Alcázar.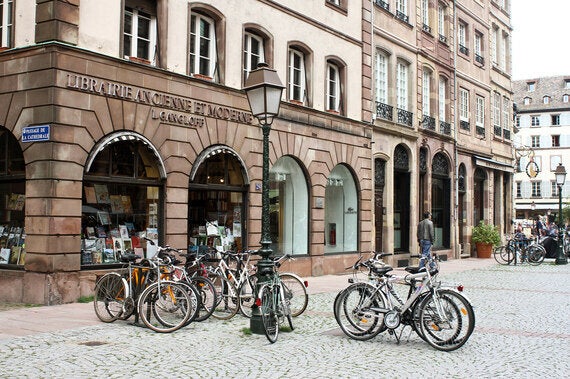 (Source: Alejandro De La Cruz, Flickr)
France's premier cycling city, Strasbourg entered the cycling game in 1978, and today it boasts 333 miles of cycle routes in the city centre and its surrounding metro area. Like other cities on this list, a large part of the city centre is a car-free zone and it has a bike-sharing system, Vélhop, which starts at €5 per day and includes bikes customised with childrens' seats and baskets. The Alsatian capital is seeking to consolidate cycling as a major form of transport in the coming decades, with plans afoot to build the Vélostras network of three orbital and nine radial cycle routes by 2020. The aim is to encourage residents to use bicycles for longer journeys, guaranteeing a cruising speed of at least 20 kmph.
7) Amsterdam, Netherlands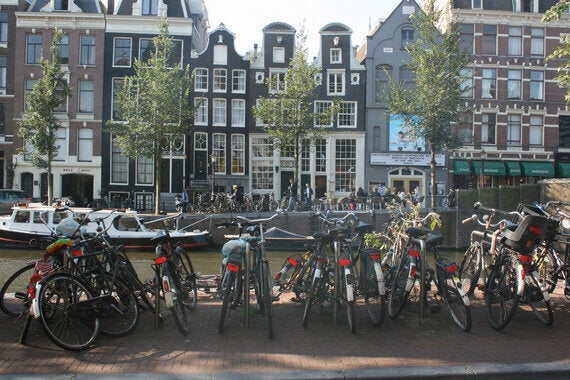 (Source: Mike Thomson, Flickr)
Amsterdam, that haven of liberal tolerance, is renowned the world over for its cycling. Two-wheeling is a way of life in the Dutch capital, as residents eschew motorised transport to cycle to work, to the shop and to meet friends. Amsterdam has a wide net of traffic-calmed streets and boasts world-class cycling facilities. Bike paths flow throughout the city, and there are many bike racks as well as bicycle parking stations, which can be used for a nominal fee. The guided bike tours on offer are a great way for visitors to travel through this spellbinding city and learn about its rich history and culture.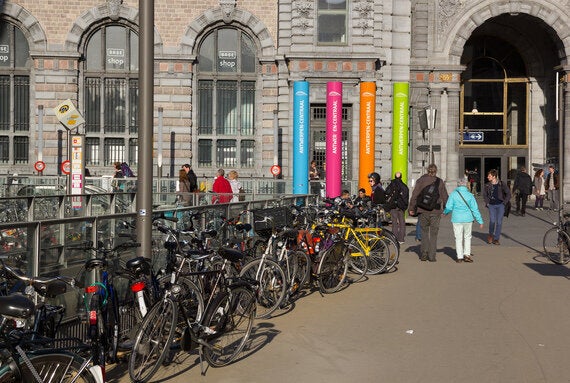 Antwerp is Belgium's hipster capital and home to baroque artists, a vibrant club scene and one of Europe's biggest ports. When it comes to cycling provision, Antwerp is clearly influenced by its Dutch neighbours. There are ample parking facilities around the city, and the train station parking is one of the best in Europe. The bicycle as transport is embraced by people of all ages, from all walks of life. Visitors to the city have excellent opportunities to embrace bike-share systems and explore 100 km of cycle routes.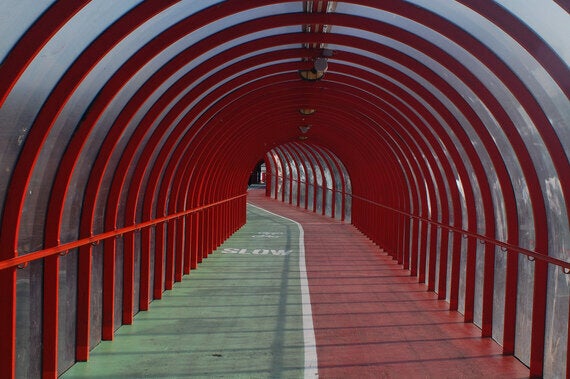 Scotland's biggest city blends sophistication and earthiness, and is packed with stylish restaurants, Victorian architecture and brilliant museums. Glasgow is going through something of a renaissance, and as such its cycling infrastructure is improving every year. There are currently over 300 km of cycle lanes of various types, including segregated, shared and marked on streets. The Red Tunnel in trendy Finnieston (pictured) leads to the Hydro and offers a safe haven from the city's busy streets.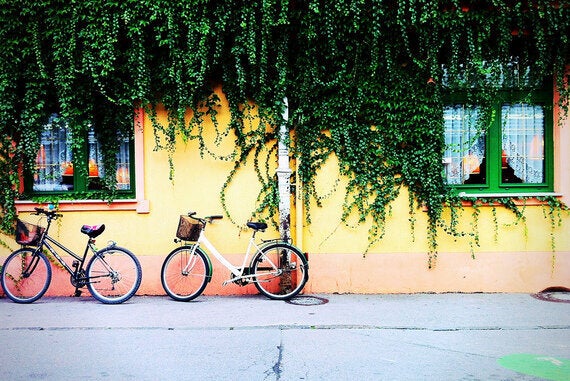 (Source: Ivana Vasilj, Flickr)
Ljubljana is very cycle-friendly, though you'd expect nothing less given that the oldest preserved wheel in the world was discovered in a marsh nearby. In the late 60s and early 70s, 25 miles of Copenhagen-style cycle tracks were built across the city, and there are currently 130 kilometers of bike lanes and 70 kilometers of cycle tracks. Car traffic is restricted in the centre, leaving the leafy banks of the emerald-green Ljubljana River free for pedestrians and cyclists. Visitors can hire a bike and marvel at Slovenian early-modern minimalist design while riding over the city's alabaster bridges. The 2016 European Green Capital is well-positioned for further growth.
Related