The Christmas market originated in Germany, Austria, South Tyrol and Alsace, but has now spread throughout Europe to become a popular tradition. Generally opened around four weeks before Christmas, the 'Christkindlmarkt' celebrates everything about the holiday season and is guaranteed to evoke a festive spirit in visitors. From one of the oldest German markets to lesser-known gems in Wroclaw and Maastricht, we have compiled a list of our top recommendations. Look no further for unique arts and crafts, gift inspiration and copious amounts of mulled wine, gingerbread and other local specialties.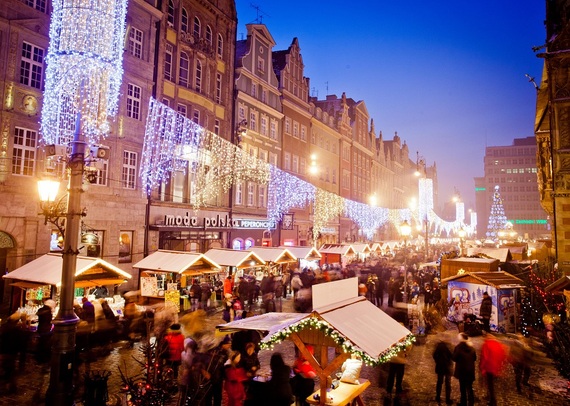 Wroclaw's Christmas market (or 'Jarmark Bozonarodzeniowy' in Polish), begins on Swidnicka Street and runs through the market place to the old city. Everything from handmade soaps to leather and woollen goods are available to buy here, alongside the traditional Christmas sweets, decorations and souvenirs. Food-lovers can enjoy regional specialities, such as the typical 'Oscypek' hard cheese, and international specialities, such as Hungarian Kolaches or Lithuanian sausages. Visitors can warm up with the Polish version of mulled wine ('grzaniec') served in festive mugs, try their hand ice skating at the outdoor rink, or enjoy the decorative nativity scenes and huge Christmas tree.
Opening days: 22 November to 22 December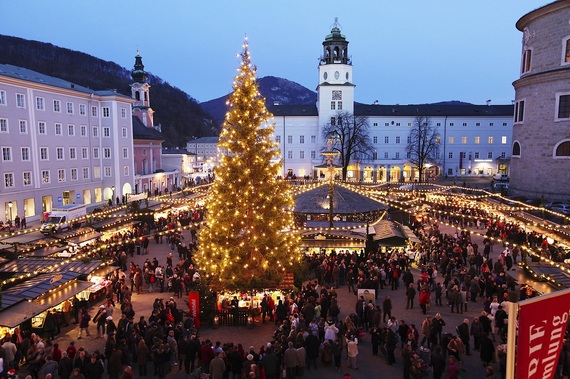 Image source: christkindlmarkt.co.at, Salzburg
The Salzburg Christmas market is centrally located in Residence square, at the foot of the Hohensalzburg fortress in front of the picturesque Salzburg Cathedral. The centrepiece is a 28-metre tall Christmas tree, best viewed when lit up at night time. The market prides itself for the diversity of its items, from objets d'art to tree ornaments, traditional handicrafts and fine baked goods. Mulled wine is popular here, alongside punch, Salzburg pastries and roasted chestnuts. Guests can enjoy performances by Salzburg choirs and children's school groups throughout the festive period.
Opening days: 21 November to 26 December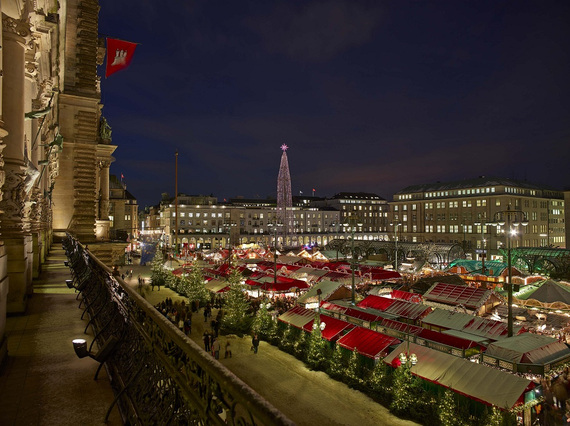 Image source: R. Hegeler, mediaserver.hamburg.de
Germany is famed for its Christmas markets, and Hamburg is no exception. The largest and most popular is located in the square outside Hamburg's impressive town hall, boasting the motto "art instead of commerce". It is operated by Roncalli's Circus, with the traditional mulled wine ('glühwein') served by clowns and circus artists. The market boasts a range of products from all over Germany, included gingerbread from Nuremberg and pottery by artists from the Lausitz region. On each of the Saturdays leading up to Christmas, the Christmas parade attracts locals and visitors alike with decorated floats and festive music.
Opening days: 25 November to 23 December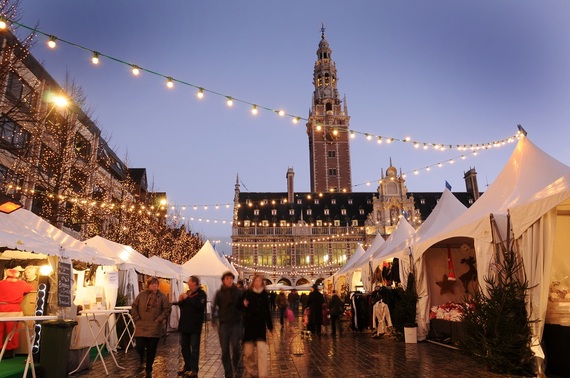 Image source: Sofie Hoste
Leuven Christmas market consists of 140 stalls in the Herbert Hooverplein and adjacent Monseigneur Ladeuzeplein in the old centre of Leuven. Visitors can expect Christmas lights, a life-size nativity scene, musical performances and fun fair rides. There is even a forest in which children can visit Father Christmas. The stalls sell everything from traditional Christmas items to candles, oil lamps, floral decorations and books. Visitors should not miss the nearby Stella Artois brewery, offering special tours throughout the Christmas period.
Opening days: 13 December to 31 December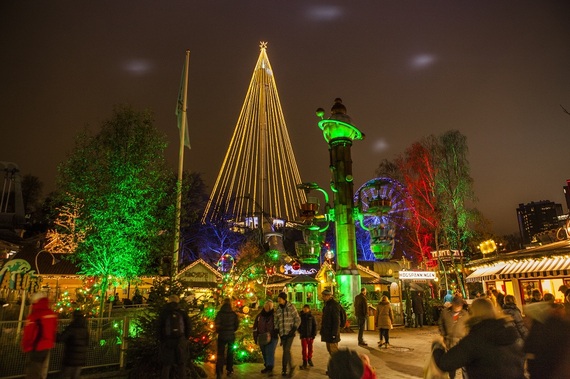 Image source: Liseberg
Sweden's largest Christmas market is held at the Liseberg amusement park in Gothenburg. The market boasts an impressive 5million Christmas lights, transforming Liseberg into a winter wonderland. Guests can walk through the themed areas, including a medieval camp and a recreated Lapland, complete with Santa, reindeers and northern lights. Besides the 80 traditional Christmas shops and stalls, there is a 'Designtornet' arts and crafts market perfect for finding unique Christmas presents. Visitors can try Swedish candy cane ('polkagrisar'), smoked fish, baked goods or those with a large appetite may want to book a table at the west-coast inspired Christmas buffet.
Opening days: 15 November to 29 December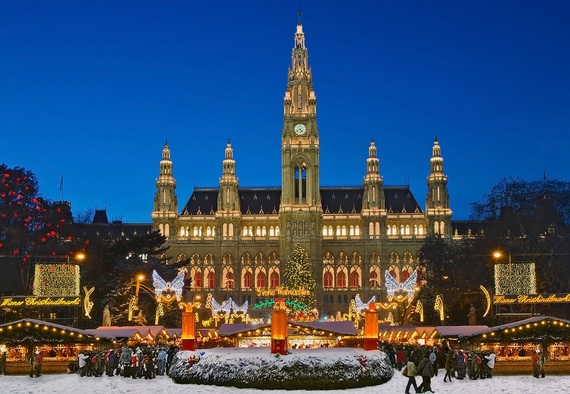 Image source: Ben Burger, Fotolia
Dating from 1294, the Viennese Christmas market is held against the majestic backdrop of the City Hall. The market is named the 'Vienna Magic of Advent' due to the festive lights adorning the stalls, the City Hall and the trees of the adjoining Rathauspark. Visitors are drawn by the sound of international choirs singing carols and the smell of crystallised fruit, candy floss and mulled wine. Some 150 wooden stalls sell Christmas gifts and tree decorations, while children can enjoy pony riding in the park and arts and crafts in the City Hall.
Opening days: 16 November to 23 December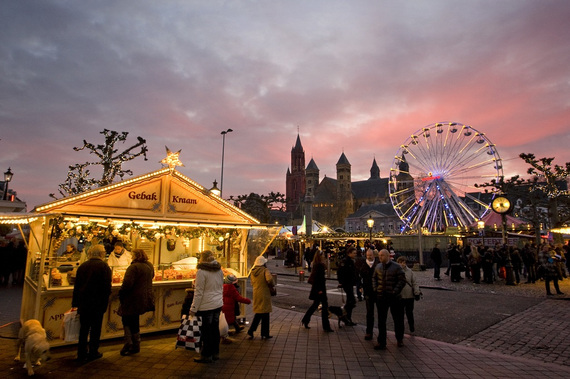 Image source: Magisch Maastricht
Known as 'Magical Maastricht', this Christmas market can be found in Maastricht's centrally located Vrijthof square, surrounded by churches, restaurants and bars. The centrepiece is a 100-square metre ice rink, where visitors can try their hand at skating whilst surrounded by Christmas festivities. Travellers should also not miss the 60-metre tall ferris wheel, providing panoramic views over the lights of the city. The market specialises in locally sourced items and products, in particular the traditional Dutch pancakes ('poffertjes') enjoyed with butter and icing sugar.
Opening days: 30 November to 30 December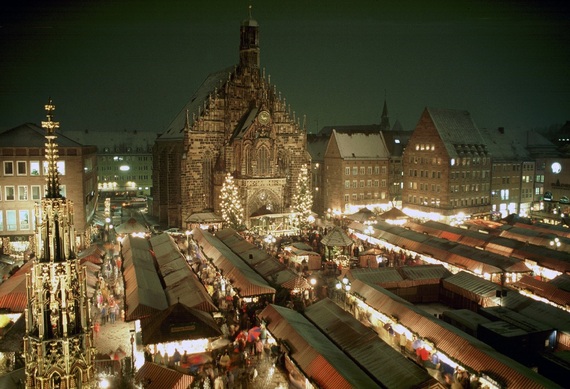 The Nuremberg Christmas market is famed as one of the oldest in Germany, held annually in the city's central market square since the 16th Century. Many traditions remain intact, such as the official opening of the market by the 'Christkind', who recites a traditional festive prologue on the Friday before the first Advent Sunday. Alongside the widespread grilled sausage, mulled wine and fresh gingerbread, Nuremberg is also renowned for its 'Zwetschgenmännle'. This is a small doll made from dried plums, nuts, raisins, and figs, which makes a popular souvenir.
Opening days: 29 November to 24 December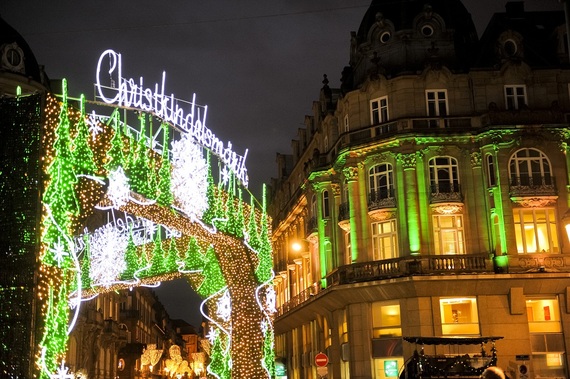 Image source: Pascal Bastien
In operation since 1570, the 'Christkindelsmärik' in Strasbourg is France's oldest Christmas market. It extends over several streets and squares of the city, in particular the famous Broglieplatz and Münsterplatz. Visitors can choose from a selection of arts and crafts, Christmas decorations, 'Bredele' (traditional Christmas biscuits from Alsace) and the famous chocolate Yule log. The focal point of this market is the 31-metre Christmas tree, adorned with festive lights and capturing visitors' attention in the centre of Kleber-Platz.
Opening days: 29 November to 31 December
10) Merano, Italy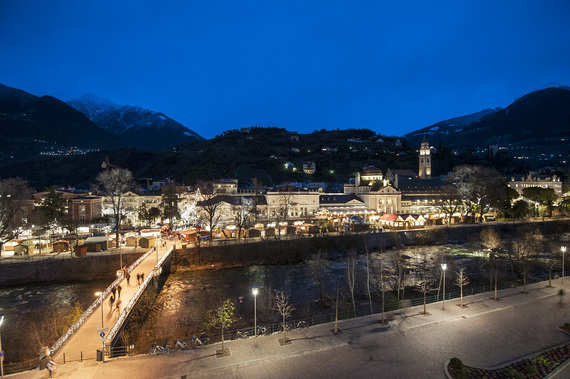 Italy's Merano Christmas market opens its doors for the 27th time this year. This market is famed for its festive atmosphere and picturesque location, alongside the Passer River promenade with an Alpine mountain backdrop. Guests can browse from close to 80 different stalls for their Christmas presents and pick up trademark items such as sheep wool products, wooden toys, felt slippers and woollen socks. Children will love the range of craft and cookery workshops, pony rides and Advent stories.
Opening days: 29 November to 6 January