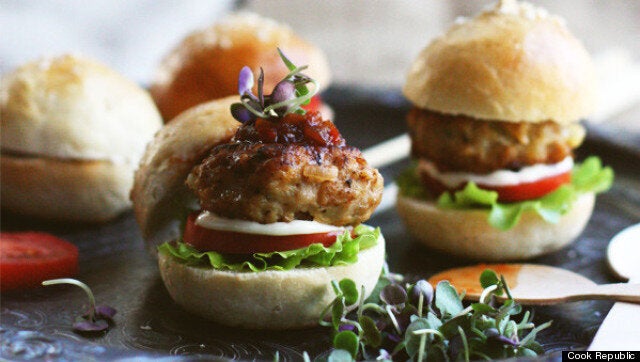 Photography: Clare Winfield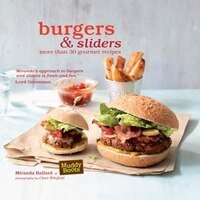 Burgers & Sliders comes from the same creative minds who created Muddy Boots, a company making their own burgers so they really know their stuff. Burgers have become a regular on menus and in supermarkets but it can be hard to get hold of really good quality ones - making your own is a great way to get healthy, tasty meals every time and this book is full of amazing recipes and interesting combinations.
The recipes are easy to follow and most of them can be made with things that you either have already in the kitchen or wouldn't take much shopping to pick up. There are a lot of familiar burgers but Ballard has pushed the boat out using different ingredients and unusual combinations so there are a lot of original ideas to try out. The font is a little small which makes it a bit harder to read along as you're cooking, but this does mean that none of the recipes go over one page.
The photography is beautiful all the way through with classic styling and lots of gorgeous images to make you hungry. Burgers & Sliders is quite short, only about fifty pages of recipes but with such a niche topic everything is still well covered. The sides are also excellent, the slaws; sauces; and fries finish the book off nicely. The Hot and Smoky Barbecue Sauce is especially good. The only thing missing are bun recipes as all of the recommendations for rolls, pitta breads and naans are without recipes and it would be good to have homemade options to do the burgers justice.
My favourite recipes are the Beef, Roasted Red Pepper & Lime burger; the Pork and Cider Burger with Blue Cheese & Asparagus; the Cheesy Root Vegetable Burger with Mustard Mayo and the Pork & Apple Sliders with Caramelized Apple Slices.
This is a very fast and delicious introduction to burgers and sliders just in time for summer.
Disclaimer: I received a copy of 'Burgers and Sliders' from Ryland, Peters & Small