Photography: Paul Winch-Furness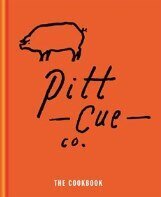 The introduction to this mouth-watering cookbook is a history of barbecue and where Pitt Cue Co. came from. They point out the number of variables that go into making a good barbecue and so trial and error as well as knowing your ingredients is vital. The images throughout from the Drinks to Dressings are beautiful.
The drinks section has a brief history of bourbon and some wonderful cocktails - from the very simple Pickleback to the more flamboyant French Toast. It's a long section but I love seeing the drinks at the start of the cookbook and they are so different and so much fun that it's a lovely fresh way to start - much like the recipes themselves.
This is a really innovative cookbook and so a lot of the recipes are quite unusual, they have tackled this brilliantly and each recipes has a note with it that either explains why a particular ingredient was chosen, where the idea came from or why it works so well. The introductions to each section are also brilliantly informative without ever being dry. The range that is presented in what could appear to be a very niche book is great to see and even better to cook from.
Some of the recipes are hard to scale down so it can be tough cooking for one. There is also rather a lot of heavy spice in some of the dishes but there are enough recipes to skip either those heavy in chilli or mustard etc. to your own taste. Although this is clearly a very meaty cookbook I was pleasantly surprised at how tempting the veggie and side-dishes are from salads to grilled vegetables it all works beautifully. Some of the recipes can need a lot of prep or many ingredients but the wait on these slower recipes is absolutely worth it. I was less keen on the Sweet Stuff section as a whole, it seemed rather rich to be accompanying the mains and side dishes and was a little more run of the mill when compared to the extraordinary heart of the cookbook.
My favourite recipes (such a hard choice) were the Smoked Ox Cheek on Toast with Pickled Walnuts, the Belly Chops; the Pumpkin Home Fries with Nduja Mayonnaise; the Baked Beans (They have whipped bone marrow in them!); the Peanut Butter & Chocolate Tart.
The care and attention that has gone into the recipes and the detailed information sections shines through. Nothing is over looked and you get a clear view of their philosophy on eating and cooking. This book is an extraordinary achievement when the restaurant has only been open for such a short time and I recommend both the cookbook and visiting them in Soho if you possibly can. (Hint: don't wear a white shirt and be prepared to gorge!)
Disclaimer: I received a copy of 'Pitt Cue Co. The Cookbook' from Mitchell Beazley