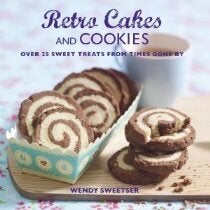 Retro Cakes and Cookies contains mainly British and American recipes with a mixture of cakes, biscuits, cookies, tray-bakes and buns. It is a small cookbook but each idea is quite different so there is a good range of dishes to try out. There are a lot of family-style recipes that could have been handed down for generations which are lovely to try out. Most of the recipes use a lot of store-cupboard ingredients so that it's easy to make something if you have a cake craving mid-afternoon.
The recipes have small notes that accompany them which are tips and hints, notes about the origin of the recipe or variations that you can try. It's a lovely touch and all really interesting. The photography is brilliant, really in keeping with the retro tastes but without seeming dated, just very familiar. Each dish has a photograph so you can see the end result before starting cooking. The recipes themselves are comforting while still being fun.
The best section was the Cookies part which was packed full of great ideas, however the Large Cakes section is a little dull. The book is all sweet bakes, no savoury, but there is a recipe for most occasions with lots of different styles and difficulties catered for. The instructions throughout are thorough and really easy to follow.
My favourite dishes were Swiss Buns, Snickerdoodles, Ginger Nuts and the Lemon Bars.
This is a very handy little cookbook with a great selection of cakes and treats. It's easy to use and a fantastic addition to a cookbook collection.
Disclaimer: I received a copy of 'Retro Cakes and Cookies' from Cico Books.
Related