Salt Sugar Smoke - Diana Henry
Octopus - 2012
Photography: Laura Edwards
Salt Sugar Smoke is broken into different sections of preserving and then each part begins with extensive notes on the methods and ingredients used. It could easily have become dry and dull but Diana Henry has such a way of writing that it is interesting. She gives a real insight into the background and purpose of preserving as well as showing how easy it can be to do it yourself. There is nothing intimidating about even the most seemingly daunting recipes. The introduction explains how it can all be done from a home kitchen without spending too much on equipment.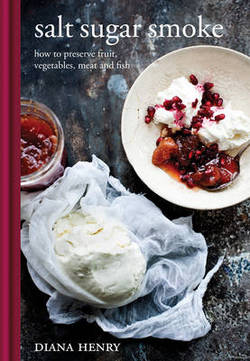 Jams, sauces and cordials are something that most people are familiar with, even if they don't make them at home, but there are such innovative ideas in this cookbook that even experienced home chefs will find new recipes to try out. The drinks are especially original.
There is a really nice balance between the different types of preserving methods and styles here with lots of unusual flavours as well. Although there is a wide range of prices with the ingredients used in the recipes in Salt Sugar Smoke they often need more outlay at first but then make a large quantity. The smoked section especially requires more expensive ingredients but most of the jams are very cost efficient and can be made to keep the house stocked for a long time.
Although it could have done with more photographs, the images and styling are beautiful throughout with lots of rich colours and a good range of recipes shown.
My favourite recipes from the book were the Pickled Fennel; the Honey and Mustard Brined Pork Belly; the Russian Plum Liqueur; and the Pear and Chestnut Jam.
This is a beautifully written and executed cookbook with careful instructions for beginners and a lot of more detailed knowledge to keep learning from. It would make an excellent gift for anyone with a passion for food.
Disclaimer: I received a copy of 'Salt Sugar Smoke' from Octopus publishing.