The British public are realising that there is an alternative to NHS waiting lists and are packing their suitcases and jetting off all over the world in search off better treatment at a lower cost than paying for private healthcare in the UK.
These patients are known as medical tourists and the industry of medical tourism is growing rapidly with patients seeking dental, orthopaedic, cardio and fertility treatments outside the UK.
Infertility affects one in six couples worldwide, and if no pregnancy has occurred within 12 months then the couple will need medical assistance in order to conceive.
The subject of IVF is quite taboo, couples going through the process often do so in silence not even sharing their medical problem with family and friends. It puts a huge strain on a couple's relationship and a huge strain on their finances with each cycle costing a whopping £10,000 a go for private treatment and with a UK national success rate of only 22% it is unlikely that they will be successful on their first attempt.
The patients interviewed for the De Montfort Unviersity study stated that their reasons for looking outside the UK for treatment were a shortage of donor eggs, anonymity of donors, long waiting lists, the cost of treatment, better success rates in other countries, their dissatisfaction with UK care and treatment in a less stressful environment.
But deciding to go overseas for IVF in not a decision to be taken lightly and the majority of couples only start to investigate going overseas when treatment in the UK has failed on more than one occasion. In the study 37% said that they looked overseas after failed cycles in the UK.
One such couple who decided to go to Barbados for their treatment are Helen & Steve Osmont. They married when Helen was just 26, and when Helen became a godmother she enjoyed her role so much that they decided to start a family of their own.
However six months passed and no pregnancy occurred so they consulted their Dr and found that Helen was suffering from PCOS & Endometriosis, they waited a further six months for Helen to see a specialist.
Helen had treatment for the endometriosis, and was prescribed eight months of medication called Clomid, which stimulates the ovaries to produce eggs. At this time Helen said. "It was the worst time of our lives as it was a constant roller coaster of emotions."
It was now two years since their life changing decision to start a family and they were no further forward, so they accepted that their only option was IVF and that they would have to go private if they wanted treatment sooner rather than later. Helen was desperate for a child so she did some research on the Internet and learned that there was a first class IVF unit in the Caribbean and that was Barbados Fertility Centre.
Helen spoke to an IVF Nurse coordinator and was delighted to learn that they could choose when they wanted treatment and that there was no waiting list.
Helen & Steve flew to Barbados and met Dr. Juliet Skinner and said, "Dr. Skinner was so helpful and we felt much more at ease than we had in the UK".
Barbados Fertility Centre opened its doors to the world in 2002 and has become a centre of excellence for fertility treatment using cutting edge technology that isn't readily available in the UK.
Being located on the beautiful Caribbean island of Barbados offers couples the chance to unwind and receive treatment at their optimum of relaxation. The clinic focuses on every aspect of de-stressing the couple prior to treatment with their Healthy Mind Body Programme, which incorporates reflexology, massage, acupuncture and sessions with a trained counsellor on dealing with the negative emotions associated with IVF. And this method appears to be working with a success rate of 71% using Blastocyst (leaving the embryos to culture for 5 days before being transferred to the womb). And the most interesting point is that treatment at Barbados Fertility Centre is only £3500, so couples can get the treatment and a two week holiday in Barbados all for under £5000, half the cost of UK treatment alone!
And it was great news for Helen & Steve who welcomed the arrival of their son Ashton in June 2011.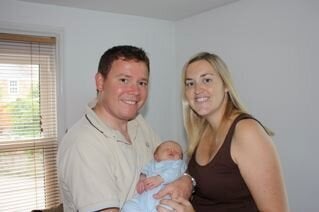 Helen said. "We are absolutely over the moon to finally have our family complete, Ashton is the most wonderful baby and we could not be happier and it's all down to Barbados Fertility Centre, we cannot thank them enough, they were the light at the end of a very long tunnel for us. "
For more information on the work of Barbados Fertility Centre and to read the full De Montfort study click here.
Related