Thousands of British students visited Europe's biggest American university fair in London on Saturday.
The 35th USA College Day saw more than 150 US universities invade the capital's Kensington Town Hall. "This is massive," one student said to her father upon entering the building and realising the stands were located on three floors.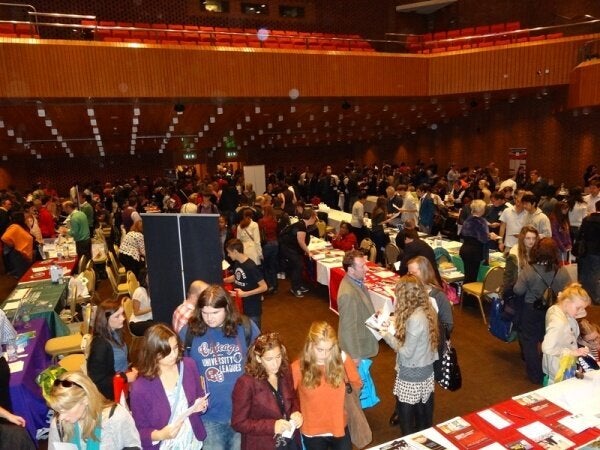 The United States is the top destination for students from all over the world, including those from the UK. Nearly 9,000 British students studied in the USA in the 2010-2011 academic year. Four and a half thousand people registered for the fair this year, 500 more than last year. For the first time in its history, the event started on Friday evening to meet growing demand.
Penny Egan is the executive director of the US-UK Fulbright Commission, a London-based organisation advising students on study opportunities in the USA, which holds the event every year. Asked why so many British students aspire to study in America, she said: "A clear attraction is the liberal arts approach in the USA, which offers two years of broader study. British students are also aware of the generous scholarships on offer at American universities for international students."
Students across the pond are encouraged to take classes from a wide range of subjects during their first two years. In this way, they have time to explore their academic interests before choosing a 'major' and specialising in a specific domain.
So what are the hottest US study destinations? "Florida, for obvious reasons such as the weather," said Ms Egan. "But also Yale and Harvard, because British students want to aim high." University of Pennsylvania representatives at the fair said they received 250 applications from British students last year, a figure they expect will increase this year.
Jennifer, alumna of the University of South California and investment manager based in London, said: "We have the biggest international student population at any US university. The majority are from Asia, but we have a growing percentage of UK students."
So what can the University of South California, a popular choice with British students, offer them? "It gives them access to an amazing city, Los Angeles - which is very different to the UK, especially weatherwise. The University is a big school with a wide range of disciplines of study, giving students the opportunity to take different subjects. You also have the opportunity to study abroad."
What the students thought
David Olufeyimi, 17, is in his second year of A levels at Royal Russell School, an independent school in Surrey. Originally from the USA, he has been living in the UK for the past four years, and now wants to read law at Harvard. "I wanted to find out if the selection process of international students is fair - now I know it is," he said after speaking to representatives from Harvard.
Sam Williams, also 17 and from the same sixth form school as David, hopes to do a degree in soccer in Memphis or Miami. He is currently applying for a scholarship from Soccer Scholarships USA, a UK-based organisation. Sam, who plays for a semi-professional team, says the scholarship should cover 80 per cent of his tuition fees.
All exhibition stands had students and parents coming up to them, but some, like Yale University, were exceptionally busy. Located in a separate room downstairs, at one point Yale attracted a queue of around 20 students.
Waiting patiently at the back of the queue were Etta Bouzoucos and Lade Lomisore, both 16 and from Cheltenham Ladies' College. Etta, who has just started her International Baccalaureate and would like to study journalism, said applying to American universities was an opportunity "to get away from a really traditional boarding school in England". She added: "It seems like the best transition from the IB to the liberal arts system in the USA." Lade, who is in her first year of A levels and is interested in doing law in the USA, said she was "looking for a different place and a different study experience".
Despite the fact that more and more UK students are applying to US universities, very few of these applications are from non-privileged young people. The Fulbright Commission is now trying to break that cycle by teaming up with the Sutton Trust to offer students from state schools in Britain the chance to participate in a summer school programme giving them a taster of what it is like to study in the USA. In July, 64 students, half of whom were on free meals, were chosen from 700 applicants to spend a week at Yale University. These students now have mentors at the Fulbright Commission, who are helping them to apply to Yale.
The Fulbright Commission offers scholarships only for postgraduate and PhD courses in the USA. The submission deadline for both is 15 November. Undergraduate students should apply, alongside their university applications, for funding from US universities and external funding bodies.
The next major Fulbright Commission event is USA Grad School Day on 16 October, 6-9pm at the American School in London.
Photo by Vesela Gladicheva