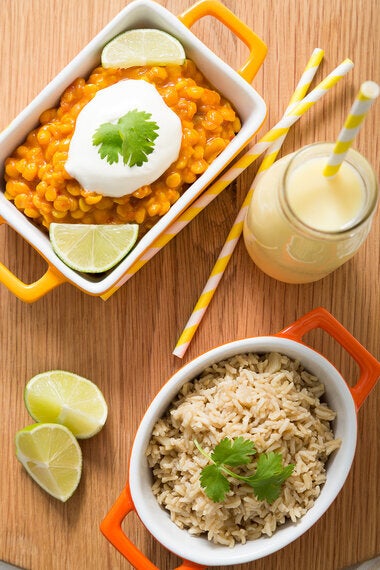 I hate the notion that all curries are unhealthy.
Sure there are a few restaurants and take aways that use excessive amounts of ghee and oil, but I genuinely think they're the exception. Where I live in Yorkshire there are so many wonderful Indian restaurants, especially in the nearby cities of Leeds and Bradford.
I always love to make my own curries at home and in particular love this super healthy lentil dhal with wholegrain rice and mango lassi.
Lentils are of course incredibly good for us. One of the world's healthiest food, they're packed full of cholesterol-lowering fibre and are an excellent source of protein, vitamin B with virtually no fat too!
Both cumin and turmeric (two of the key spices in curry) is known to guard our vital organs against cancer and other diseases, whilst more recent studies suggest turmeric could also prevent Alzheimer's too.
Personally, I prefer to use wholegrain rice rather than white rice, as it's more flavoursome and packed full of fibre for a healthy digestive system. It's low GI too so releases energy slowly helping to regulate blood sugar too.
I love to enjoy my curry with this super tasty mango lassi, a traditional Indian drink that is not too dissimilar to a milkshake.
Made with fresh mango and yoghurt, it is packed full of vitamins and nutrients and brings all the boys to my yard-well my own boys any least.
If you're worried the chilli might be too hot for your kids, simply omit. My two love this meal.
1 tablespoon of sesame oil
1 small onion, finely chopped
2-3 cloves garlic, finely sliced
1 tsps of grated fresh ginger
400g red lentils, rinsed under cold water
1 fresh green chilli, finely sliced (remove seeds if you want to keep the heat down)
1 tablespoon of tomato paste
500 g low-fat natural yoghurt
3 tsps of honey (add more or less as per your taste, or skip all together)
1 tablespoon of rosewater (optional - alternatively you could use cardamon pods or saffron)
Heat the sesame oil in a medium to large sized pan and add the onion, garlic and ginger, cook until onions are soft.
Add your lentils, spices and water to the pan, bring to the boil and then bring the heat down low and simmer for 15 - 20 minutes until lentils are soft. Stir regularly to prevent sticking.
Stir in your tomato paste, cook for several more minutes before removing from heat. Serve with yoghurt and lime wedge to garnish.
As you bring the dhal down to a simmer, start preparing and cooking your rice according to the cooking instructions on the packet.
Add honey, mango and rosewater to a blender or nutribullet. Blend until smooth.
Add yoghurt, blend until mixed in
Add ice and blend one last time until mixture is smooth and pour into a glass to serve.
To discover more delicious recipes, head to Vicki's blog Honest Mum.
Related