Vicky Caplin is curator of Haunted Beauty, a new series of art exhibitions showcasing emerging female artists launching in London next week at the Dissenters' Gallery in Kensal Green Cemetery. Here she comments on the role of the female creative today, and how crucial female voices in the art world are, now, more than ever following the recent international Women's marches.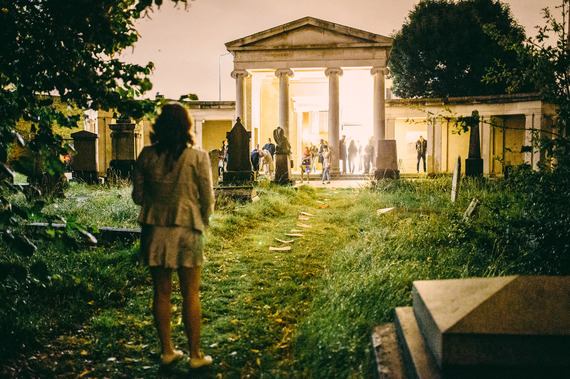 Kensal Green Cemetery, Dissenters' Gallery. Image: Marcel Grabowski
With the inauguration of Donald Trump, the global women's marches, the question of bad taste, and what is unacceptable both in art and in society becomes a real dilemma. Bling will become king, and the worry is that if your picture isn't covered in gold leaf, it doesn't show off your wealth so what's the point? Subtlety, nuance, suggestion, the tools of fine art, will compete for attention against pomposity and extravagance, but as the Women's March shows us, now is the time for artists to rally and take a stance. Art has always been political, and as the old saying goes, pictures are worth a thousand words, with provocative female artists such as Illma Gore, using their artworks emotional power to draw attention to lies, bullying, narcissism and corruption. There are very few female politicians out there who actively champion women in art, and so we have to do it ourselves. This is why we march, to be visible, to take a stand against sexism, chauvinism and the exploitation of women today.
I am always stunned by how male dominated the art world can sometimes feel, but I take great comfort when I see women like Victoria Miro, Maureen Paley, Molly Dent, Brocklehurst and Iwona Blazwick, pioneering, leading, dominating in art and continuing to challenge and inspire. With women taking charge as innovators, art curators and directors, the appointment of Maria Balshaw at the Tate Modern providing such refreshing news to us all. I hope in 2017 we can continue the fight to ensure that women's voices are heard booming across the art world firsthand as active artists, curators, art directors and academics.
It is indeed, a sad state of the arts today that renowned women artists of influence have often struggled to be seen as artists in their own right, detached from the men they have been in relationship with, Frida Kahlo, Sonia Delaunay, Barbara Hepworth, have seldom been talked about without mentions of Diego Rivera, Robert Delaunay or Henry Moore's names coming up in the same context. My heroine of course, is the late departed Dame Zaha Hadid, whose exhibition at The Serpentine demonstrates that with steely determination, courage, talent and confidence, it is possible for women to stand independently and be recognised on their own terms, as individuals, for all their talents.
It's taken artists such as Tracey Emin and Sarah Lucas to use tactics of shock and awe throughout their work to engage audiences and draw attention to how art and the mainstream media have sexualised women over the ages.
We can only hope that with the emergence of younger female artists of today that the subject of women in art does not have to rely on controversy but can instead be seen and appreciated on equal terms with men.
My own decision to curate an all female exhibition series in 2017, Haunted Beauty, came about after careful consideration of all of the above points, and wanting to play an active part in moving forward to create a platform for women artists. I had also recently discovered this incredible and criminally unused space in the form of the Dissenters' Chapel at Kensal Green Cemetery. This space is filled with such a rich sense of history, mysticism and a number of great men and typically, often unsung women are buried here, such as Jane Wilde, Oscar Wilde's Mother and Lady Byron, to name just a few.
We have decided to re-claim this space anew with a selection of emerging, female artists. With the increasing surges of misogyny, and right wing politics enveloping Europe today, it felt important to create this space and environment to showcase and create a platform for discussion that moved away from portraying women in the limiting roles of the wife, the daughter and mother. One, that instead involved exploring her as this complex and creative being. Haunted Beauty aims to act as a platform that champions young, female artists who explore women in all their glorious, multi-faceted selves.
This series starts with Nadine Talalla, who paints larger-than-life women, instead of presenting woman as a fixed and defined entity, she's painted as always on the verge of becoming. I hope we all see in 2017 a huge rise in young, creative women who are similarly on the verge of becoming visible as artists, curators, art directors and academics. Now is the time for us to make ourselves visible in today's art world, and to do so, on our own terms.