England Women came home on Monday after beating Canada 21-9 in the World Cup Final. Throughout the tournament, hype gradually built up and support came flooding in by the time of the Final. The tournament reached record TV audience levels around the world and the 22,000 capacity Stade Jean-Bouin sold out for the final day. England's victory was met with ecstatic standing ovation within the stadium, and an explosion on social media from people of all kinds expressing their congratulations.
We are WORLD CHAMPIONS!!!! #selfiepic.twitter.com/cIwi7k4szt

— Rachael Burford (@RachaelBurf12) August 17, 2014
Their victory has been hailed as a giant step forwards for women in sport, especially for women's rugby in England. Here are three important lessons we can all learn from the England Women's Rugby team:
1. Humility
These World Champions rose from everyday schoolteachers, plumbers, and university students to sporting stars. Having been so close to World Cup victory since the tournament's inauguration in 1991 and only winning it once before in 1994, some may even say they're legends now. Centre and top point scorer in the tournament Emily Scarratt has been likened to Jonny Wilkinson as the new poster girl for Women's Rugby, and Maggie Alphonsi has yet again justified her nickname 'Maggie the Machine' with her monumental displays of strength time and time again.
You won't see a Women's Rugby player running to the cameramen or taking their tops off when celebrating a try. They celebrate with their teammates and quickly put their heads down again to concentrate on the next part of the game, throwing their whole body into it regardless what the scoreline is.
Coming home to astounding support and recognition of their accomplishment, these amateur players showed the utmost display of humility and gave a great example of what sport role models should really be like.
Tune into @BBCNewsnight after 11pm to see me talk about the #WRWC2014. Fantastic to see so much coverage.

— Maggie Alphonsi MBE (@MaggieAlphonsi) August 18, 2014
Their thanks have been profuse and heartwarmingly genuine, their surprise that people would actually notice them so real. It was a World Cup after all, but they completely did not expect to have such great support in Paris, not to mention being splashed on the front page of newspapers.
2. Just keep trying
This World Cup victory ended a 20-year drought, always coming short in the final stages of the tournament. Of the six previous World Cup editions, they have featured in five finals and one semi-final. But again and again the England team came knocking back, and finally they have become World Champions for the second time after years of hurt.
Their final pool game was against Canada, in which they drew 13-13. It wasn't a perfect performance at all, and they knew they had to put their heads down and focus on nailing their next games. After a phenomenal 40-7 win against Ireland (who beat reigning World Champions New Zealand 17-14 in the pool stages) in the semi-final, they were to face Canada again in the final. Scarratt's decisive try late in the second half secured a comfortable lead ahead of Canada and proved that England Women are worthy World Champions.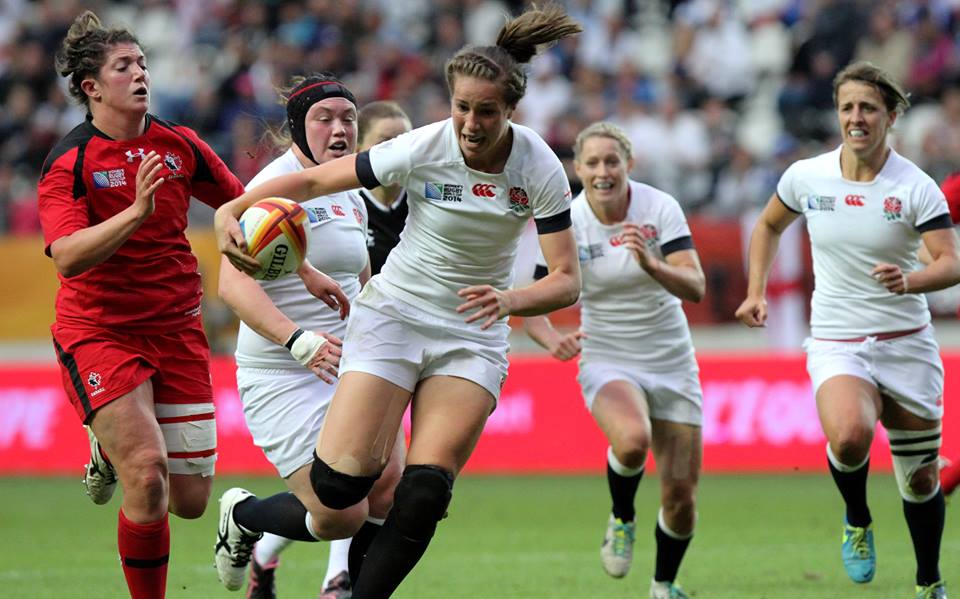 Scarratt thundering through Canadian defence to score her solo try in the 73rd minute
After years of determination, England Women have achieved something amazing deserving of all the praise in the world. And for what feels like the first time, people are beginning to really take notice and the spotlight is beginning to focus on women in sport. Stereotypes are being broken, and people are starting to realize that women can also compete at a very high quality, top level of sport.
Gary Street took on the role as England Women's head coach in 2007 with little financial incentive, watching some of today's World Cup winners develop from when they were just in their mid-teens. They went through defeats together and learned from valuable lessons as a team. Unlike the whirlwind of England Football coaches, the RFU has trusted Street to nurture this squad. Their World Cup victory made a statement, and everyone is listening now.
Former England prop Jeff Probyn wrote in his column for The Rugby Paper, "I am a big fan of the women's game because I think it is technically far better than the men's game... Women rugby players rely more on team work and skills to create space, rather than trying to bash through tackles."
3. Money shouldn't be the motivating factor
Captain and fly-half Katy Mclean is a primary school teacher, flanker Marlie Packer a plumber, and prop Sophie Hemming a vet. The whole England Women's Rugby squad is amateur - they either have daytime jobs or study, and a number have moved back with their parents to make up for giving up their jobs. Some who sacrificed their careers to commit their time to rugby were not even selected for the touring World Cup squad after months of training and trials, despite showing clear commitment. They all do it for the honour of representing their country and love for the sport.
In comparison, the England Men's Rugby team will earn £15,000 for every appearance in their World Cup next autumn, with a potential earning of up to £1 million if you add winning bonuses. I'm not doubting the Men's passion and appreciation, but the disparity between the genders is just ugly.
Money shouldn't be a motivating factor for sports people. The England Women's Rugby team serve as perfect role models for their grounded hard work and admirable sportsmanship despite not being paid at all.
However, a step forward for women in sport jumps to the question of professionalism and increased funding. These female athletes aren't asking for astronomical figures, but sufficient support so that they can focus all their energies on being the best athletes they can be to do their nation proud.
Critics of women's sports over the years have gone on about how it's incomparable to the male equivalent, how it'll never be as good and you'll be silly to take it seriously. If more women's sports become professional, imagine how much they can achieve if they didn't have to worry about getting unpaid leave from work, fundraising to get to an international tournament (which World Cup finalists Canada did), not to mention squeezing in the same rigorous training routine of a professional athlete into their everyday lives?
Making more women's sports professional will only improve performance levels, interest and gender equality in sports. These are exciting times for women in sport; it's so important not to let this momentum falter and to keep pushing for change.