It was my second day as a HuffPo intern. Sat at my muggle desk and working on my muggle tasks, I noticed an owl flutter past the window with a letter clutched in its beak. An owl?! During day time?! In Central London?! What more, the letter was addressed to me, 'Miss Vicky Chan, Desk by the Kitchen, Capper Street, London' (well it was really just an e-mail, but allow me this one magical fabrication).
Unfortunately, being way beyond the high school entry age, it wasn't an acceptance letter. Instead, it was an invitation to preview the upcoming summer screenings at Warner Bros. Studios Tour in London that very same evening, complete with complimentary summer-themed canapés and drinks (including Butterbeer!!!). To a hungry uni student living on a tight budget, this was even better than an acceptance letter to Hogwarts (debatable, but as I'm writing it's 20 minutes before my lunch break and I'm salivating from thoughts of the wild mushroom risotto and Pimms brimming with fresh fruit).
And a plus one?! I felt like I was being pampered like a VIP. But you can't find a more average 20-year-old than myself, and this was definitely not what I expected when I started my internship at HuffPo.
Naturally, my plus one had to be my partner in crime/life Giulia (pronounced Julia, but interpret it however you wish - leave a comment on what you make of it and the winner gets spiritual lols from me).
The complimentary shuttle from Watford Junction to the studios was comparable to Harry and Ron's adventure in the Ford Anglia. A little less magical and probably miles less life-threatening, but feeling Whomping Willow-like branches beat the top of the double decker really fueled our excitement by a thousand degrees.
We were completely unprepared to see the entrance to the Great Hall. It was all golden and shimmering in its grandness. But it was right there. We turned the corner and it was right there. To those who grew up with Harry Potter and fell unashamedly in love with J.K. Rowling's world, you can imagine just what seeing the Great Hall entrance in person must feel like. To those who didn't, imagine accidentally stumbling upon... actually I'm finding it quite hard to find a comparison right now. I'm still dying (figuratively) a little bit inside.
As kids we enacted scenes from the books, created our own Hogwarts students and adventures, and whole heartedly convinced ourselves that this world was real. Now that I've briefly summarised the significance of Harry Potter in our lives (I can go into a lot more detail but that won't be necessary for now), perhaps it won't sound so weird that Giulia was on the verge of tears and I found it a little difficult to breath for about an hour.
It was a star studded affair with the likes of Jonathan Ross, Idris Elba, David Wenham and Jamelia enjoying the same evening as us, sipping butterbeer and inspecting props and costumes in the Great Hall. Warwick Davis - who featured in all 8 Harry Potter films as Professor Flitwick, the goblin bank teller and Griphook - gave a wonderfully humble account of his experience in the films, setting the scene perfectly before the cinema-sized projector screen rolled down in front of the Great Hall entrance for the screening of the Philosopher's Stone.
Despite having read the books and watched the films beyond the socially acceptable number of times, it was such a magical experience that I'm still thoroughly surprised I was lucky enough to enjoy.
Harry Potter Summer Screenings at Warner Bros. Studio Tour London from 7th July until 26th August, book tickets at www.wbstudiotour.co.uk.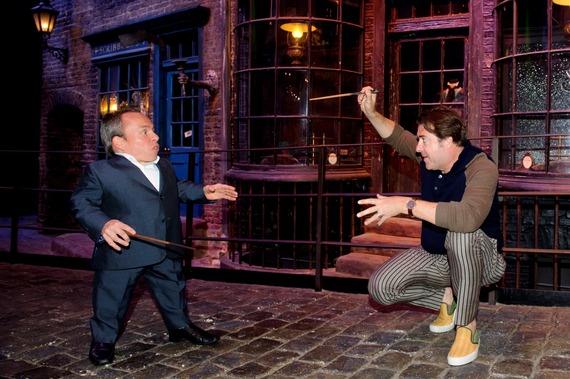 Jonathan Ross and Warwick Davis on Diagon Alley at Warner Bros. Studio Tour London's Harry Potter Summer Screenings Preview Evening