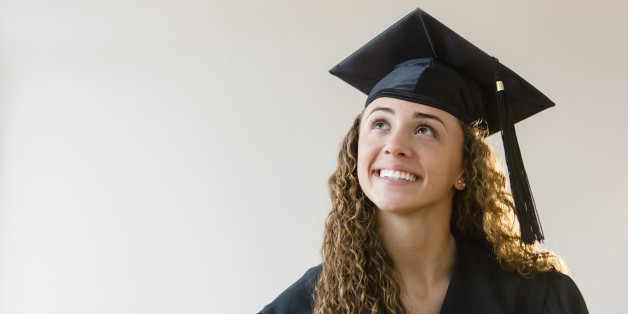 Jamie Grill via Getty Images
This Sunday, HuffPost UK celebrates its third birthday, and rather than ask for piles of presents, we asked some of our favourite bloggers to gift us with their three best pieces of advice. HuffPost Intern and University student, Vicky Chan, blogs her advice...
To celebrate Huffington Post's third birthday, in addition to consuming cake and prosecco, I've thought of three best pieces of advice I've learnt in my 20 years of life (but to be honest I only kind-of vividly remember the past eight years - the rest is an innocent blur).
Do what you love
Even if no one advises you to do it, do it. I went to quite a privileged international school in Hong Kong which wanted to place all their students in the top universities. However our careers team was overly cautious, advising certain people against applying to Oxbridge or Ivy League schools in case of failure and, in retrospect, didn't advise everyone to aim for their real passions.
I was one of those 'higher achieving' ones (I don't mean to sound arrogant - I just got above average grades), but I wasn't just about books or politics. What I remember learning from our weekly careers talks was that I, along with other 'high achievers', were destined to go down the academic path - medicine, law, history, science-y degrees etcetera. Business related or sports related degrees were unofficially considered BTEC or 'lower achieving' subjects.
What I came to realise at university is that I love sports and want to work in sports. I've been playing sports seriously since age 14, I've always loved sports, but I never realised that I want to actually go into the world of sports, at any capacity, when I graduate. Although I love my degree, I know that what I'm learning from my extra curricular sports activities and being involved in the student tabloid is going to stick with me for many years to come. Example: I've forgotten almost everything from my first year 'Intro to Human Anatomy' module except from the terms 'mesoderm' and... yeah. Pretty much everything.
Be that keen one that does everything
Don't know what you love? Love an infinite list of things? Do it all! You don't need to know me well at all to know that I happen to do a lot of things (sports, student tabloid, Student's Union trustee etc). I'm not trying to big myself up - I'm just drawing from my own experiences. Sometimes I don't know how I find the time to do everything and sometimes I am genuinely concerned that I might fail a module, let alone my degree.
But how will you find out what you really want to do unless you've given a lot of different things (I'm not going to say everything because that's just humanly impossible) a go?
If you're worried about looking 'lame' or 'nerdy', don't worry - I've been there, all insecure about running for the next student elections because I don't want to appear uncool. But honestly, no one will judge you for being proactive, and anyway, that kind of mentality is very outdated. And if they do, who cares? You'll have the opportunity to contribute to something great, and you better make the most of it.
Always consider whether you'll want it in a year or two's time
I moved house last month from a mammoth-sized room to a comfortable little den the size of a shoe box (but I'm really small so I fit in it quite snugly thank you very much). What I realised when I was packing up all my things is that I have a lot of random crap. Pink cowboy hat, turquoise jeans I've worn twice, ten million freebie pens from Freshers' Fair. The list goes on.
Admittedly, the pink cowboy hat I've kept for potential dress up opportunities (another piece of advice for students: random crap and cardboard boxes can easily become amazing fancy dress items), as well as my bright purple fuzzy beanie and plastic sword. But the point is: if you don't see yourself needing/wanting it in future, don't get it. Even if it is for free. It'll clutter your room and drain your bank account. And if you have purged your belongings and are in need of a leotard for a night out or something green for St. Paddy's day, ask everyone you know (friends, family, random guy on your course who makes a mysterious appearance once in a blue moon in that weekly lecture) - someone out there's guaranteed to have a lot of random crap too.
I hope my three best pieces of advice helps you out in any way, however small. If not leave a comment on any alterations to my pieces of advice or suggest some of your own. Anything mean or nice is completely 100% welcome with open arms.