England Women have flown out to France to compete in the Women's Rugby World Cup starting this Friday 1 August. England kick off their campaign against Samoa that evening at Marcoussis.
England have featured in five of the six tightly contested Women's Rugby World Cup finals since the tournament's inauguration in 1991, being named champions just once in 1994. With tickets at a very friendly price, everyone should be jumping at the opportunity to watch world class rugby live.
Unlike the men's 2015 Rugby World Cup, tickets didn't disappear in a heartbeat. And unlike the men's senior squad, England Women are semi-professional - many have full-time jobs but manage to fit in a gruelling training schedule on par with a professional athlete's routine. Their style of play is also different from the men's game.
After the Six Nations England v Ireland men's game this year, spectators were invited to stay in the stadium to watch the women's England v Ireland match straight after at no extra cost. Those who missed out on the men's fixture were also welcomed into Twickenham for free. Sadly, many flooded out of the stadium, having had enough of rugby that day and satisfied with the men's win, and few trickled in. On the plus side, I was able to move to prime seats near the halfway line. On the downside, the women's sides did not get the attention and support that they deserve. England Women went on to win 17-10 and eventually came second overall in the 2014 Six Nations. Everyone was treated to a spectacular display of skill and strength, an inspirational show not only for amateur rugby players, but also for any woman, whether they participate in sports or not.
But back to the game itself. The same-sized pitch, same size five ball and same height conversion posts are used as in the men's game, and the game is also a full 80 minutes long. There's relatively less kicking and a lot more space to run given the generally smaller sizes of female players, and the game just moves faster. It's an arguably more traditional style of play that is somewhat lost in the men's game. The hits are just as unforgiving and the pure athleticism seen in muscly players pirouetting through oncoming defenders is just as impressive.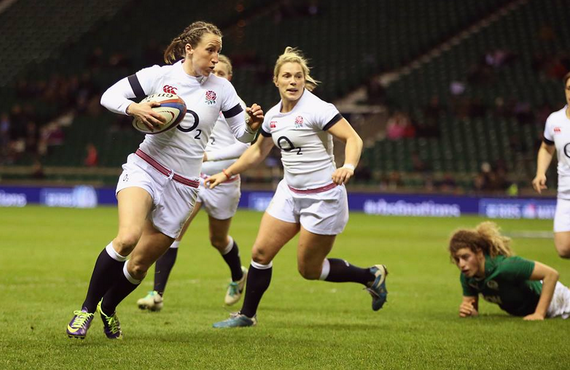 Too many empty seats at Twickenham at this year's England v Ireland Six Nations game (Photo: England Rugby Facebook)
As a woman and rugby player myself, it's incredibly touching to see big names making their contributions to the Women's Rugby World Cup campaign. England Men's captain Chris Robshaw kicked off the campaign filming a promo video with some of the Women's squad, Prince Harry donned a supporters' shirt, and even party leaders showed their support. Sadly the politicians remained in their stiff suits and didn't sport the potentially-skintight supporters' shirts. Other British athletes are also behind the England women, and O2 Inside Line have started their traditional behind-the-scenes exclusives of the team.
England Women's Head Coach Gary Street must be commended for his commitment to the squad (despite having next to no financial incentive when he first started with England Women in 2006 as Assistant Coach). He is confident about the group he's been working with. With the likes of Maggie 'The Machine' Alphonsi and the 70 caps under her name, Captain Katy Mclean clocking up 35 points in the last World Cup and SuperGrad Player of the Season Kay Wilson (only 22 but already with 26 caps) amongst other rugby greats in the 26-woman squad, Street has reason to be optimistic about a World Cup victory.
England have won 13 Six Nations from its beginning in 1996 and are currently leading the world rankings by 42 points ahead of New Zealand. Still, it'll be a tough tournament and England will have to remain focussed at each stage. In an interview with Sky Sports, England flanker Heather Fisher said, 'we're getting to the stage where other nations are getting stronger and we as a nation have to up our game.'
With the world slowly beginning to embrace women in sports and with healthy and strong body images starting to make positive headlines, it's the perfect time to show your support. After all, England haven't had a very happy summer of sport, and England Women's Rugby, who aren't motivated by 6-digit pay checks but have a real thirst to prove themselves on the international stage of sports, stand a good chance at grasping international glory in the coming weeks.