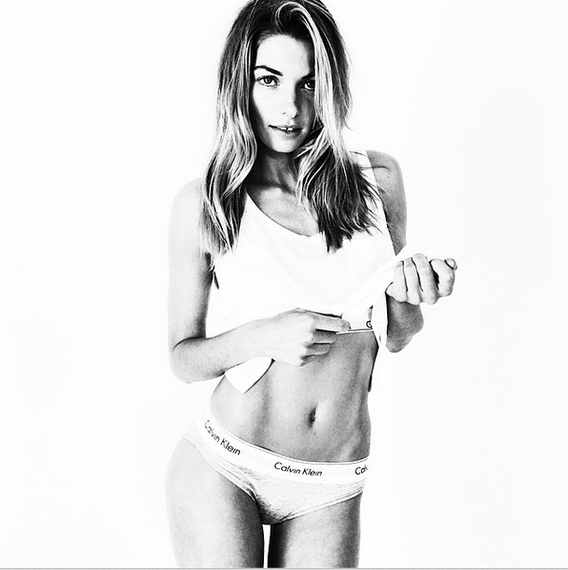 If you had told me 12 months ago that I would be lusting over a Calvin Klein bra I would have audibly sighed whilst dramatically rolling my eyes at you. But here I am, trying to purchase an athletic looking CK bra, like the ones all the rage in the 90s. This is day three of my hunt, the shop was sold out and so far I am having little luck online. I will not admit defeat though as Calvin Klein Underwear is currently 'cooler than cool'.
In no way am I suggesting that CK Underwear was ever uncool, it is just that right now it is having a major moment.
CK has always had a savvy approach to marketing. Models and celebrities on the cusp of greatness frequent the campaigns, ensuring CK appears ahead of the game, as the leader of the pack. CK's timeless black and white advertisements mean it is on trend without ever being outdated by the latest and greatest fad.
However it is CK's recent, risky and innovative social media campaign that has brought CK into a new realm of prominence. Launched earlier this year the #MyCalvins campaign began with the company endorsing celebrities, models and bloggers with the classic CK logo underwear. CK encouraged the lucky recipients to take to Instagram and post a half naked photo of themselves clad in CK, adding the hashtag #MyCalvins for good measure. Enough celebrities posted snaps for it to become a memorable trend and the ones who did had the common factor of being untouchably cool - think Jessica Hart, Rita Ora, Emily Weiss, Jourdan Dunn, Miranda Kerr, Erin Wasson...You get the gist.
The public naturally followed suit posting their own #MyCalvins snap. The hottest pictures sourced from the general public's Instagram accounts were then snaffled up by the brands marketing team and republished on the CK website. The incentive to be featured on a glossy, international website alongside the likes of mega babe Kerr has meant that there is now over 10 000 #MyCalvins pictures lurking on Instagram.
Seven months on and I can say with confidence that most people with an interest in fashion want to flash their CK briefs or bra. In other words the campaign has worked - Calvin Klein Underwear is back.
Interestingly enough the #MyCalvins campaign is perhaps the first successful Instagram campaign to be produced by an international design house. While there have been a number of noteworthy attempts none have achieved this level of notoriety.
Instead it has been the young up and coming brands with less money to spend on marketing that have been the true success stories. With determination and an abundance of creativity such companies have manipulated social networking sites, creating a name and brand for themselves in the process, something international designers could learn a thing or two from.
One particular success story is the Australian company Triangl, renowned for its neoprene swimwear. The company began by gifting its highly identifiable bikinis to models and glamazons all over the world provided they had an army of followers to match. Much like the CK campaign, as a thank you they would share the snap on Instagram. As the Triangl community grew, more and more hotties with bangin' bikini bods posted snaps in their bikinis in the hope Triangl would share it itself. In turn Triangl bikinis are a regular sell out and its Instagram account now has over 1.1 million followers. To put this into perspective Burberry, arguably the UK's most iconic, luxury label has 1.5 million followers. Not bad for a company that is less than two years old.
So will the success experienced by young brands and CK through Instagram lure international design houses away from traditional campaigns and into to the world of Instagram marketing? My bet is that gradually it will. Like any form of media, you can only assume that some campaigns will be so incredibly successful the marketing team will be fist pumping for days, whilst for others the result will be so cringe worthy it will be detrimental to the brand.
I could go on further but I have a Calvin Klein bra to buy and a #MyCalvins snap to perfect.