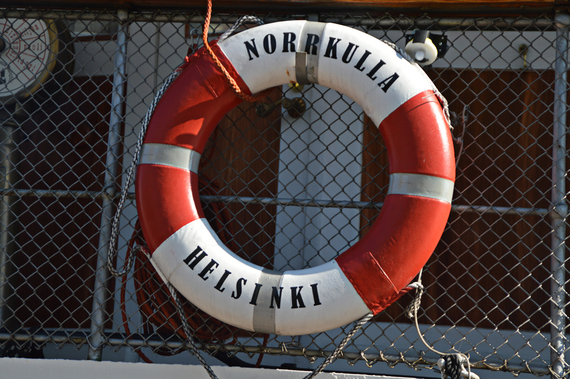 I like to explore cities at a leisurely pace. There's always a lengthy list of not-to-be-missed cultural sites, but along the way I will stop off in myriad cafés to drink coffee and try exotic cakes and pastries. The running order goes as follows: pick something that sounds or looks delicious even though I have no idea what it actually is, embarrass myself since this is inevitably the most unpronounceable item on the menu, and then breathe a sigh of relief when given a cheery response from the waiter in perfect English. Once that initial ordeal has reached a happy conclusion, I can sit back, relax (it is a holiday, after all) and enjoy my new discoveries. Then I'll while away some time perusing the menu, check the map again, and off I go with a caffeinated spring in my step. Food is a glorious way to discover a new culture and tells a story of traditions and customs which simply cannot be found in glass cases at museums, nor hanging from art gallery walls.
And this was how I spent my time in Helsinki last weekend - a beautiful Baltic city characterised by clever, minimalist Finnish design and grandiose Jugend architecture from the Art Nouveau period. The air is fresh, the streets are neat as a pin, but Helsinki also fascinates with its quirky love of heavy rock music and moomins. There's plenty to explore over a long weekend, and all within easy walking distance of the centre. Here are a selection of the my favourite coffee spots, conveniently located near the city's main attractions:
Centre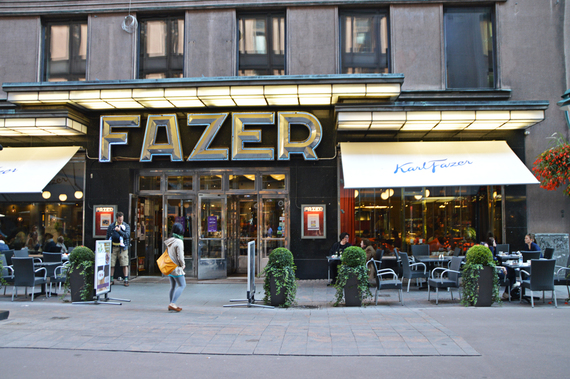 Right in the centre of town, you'll find this splendid art-deco café. Karl Fazer was a pioneering confectionist and the building itself is part chocolate shop and part cafeteria selling a selection of beautiful smoked salmon sandwiches and cakes. The Karl Fazer Café serves a fine example of the traditional Finnish savoury dish known as Karelian pie. It's an open pasty with a thin rye crust filled with rice and topped with a golden butter and egg mixture.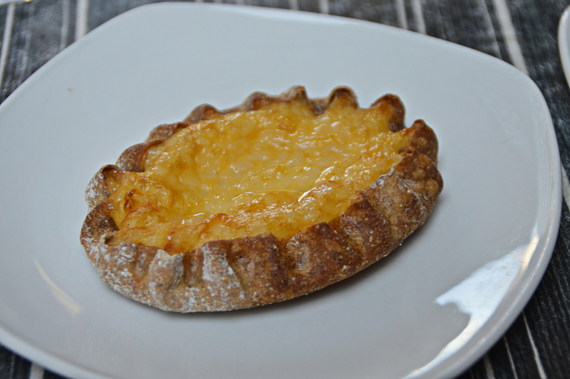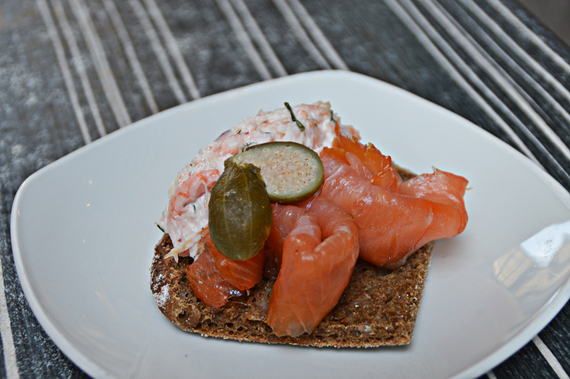 From the Karl Fazer café, you'll find yourself just a few minutes walk from the Ateneum art museum, historic Senate Square, and Stockmann's department store. The Esplanadi is a beautiful green road filled with ambling pedestrians and lined with luxury fashion boutiques. Head east along here and you'll soon arrive at the bustling market square.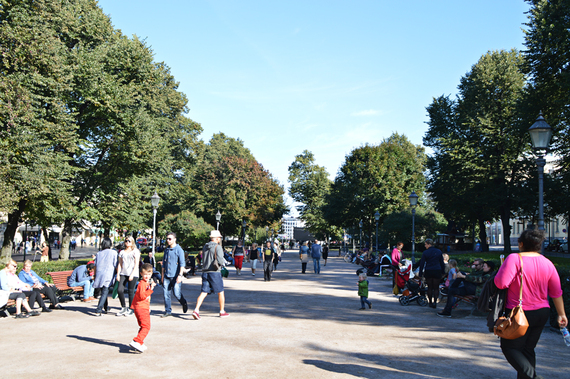 Market Square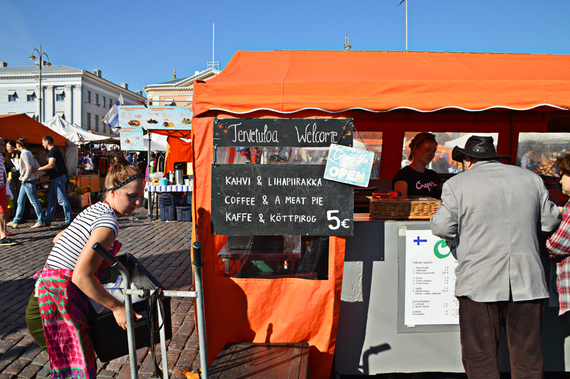 Vanha Kauppahalli (Old Market Hall)
Located adjacent to Helsinki's market square (or Kauppatori) is the newly-refurbished indoor market. The traditional red brick and white striped structure stands out against the backdrop of enormous cruise liners docked along the harbour. The trendy stalls & restaurants hint at Helsinki's growing ambitions to come out of the shadows of their Scandinavian neighbours and establish a thriving food scene of its own.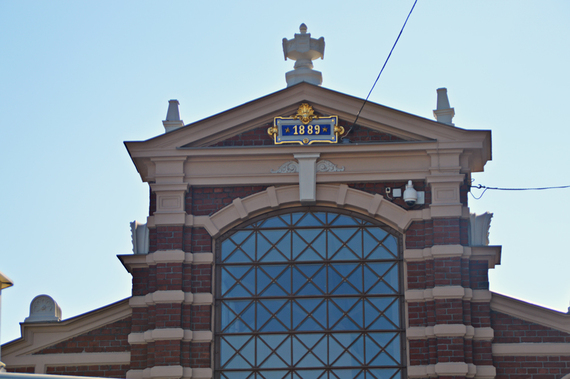 Ravintola Story is at the heart of the market. Owned by four of Helsinki's hottest restaurateurs, it serves fresh locally-sourced cuisine with a fantastic selection of wines. Other highlights include: the restaurant Soppakeittiö (or Soup) which does exactly what it says on the tin, and at the top end of the market, Robert's Coffee serves a grand selection of artisan coffees, roasted in small-batches to ensure freshness. This building is Helsinki's answer to Borough market, but it's cleaner, shinier and feels more authentic than its British cousin.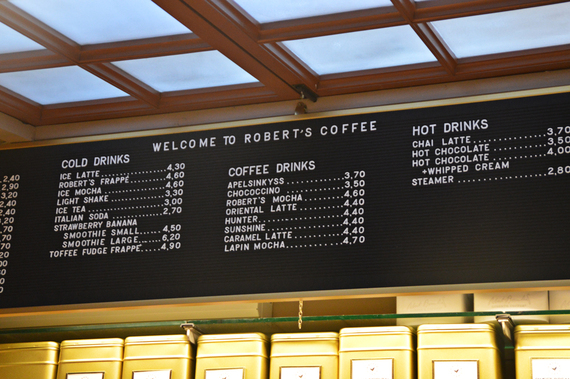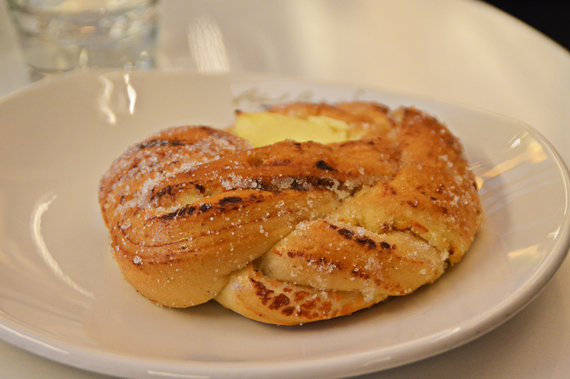 Follow the winding path of the Baltic coastline northwards, past the magnificent Uspenski Cathedral which looks down imperiously from the hillside. Cross the small white 'Bridge of Love' and you'll find this trendy Swedish coffee house. Exposed brickwork and unevenly-sized light shades give it an unmistakably hipster feel, but the coffee is superb and is a favourite among both local coffee aficionados and thirsty tourists on the hunt for an iced latte.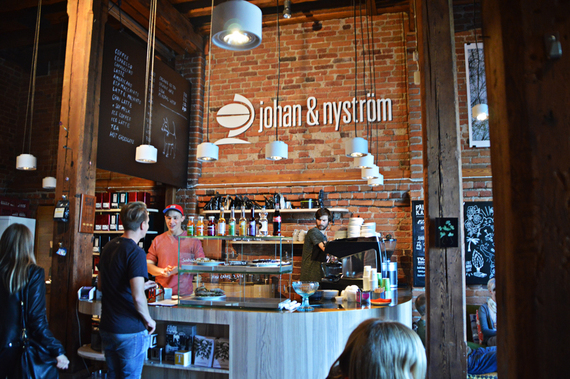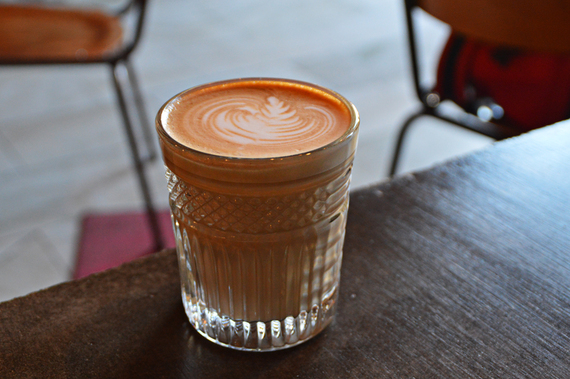 Design District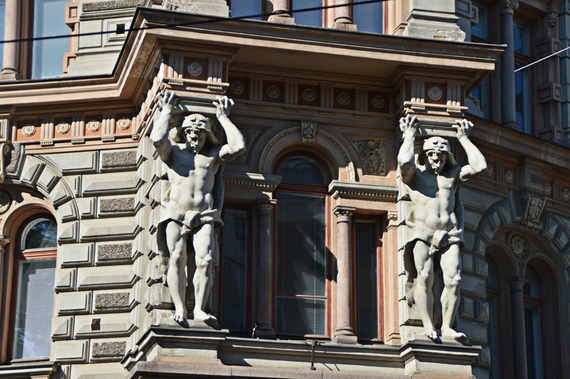 If a no-frills decent cup of steaming hot coffee is what you seek, then this is the place to come. A favourite meeting place for students, a sign outside proudly declares it to have the most affordable menu in all Helsinki. It's more of a bar than a café but the atmosphere is buzzing, the menu looks great and it's brimming with people on a late Sunday afternoon. It a great place to grab lunch as you see the sights. Located in Helsinki's design district, the city's creative hub, there are cool Finnish design shops and showrooms on every corner, in addition to the Design Museum and Museum of Finnish Architecture.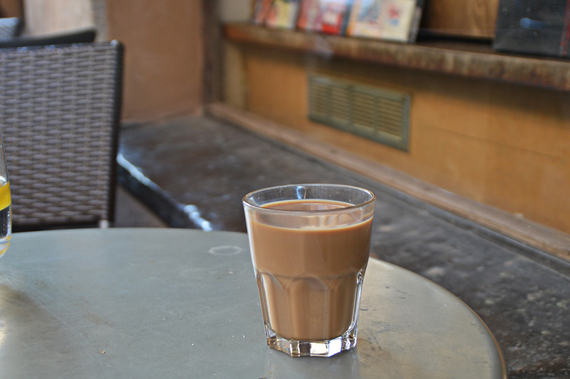 In the cutely-named Kamppi district, this café serves excellent coffee whilst the brightly-coloured tables and cushions make it a pretty spot for a mid-morning stop. Oba doesn't feel like an artisan coffee house, nor does it promote itself as such, but rather has the feel of a friendly neighbourhood café and serves a varied range of Turkish and Mediterranean pastries. It was my favourite coffee in the city: rich and powerful without a trace of a bitterness. It's just a short walk from the Hietalahdentori market square with a popular daily flea market from May - September.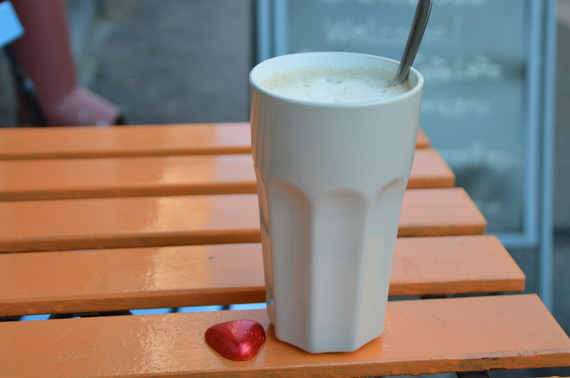 Taking a stroll with my camera along the most Southern end of the city, I discovered this delightfully modern café by the sea. It's just a few minutes walk from the Hietalahdentori market square and has only recently opened. Birgitta serves breakfast, lunch and dinner (the burgers look decadent) daily. There is a choice of comfy indoor tables or you can sit outside and take in marvellous views of the ocean. Only a fifteen minute walk from the centre and yet it is remarkably quiet, clean, and peaceful - a rare treat and one which will leave Londoners feeling more than a tad jealous.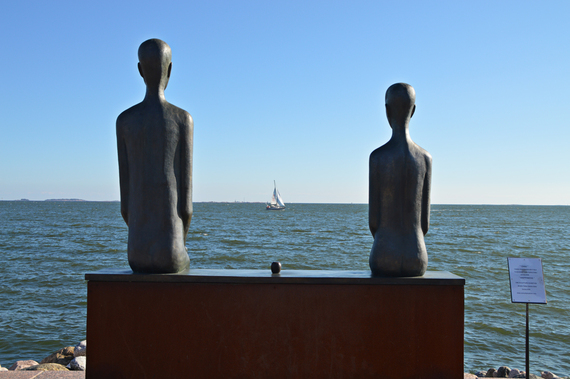 ---
How to get there.
Direct flights from Finnair leave Heathrow several times a day. You can also fly from Manchester, Gatwick and London City airports. Combined flights and hotel deals can be found online from sites such as Expedia and Holiday Hypermarket. On arrival, there's a very handy coach which runs every 20 minutes and will take you from the airport to the centre of town for little more than €6.
When to go.
In late August and early September you can still get good weather and plenty of sunlight. There's an annual Design Week in mid-September and an arts festival in late August. If you want to see Helsinki in full party mode, then check out Flow Festival. It's an urban music and arts festival in late August which also brings together the top restaurants and street food trucks.
Where to stay.
The Radisson Blu Seaside was very reasonably priced and just 15 mins walk from the centre. If you prefer something a little more luxurious, try the glitzy Glo art hotel or the glamorous 5 star Hotel Kämp.