Beer has played a part in our lives since the beginning of civilisation. It's thought to be the oldest alcohol here in Britain - even the Romans supped on Celtic Ale. Later, it sustained London when clean drinking water was in scant supply, and it came to the rescue once again when the city became perilously hooked on gin. The government turned to beer as an alternative drink, making it relatively cheap and easy for pubs to acquire licenses to sell it. In fact, it was a beer company who financed Hogarth's infamous Gin Lane print - a gruesome depiction of a society ruined by gin. Meanwhile, the accompanying Beer Street print promoted the health and social benefits of ale consumption.
Fast-forward 260 years and beer is still one of our most popular drinks, but in many people's eyes it lacks the sophistication and versatility of other beverages such as wine. In recent years, it's seriously fallen out of fashion, associated with either laddish binge-drinking culture or the cagoule-sporting CAMRA fans. Another reason, perhaps, for beer's image problem could be the way in which it's served - the standard pint or half-pint glass can be off-putting for some drinkers. The extent to which glassware influences your opinion of a drink and the experience of drinking it, is astonishing. Sipping beer from a wine glass, rather than glugging it from a pint-sized tankard, will give you a totally different impression. But can you seriously imagine going into a pub and asking for a cold beer served in a stemmed glass? Well, actually nowadays, if you go into a trendy craft beer bar, it wouldn't be such an outlandish demand.
The rise of microbreweries here in the UK and the influx of craft beers being imported from around the world, has resulted in a whole new generation of beers appearing on the market. Much like gin, beer has been influenced by our growing interest in food provence and artisan produce. Local London breweries in trendy spots such as Camden and Greenwich are increasingly en vogue with restaurants and bars desperate to stock their products. It's now common to see beers paired with food on menus just like wine - I don't know what the beer equivalent of a sommelier is, but I imagine it won't be too long before one appears. Craft beers have a completely different flavour profile to the ales you may have tried before and lend themselves well to food pairings. So here are some of my favourites to get you started.
A pale, cloudy beer with flavours of lemon and bergamot. It's a crisp, refreshing drink which goes very well with fish.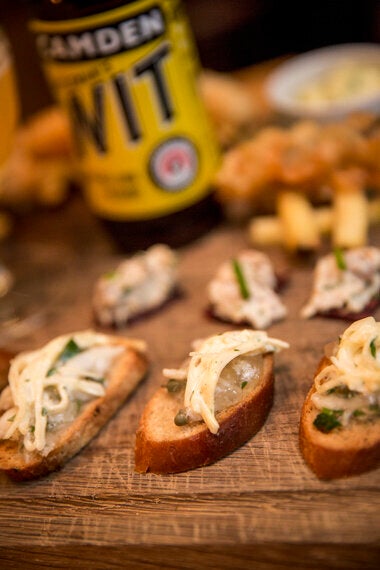 Innes & Gunn Original Oak Aged Beer
Brewed in Edinburgh, this beer is matured in oak barrels to give it a biscuity, caramel flavour which is utterly delicious. Goes together brilliantly with red meat.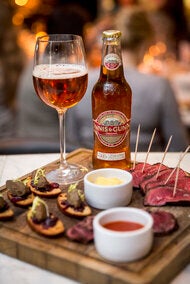 This tastes totally unlike a beer - I think if you served it to your friends as a cocktail, they'd be none the wiser. It's a Flemish beer with a strong cherry flavour. Tart and sweet, it's perfect with puddings.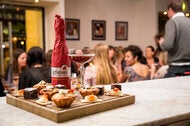 Brewed in Oxfordshire, this craft beer is crisp and sweet with a much subtler taste of ginger compared to other similar bottled drinks, such as Crabby's. This also goes very well with desserts!