It's first thing on a glorious Monday morning and I'm in food blogger Lucy Boler's car heading pell-mell through the Gloucestershire countryside, at the complete mercy of the sat nav, on our way to Todenham Manor Farm. And as we pass through a succession of idyllic chocolate-box villages with their thatched roofs and Cotswold stone straight out of Laurie Lee's Cider With Rosie, it's not hard to imagine why Irayne Paikin snapped up the farm nearly 9 years ago.
We arrive to a rapturous welcome in the beautifully modern kitchen where lunch preparations are in full swing. As some steaks sizzle away enticingly, Irayne tells us that the first time they visited, the 18th century house was fairly rundown but "just needed a little bit of work doing to it". It's clear, though, that the farm has undergone far more than just a little bit of work, but rather a total transformation; on our way up the drive we spotted tall metallic barns, picturesque holiday cottages, and an impressive looking butchery, all of which looked sleek, newly-built, and neat as a pin. However, she tells us quite resolutely that agriculture was the furthest thing from the family's mind at the time "Coming from London, a farm is something you take your children to at the weekend so you can introduce them to animals. It's not something you own at all. We didn't even have a dog at that point!" So then how did a born and bred Londoner end up running a 650 acre farm with over 500 animals?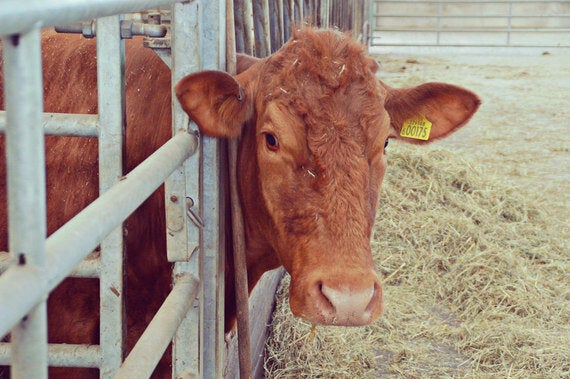 "When we'd moved here, I remember driving around some of the fields just after we'd bought it and I remember feeling rather proud that these amazing fields belonged to us." She explains. Compared to Camden where a garden is something of a luxury, whizzing around acres of open space in her own fields gave Irayne a sense of freedom and opened up exciting new possibilities "It was this feeling that it wasn't just a house anymore, it was everything else that came with it and so it just suddenly became a whole lot bigger than anything I'd anticipated". And it's this sense of responsibility towards the land and everything on it which has influenced the way the farm is run today "Looking after the animals in the best way possible is what it's all about. We're very proud of what we do - we have very strict rules and regulations about how we do things and we think what we're producing is of a very high quality".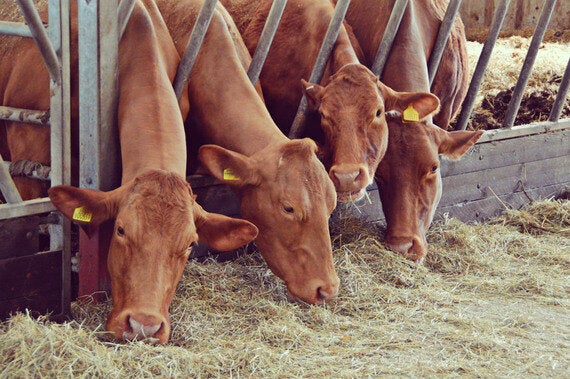 Rather than claiming it as her own initiative, Irayne insists that it was down to some plotting between her husband and a local farmer that the first herd of pedigree South Devon cows was introduced "Barry had rented some of the land that came with the house, clearly very early on he and my husband got into some type of cattle discussion and I was alerted to the fact that twenty cattle were going to arrive". Seeing these beautiful copper-haired cows in her new fields inspired Irayne to slowly start expanding the farm with the help of Barry and his wife Margaret who left her job running a nursery to help run the burgeoning farm. Once the cattle were established, rare-breed pigs shortly followed - Saddlebacks, Gloucester Old Spot, and Middle Whites. Originally the animals would be sold, destined for the fridges of M&S and Waitrose, however a desire to try the beef for themselves led to Irayne thinking about setting up their own meat business "We began to think what if people wanted to buy this beef... so we built a butchery as you do and there was our sparkly new butchery!".
But as we wander around the cowshed and coo joyfully over the gorgeous fluffy cows tucked up with their new-born calves, we begin to wonder how easy it really is to eat your own animals, especially when they look as cute as these do. "First we kept the pigs in the woods and I gave them all names which was incredibly stupid because they went off to the abattoir to be turned into sausages and I was presented with this plate and I knew who it was - it was Davy! I couldn't physically eat my sausages but after about 20 minutes, I did actually succumb and he was good.. but I've never, ever, ever, named a pig since that day".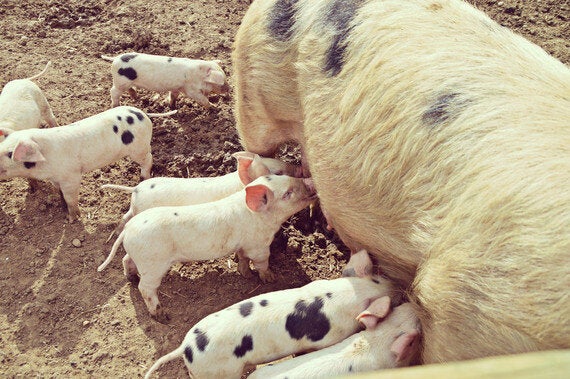 Exploring the farm, what's striking is the vast amount of space given over to the animals. Expectant heifers shuffle restlessly around enormous pens, whilst further up the lane the pigs have an idyll of their own; wide open spaces are neatly divided by wooden fences and sheltered by fruit trees, each with their own robust little arc-shaped abode. Irayne is driven by a real passion for animals and farming "I can't believe from those 4 little pigs and those 20 cows we're now doing what we're doing but I love it and you can't fail but go down to the cattle sheds it's always amazing you never tire of it or if you see the little piglets, I defy anyone to not love that".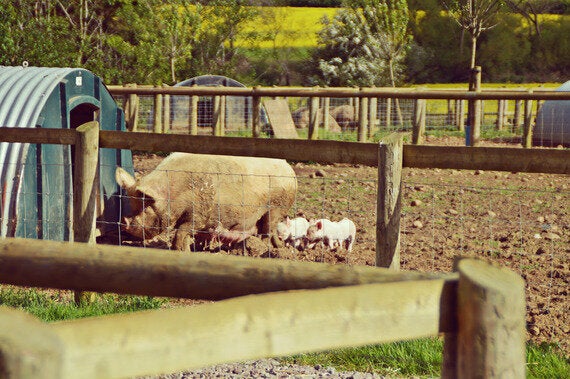 All their hard work has not gone unnoticed either - no less than 6 Great Taste Awards are proudly on display in the shiny butchery, although our host resolutely insists that this is down to the hard work of the whole team "It's the one awards where everything is blind tasted. We've done really well and we're very proud of our success in that. For me having started at a place where I didn't know what I was doing, that's real recognition of everybody's work. I might be the soppy twit coming from London, but everybody has contributed to that - because I haven't reared those animals and I haven't butchered them. So it's everyone's efforts that have put those stars on the packets".
Despite her modesty and self-deprecating sense of humour, it is clear that Irayne is very much the driving force behind the farm and, in fact, the lack of experience has been something of a help rather than a hindrance "I think that because I've never done it before or had experience of it I didn't have anything to measure it by and can only go by my own instinct. I had a vision in my head of how I wanted the product to be and look and how I felt things would work and I think that when you've never done something before, in a way that's an advantage because you just have to go for it".
And what was her vision? A passionate foodie, Irayne researched ancient recipes until she found just the right one for the sausages, whilst all the beef is hung for 28 days to further enhance the flavour. Then there is the way they operate - the farm is an open book it would seem. Chefs are regularly invited to come up to the farm to see how their meat is cut by the butcher. It's important to Irayne that people understand what they're doing and the farm tries to look after everyone as much as possible; from helping out the local supermarket when it runs out of burgers to organising against-all-odds deliveries in the winter snow.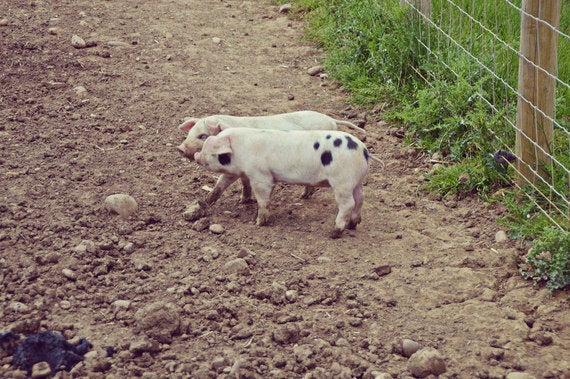 So what's next for Todenham Manor farm? Irayne begins to ponder "Well, now there's something... I think that's quite enough. I don't have ambition to take over the world - I'm very happy with what we're achieving here. It's far exceeded my expectation. I've always loved food and the pleasure it gives people and I never thought that in my late 40s I'd still be able to do that and in this particular way so I just count myself lucky. I think times have changed and people have become much more aware of food, where it's come from and how it's reared and looked after and maybe I've just grown with that and having the ability to join in with that has been fantastic, let's see where it goes next!".
Heading back to London just in time to hit rush-hour, I'm really glad we went on our Gloucestershire road trip. It's a wonderful, yet sadly unusual feeling to know exactly where your lunch came from and that it was reared by people who truly cared about it's welfare. With Open Farm Sunday coming up on the 8th June, I would highly recommend everyone to don their wellies, head out to the nearest farm, and try the full field-to-fork experience too.