Whilst sweaty teenage revellers head to Magaluf for sun, sea and sub-standard sangria, the rest of Mallorca is fast becoming known for its gourmet hotspots. The island is home to no fewer than seven michelin-starred restaurants - Zaranda, Restaurante Jardín, Es Fum, Bou, Simply Fosh, Es Racó des Teix, Andreu Genestra - and there are many fantastic artisan foods to be discovered. On a recent trip with Sainsbury's, I had the opportunity to experience two examples of traditional Mallorcan produce:
Flor de Sal from Es Trenc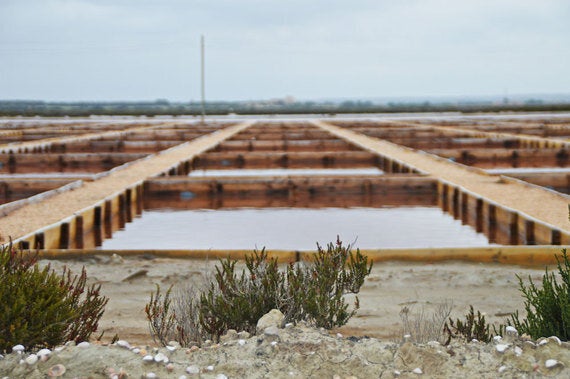 Photo Credit: Victoria Ferran
The salt flats lie alongside an idyllic stretch of coastline on the south-west side of the island and are protected by a national park. We are shown around by one of their employers, Laura, who is possibly the most enthusiastic tour guide ever. Laura explains that her giddy excitement is partly because the salmon pink salt flats give off endorphins, so she always feels euphoric. Whether that's true, remains to be seen.. but I take deep breaths anyway..
In the UK, salt has enjoyed a boom. In many households, the traditional table variety has been relegated to the back of the kitchen cupboard and replaced by cute boxes of artisanal sea salt. Less well-known is Flor de Sal, a type of salt which goes back to Roman times. Similar to Fleur de Sel grown in France and Portugal, it contains far higher levels of magnesium and less sodium chloride than regular salt. Basically that means it enhances flavours without overpowering them.
Here in Es Trenc, the Flor de Sal forms in man-made pools which have a pinky-grey hue from the algae that thrives in its waters. On the surface, rough flakes slowly appear in small island-shaped clusters. These are scooped up at the end of the season, dried under the baking-hot summer sun and packaged for sale. All by hand. On the bottom of each pool they also harvest virgin sea salt - a valuable product in its own right.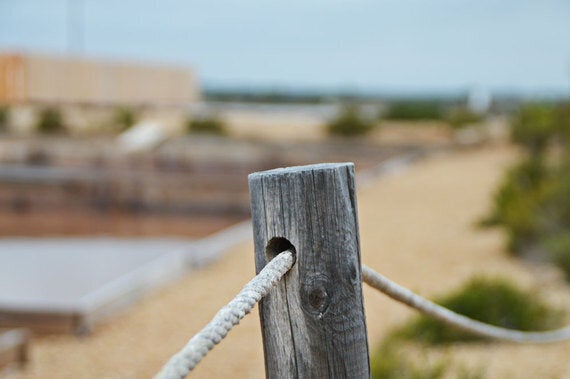 Photo Credit: Victoria Ferran
Today the flats are deserted save for a small family of flamingos who look unimpressed by our arrival. Yesterday it rained, so the team of salt harvesters will have to wait for the water to recover its salinity - and for the salt to reappear on the surface - before they can take up their rakes. Production here is entirely at the mercy of the weather. But at close range, some salty clusters can still be spotted in the shallow pinky pools. Bending down to scoop up a handful, I find the shimmering salt crystals are surprisingly oily and crunchy in the mouth.
Whilst it's not readily available in the UK, the salt from Es Trenc is a favourite of Marc Fosh, a British chef who has lived on Mallorca for over two decades. In 2009 he opened his restaurant Simply Fosh which serves modern Mediterranean cuisine. The location is stunning - situated in the former refectory of a 17th century monastery on a quiet cobbled street in Palma's old town. It won a Michelin star in 2014.
I asked Marc why he prefers this salt: "Flor de Sal is such a great produce because it's totally natural - not refined or processed in any way - and so the flavour is more intense. So it's actually a healthier salt because you can use less in your cooking."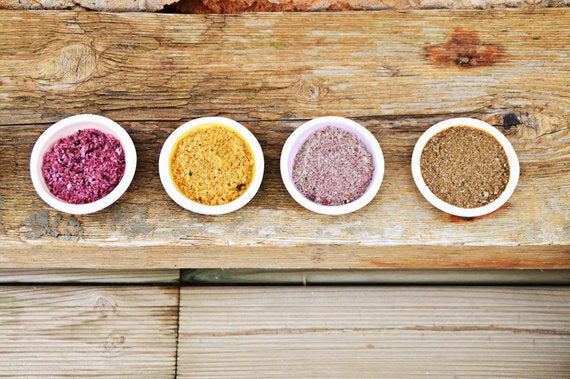 Photo Credit: Victoria Ferran
Marc is passionate about local ingredients "Especially here in Mallorca we're really blessed with great seasonal produce. Throughout the year you look forward to the seasons - apricots and peaches have just started and then local figs will be coming soon and nectarines. Also fish. Many people don't realise that fish are seasonal, depending on what time of year they're passing through these waters."
I wonder if the food scene is changing on the island or if tourists (and journalists) are just becoming more aware of Mallorca's culinary credentials? "There's been a gradual change over the last 10-15 years and people are just starting to cotton on to what's happening on the island. There are so many good young chefs coming through and probably for the first time ever there's a great camaraderie between us all. Everyone's very focused on trying to make people understand about the great local ingredients that we have."
Still, however, many visitors don't realise that Mallorca is home to fantastic local produce - instead settling for the usual tourist traps. "The truth is that we haven't really known how to tell the story - because I think we're just used to it. It's about every night in the restaurant making people aware that, for example, 70% of the wine we serve is from the island. When you sit down at the table, the organic olive oil is from a tiny village, Montuïri. The salt is from Es Trenc and that's before you get into any ingredients on the menu. We have a smoked rice dish, where the rice is from fields between Sa Pobra and Alcúdia. Everybody seems totally surprised that we have rice fields here in Mallorca - so when you start explaining it, people start to understand how lucky we are to have these great ingredients growing on your doorstep."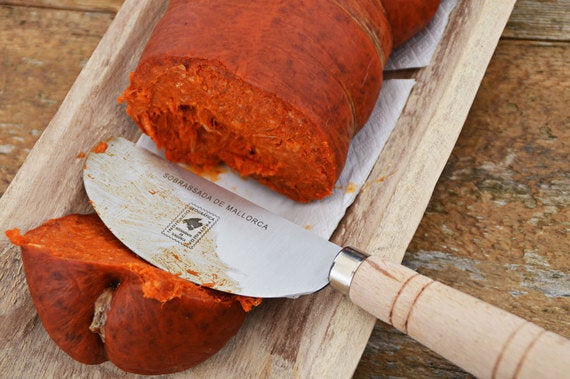 Photo Credit: Victoria Ferran
Another product beloved by Mallorcans is sobrasada - the island's equivalent of chorizo. Invented in the middle ages as a method of storing meat, it is now a protected product (DOP and IGP) under EU law. Usually Mallorcans lavish it on freshly-baked bread with a dollop of honey or sugar. It's smoother than its mainland cousin, almost like a pâté, comprised of pork, salt, pepper and a generous dose of paprika - to which it owes its fiery red hue.
El Zagal is one of the best-known producers on the island. Established in 1905 by Francisco Tejedor García, it's now run by the 4th generation of the family. Their photo archive not only chronicles how the business has grown but also catalogues the vast technological changes in food production over the last 100 years. For example, once upon a time, you'd eat your meat according to the calendar: fattening up your pigs in November / December then curing them in natural casings (stomach, intestines). The thin ones would dry quicker and be ready to eat sooner. Then over the year you'd move onto larger pieces. For the big shoulders and ibérico hams, you might wait up to 2- 3 years - and so the cycle would continue. A century ago, sobrasada was only produced during the winter months, but now production can continue all year round thanks to temperature-controlled drying rooms.
Post horse-meat scandal, we're more interested than ever in knowing where our food comes from. Like many of the island's sobrasada producers, the factory's pata negra pork can be traced back to a local farm. In this particular case, the large herd of stout black pigs are managed by Javier, a tall dark-haired Mallorcan farmer with a weather-beaten face who speaks only in Catalan. His able assistant is a black labrador named Pruna. The pigs roam free except for an electric wire around the perimeter which prevents their escape or theft.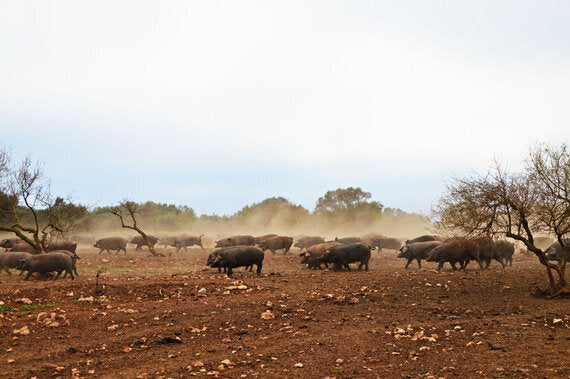 Photo Credit: Victoria Ferran
I confess to Christian, one of our hosts, that before this visit I'd never actually heard of sobrasada. Pâté, chorizo, Jamón ibérico - yes - but not this version. So it came as a surprise when I learnt that they supply several UK delis and Sainsbury's Taste The Difference. Christian explains why: "Our biggest challenge is that it's very traditional in this region and not seen as sexy enough abroad." When El Zagal first launched in a British supermarket it wasn't as a whole piece - which was seen as too scary for British consumers - but in a homogenous plastic tub. They also have to overcome British policies on supermarket shelf-life. In Spain, it's not unusual to keep cured meats for 6 months or more but in the UK, products have a much shorter use-by-date.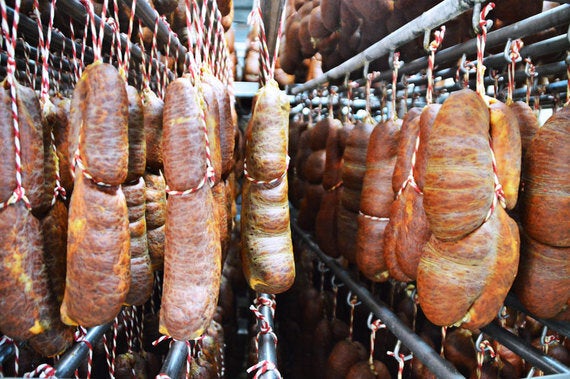 Photo Credit: Victoria Ferran
Chef Marc Fosh agrees that sobrasada is an ingredient that's been difficult to sell to the outside world. "Sobrasada is a classic Mallorcan ingredient. It's got such a rich history but it's not very glamorous. It's for me to start thinking about how we can sex it up and add flavour combinations, making it a bit more gourmet. In England, we had the big boom with chorizo and everybody started adding it to their dishes.. But this is another fantastic big flavour ingredient."
It has even made an appearance on several London menus. For example, Maltby Street's Bar Tozino serves a tapas with sobrasada and honey. Whilst at Iberica in Marylebone, you can try raviolis filled with Mahon cheese & aubergine sautéed with sobrasada. So what does the future hold for this Mallorcan delicacy? Perhaps it will catch the eye of a TV chef, or the next intake of cooking contestants, and become the next trendy ingredient. Who knows? But one thing's for sure - Mallorcan cuisine is putting itself firmly on the culinary map.