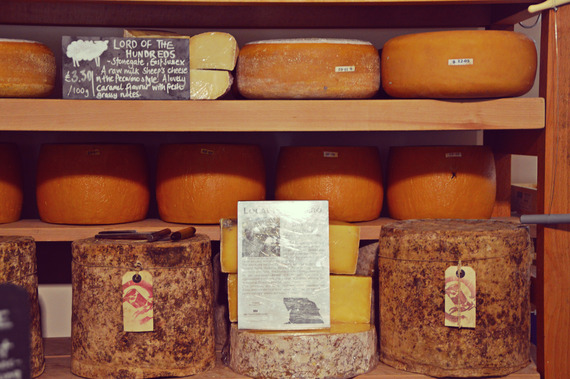 "This batch here was made on the 9th June and it's got a nice tang to it" Explains Andy Swinscoe as he cuts me a hefty wedge of farmhouse cheddar from an enormous yellow wheel behind the counter "And this one's from the 3rd June - same producer from the same farm - but it's a bit more buttery". It's precisely this level of attention to detail, picking out the subtle differences between two ostensibly identical cheeses, which has earned Andy and his Courtyard Dairy a string of awards including the illustrious title of Cheesemonger of the Year and Best Cheese Counter at the World Cheese Awards, Best New Cheese Shop at the British Cheese Awards, and a runner up spot at the BBC Food and Farming Awards.
With such distinguished accolades, it's hard to believe that Andy's career in cheese began almost by accident. Having studied culinary fine arts, he took a job at the prestigious Balmoral Hotel in Edinburgh where one of his responsibilities included taking charge of that bastion of fine dining: the Cheese Trolley "Because of this, I used to visit the cheesemongers a lot and one of them was this very eccentric man in Scotland called Humphrey Errington. The way he made cheese was so interesting and it seemed like a really open industry, so I went down and worked for Paxman and Whitfield's in Jermyn Street for a little while to see if I would enjoy working in cheese and was offered an apprenticeship in France".
Andy was awarded the Queen Elizabeth Scholarship which gave him the opportunity to travel abroad to learn the art of maturing cheese from traditional French cheese-makers, many of whom live high up in the mountains, often without electricity or running water "It wasn't a glamourous job, I worked in a disused railway tunnel turning and ageing cheese. Every weekend I'd go and visit a different cheesemaker, I met so many and learnt from effectively the best in France, so it was a very steep learning curve. But you don't need to be in France, there's so many good British cheesemakers nowadays, which is the reason I returned to Britain. I knew so much about French cheese but wanted to come back and pass on that knowledge whilst also learning about the small British cheesemakers". Working first in Bath as manager of The Fine Cheese Co., he then returned to his hometown of Settle, North Yorkshire, to set up the Courtyard Dairy.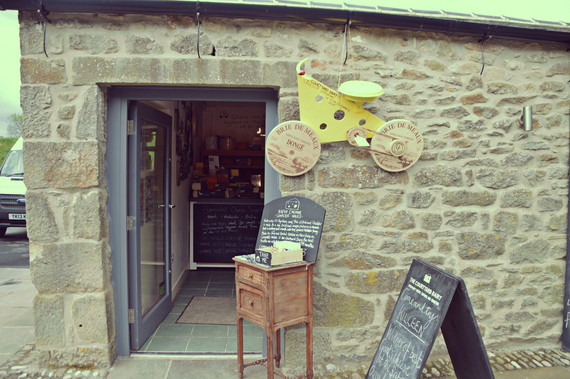 A square, windowless room built from metre-thick yorkshire stone and kept at a frosty eight degrees, doesn't sound like the ideal venue for any up-and-coming food retailer, but for a cheesemonger these are ideal conditions for storing traditional stiltons and cheddars: "At that temperature, the procedures happening inside the cheese (protein and fats breaking down) continues." He explains "Washed-rind cheeses need more humidity so we keep them inside a wooden box at the bottom of the shop where it's slightly warmer and more amoniated. Some of the softer varieties we dry out in the fridge a bit first, otherwise it can get too warm and the yeast can grow a bit too fast. It's about analysing everything when it arrives and deciding where to put it in the shop".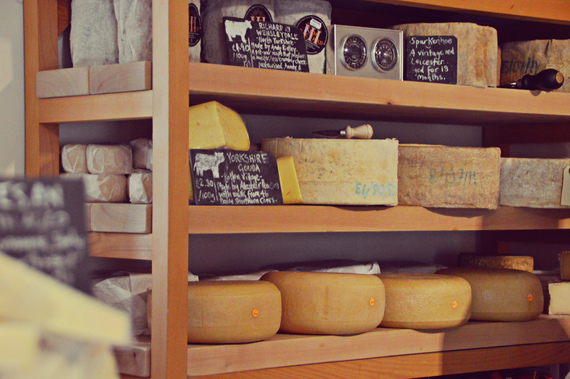 Whilst the Courtyard Dairy may not have the largest selection of cheeses in the world, everything there is carefully chosen "We only could afford to set up a small shop, so we wanted to reduce the range to just 25 that are amazing. What I wanted was for someone to come in and buy a cheeseboard and every one to be spot on". The advantage of a smaller range is the fast turnover: cheeses leave the shop freshly cut, rather than sitting around on the counter for weeks at a time. Because of this, Andy can go directly to the farms and cherry-pick the best batches to take back with him "For example, I work with a an organic cheddar called Hafod. We visit the farm in Wales regularly and select out the best profiles. The main thing for me is that I have a really personal relationship with the farmers".
Working closely with the farmers means that the cheeses always meet Andy's exacting standards. But what does he look for when selecting a food once humorously described as milk's leap towards immortality? "I want something with length of taste. Something which 10 miles later, when I've left the farm and I'm driving home, I can still savour. I'm looking for warmth with a nice roundedness too. But I don't want all my cheeses to taste the same, that's very key. You want lancashires which are light and fluffy, you want your cheddar to have a nice snap and tang to it. With each variety I'm looking for a different flavour, because everybody's not looking for the same cheese when they come in the shop".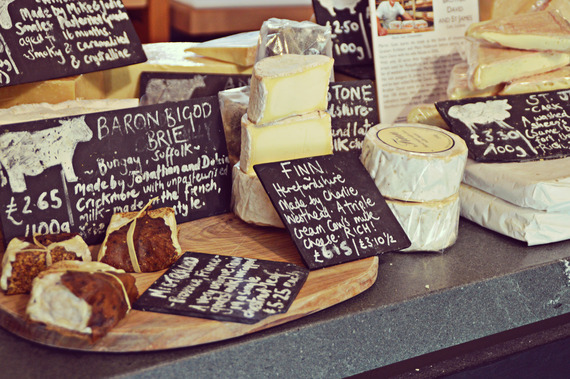 Each individual batch has to be hand-picked because all the cheeses at the Courtyard Dairy are unpasteurised i.e. the natural bacteria is left in the cheese giving it a much fuller and unique flavour. This in turn is much harder to control and subtle flavour differences can come about due to changes in the cows' feed, in the weather, and so on. This is not the case with commercial producers since they mix pasteurised milk from hundreds of farms and use standardised fats and proteins resulting in the homogenous yellow bricks sold in the supermarkets. What I want to know is whether there is any truth to the scare stories surrounding unpasteurised dairy products? "The thing with farmhouse cheese is that it's small-scale." Explains Andy "I would be concerned if you were mixing unpasteurised milk from 400-500 animals.. but most of my farms have just 50 or so cows, they know their own animals, they always concentrate on the feed because making good cheese happens on the farm. If you've got a small farm and you're working at the top of your game, you can use unpasteurised milk because you've got a milk that comes out which is better quality. You're not mixing it or leaving it around and you're not industrially treating the animals. What a lot of people don't realise is that the biggest cause of listeria is pre-packed sandwiches - so it's very easy to pick on things which are small-scale and not as well-known".
Unpasteurised cheeses are becoming increasingly popular, particularly in speciality food spots such as Borough Market. It's easy, however, to get carried away by some quaint bucolic vision of the small-scale farmer and forget that the reason many are producing cheeses is necessity rather than a desire to pander to current food trends, as Andy points out: "In the early 90s the milk marketing board ended which used to control the prices of milk in the UK and since then the supermarkets have forced down the price of milk. A lot of the small farmers on outlying areas have found that the dairies won't come to pick up their milk. So they've had to diversify and start making cheese. It's the same with ice cream; you'll see more and more artisan ice cream makers because the farms that can't make milk economically, at the price supermarkets want, have had to find a way to add value to their milk".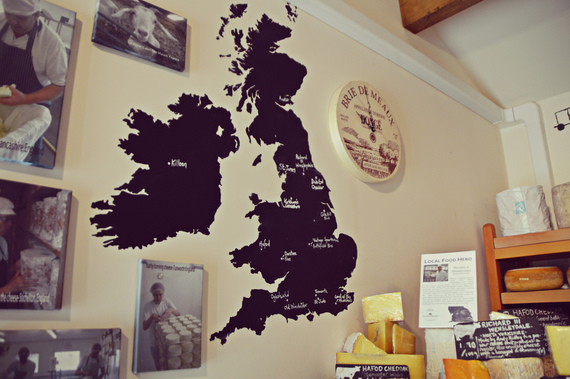 Whilst the majority of supermarkets may treat dairy farmers with cynical disregard, local supermarket chain, Booths, is now promising a fair milk deal and we can only hope that others begin to follow suit. Meanwhile, Andy is doing everything he can to champion the cheesemakers he's working with "Nobody shouts enough about their cheese. Most of them are farming which is hard enough and then they're making cheese for an extra 4-5 hours a day. So we try to tell the story behind each individual farmer ourselves". Everyone who comes to the shop can sample the cheeses on offer and learn about the farm where they are produced. Customers receive far more than a sample and some background info though: it's a whole experience. Everything from the selection of the cheeses to their painstakingly precise storage comes from years of passionate research and an unwavering determination to offer the best produce possible, yet without the often alienating pomp and circumstance found in many London-based gourmet food shops. However, Andy insists on downplaying his role, preferring to give the lion's share of the credit to the farmers "I always say that we are like the frame, and we try and be the best possible frame we can, but it's the picture at the end of the day that's the most important part, and that's the cheesemakers".