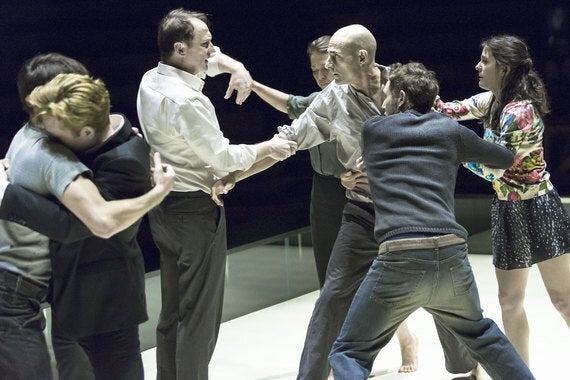 Image credits: Cast A View from the Bridge at the Young Vic, Photo by Jan Versweyveld (c) Young Vic Theatre
It's brave at any point to say that one show, one production, is unequivocally better than any other but as I write this the Olivier Awards are doing just that. So I am going to stick my neck on the line and say that, right here, right now, A View from the Bridge at the Young Vic is the best show in London.
Written by Arthur Miller in the 1950s, A View from the Bridge is the story of Eddie (Mark Strong), an Italian-American dockworker, who agrees to house two illegal Italian immigrants. Yet when one of these men, Rodolpho (Luke Norris) takes a shine to his niece, Catherine (Phoebe Fox) who Eddie has been like a father too since his sister died many years before, Eddie finds himself taking more desperate steps to keep his niece to himself.
The play is set in 1950s America, a time when illegal Italians fled a homeland destroyed by war and fascism, for the promise of a future in the States. But how this resonates with us now when we see such political points gained from threats to root out illegal immigrants in the UK today. It touches very close to home indeed.
Yet at the heart of Miller's play is a man who pays a terrible price for a series of awful decision to hold on to something he has no right to control.
This production completely captured the confusing, constantly shifting morality in Miller's writing. Eddie's feelings for his niece are completely inappropriate. It was so awkward, almost painful to watch the interaction between this grown man and his 17 year-old niece. The way they touch each other, even look at each other, is so awkwardly painful you just want to look away.
Yet we feel such anguish, such sorrow for Eddie as he betrays the men he swore to protect. His complex motivations - a desire for his niece as much as a desire to protect her - may be difficult to detangle but no man deserves the price he pays - the inevitable price for betrayal in the Italian community.
Mark Strong is simply awesome, just incredible. Physically he dominates the stage but within this proud Italian man, Strong suppresses such a tight bundle of emotions, such anger barely contained. Softly spoken but the fear he triggers in others is practically palpable.
And Nicola Walker as his wife, Beatrice, is just superb. She treads her character's fine line with such perfect balance - so desperate but yet too scared to confront her husband over why his feelings have transferred from her to Catherine.
The dynamic between Walker and Strong is profound and intense, jumping in a split second from anger to compassion, giving the production such tenderness as well as such tension.
It's hard to go wrong with writing this good but director Ivo Van Hove made some brave decisions.
The set is harsh in its sparseness - a simple slate grey and white stage framed with a glass bench. And other than a brief appearance from a wooden chair there are no props to speak of. Instead, poured onto this blank canvas are the blood and guts of these desperate characters. It's quite something.
I've seen a few excellent shows this month but A View from the Bridge got my only standing ovation. This production is simply faultless. Gut-wrenching, heart-breaking, perfect. It's impossible for me to recommend this enough. Please go see it.