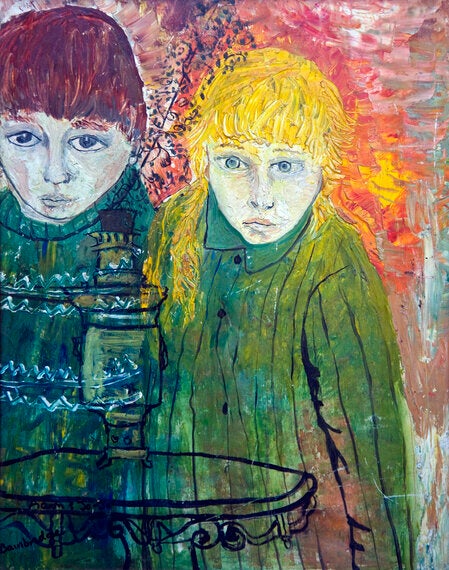 This exhibition from the Cultural Institute at King's College London offers a fascinating insight into a creative mind. Well known for her writing, this exhibition looks at Beryl Bainbridge's painting and drawing in the context of her writing output, and how each fed the other.
The variety of works that have been collated together is impressive - from a number of etchings and drawings of her children and partners, to large oil paintings that blur fact and fiction - and show Beryl's talent as an artist.
The paintings are full of emotion - some happy, some sad. Some humorous, others bittersweet or mournful but all of them are testament to a real talent.
Amongst the oil paintings on show are beautiful representations of her children, including the brightly coloured canvas Aaron and Jonjo, mid 1960s, and also The Bath, late 1950s, where the perspective taken of her children at bath-time transforms a simple bath into a womb.
The painting of her lover, Don McKinley, as Napoleon is both funny and sexually suggestive, and certainly so when it is shown alongside another painting where Napoleon is with a naked woman, possibly a younger Beryl, as it is here.
But a piece that really caught the eye was the collage of her mother, when younger, singing with an orchestra. A very affectionate piece of work.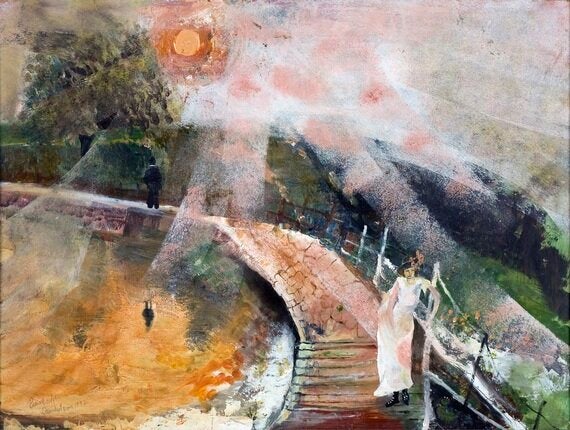 Beryl was a self-taught artist (as also with her writing) and there's an impression that this added to her creativity. Certainly you sense with these works that because Beryl was free from conforming to deadlines and requirements of life as a professional artist, this gave her a great freedom to paint subjects she wanted and as she saw them.
Some of Beryl's old journals and notebooks are included in the displays, as is a book Beryl wrote by hand when she was just 13, Filthy Lucre. All of these have sketches, small paintings, even photos clipped from newspapers in amongst them - evidence of how important Beryl found visual representation in her output.
Portraying historical events became a central theme in her work from the 1990s onwards. In her writing she was looking at subjects such as Dr Samuel Johnson (in According to Queeney, 2001), and the Crimean War (Master Georgie, 1998) but historical events also became a focus in her painting.
On display is a selection of paintings of two particular interests to Beryl at this time - the sinking of the Titanic and Captain Scott and his team's failed mission to the South Pole. Both subjects reflecting Beryl's interests in failed ambition and unsuccessful enterprises.
One of the eye-catching pieces in this part of the exhibition was, for me, The Titanic Lifeboat, late 1990s, an oil and collage piece of work of the lifeboats leaving the sinking ship. Yet included amongst the face of those saved are photos cut from newspapers and magazines, and those faces include Hitler's.
It's an interesting perspective on the role of fate and luck in events such as this, and really flips your sympathy for those rescued. We want to be thankful for those saved in such tragedies - but how would we feel if we knew that amongst those saved were some that perhaps we wish had not been so lucky?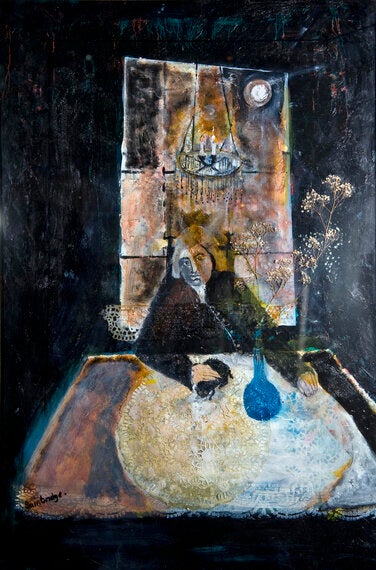 Also included in this section is Captain Oates: I May Be Some Time, a painting which had pride of place over Beryl's mantelpiece in her living room. Given how dark and tragic this really quite brilliant painting is, it's a little surprising that Beryl would want it in her front room. But actually there is much that is surprising in Beryl's interior design.
This exhibition uses these paintings as a way in to Beryl's life away from her writing so there are also two video clips running on loop in the show - a BBC Arena documentary and a film produced by her grandson that followed Beryl for a year.
These are genuinely fascinating and give more insight to the woman behind the work. A few oddities are thrown up such as Beryl's love for the Rolf Harris tune, Two Boys - a song she loved so much she insisted it was sung at her birthday each year and also at her funeral, which makes for uncomfortable viewing for us now.
But this footage really opens your eyes to how this creative mind lived. The footage from her home reveals a house rammed full of paintings, books, stuffed animals, tacky religious icons and bric-a-brac. The interiors are almost overwhelming. Even the hall wasn't exempt with Eric, a full-sized stuffed buffalo, filling the cramped space.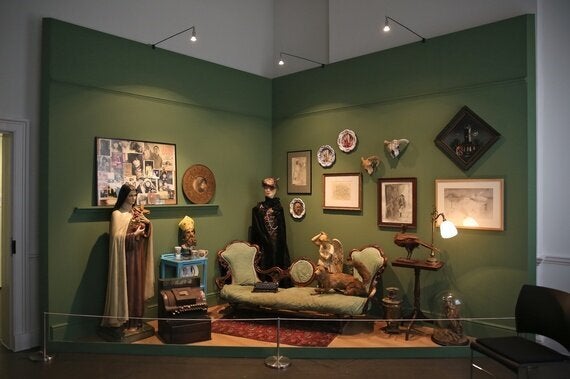 It's fascinating though, to see how such a creative mind lived. However the decision to set aside one of the gallery rooms to a re-imagination of a room from Beryl's house seems a bit unnecessary when there is so much coverage of the real thing elsewhere in the show.
What you take away from this exhibition though is a real understanding and appreciation for the fact that art was part of Beryl's daily life, and that her talent wasn't just limited to writing.
Beryl was clearly an accomplished artist and I came away thinking, how wonderful that she was able to express herself so well through so many art forms - a real lesson in not having any boundaries to how you express yourself.
Inigo Rooms, Somerset House to October 19, 2014
1. Aaron and Jojo (mid 1960s, oil on board) © The Estate of Beryl Bainbridge
2. Boarding The Titanic (1992, oil on board) © The Estate of Beryl Bainbridge
3. Dr Johnson in Albert Street with his Cat Hodge (2000, oil on board) © The Estate of Beryl Bainbridge
4. Art & Life, The Paintings of Beryl Bainbridge © Jana Chiellino
Popular in the Community