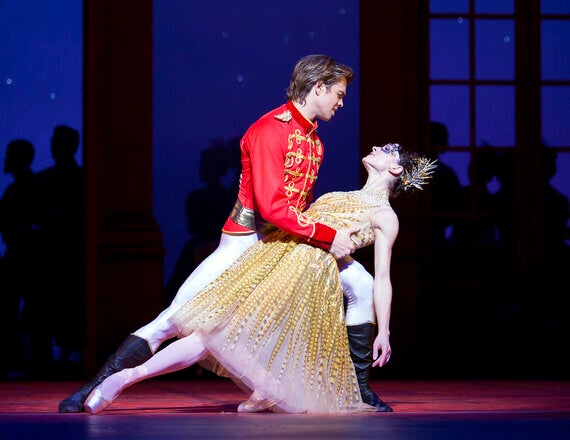 For most of us, Cinderella is a tired fairy-tale yet this classic story has been given a stunning new lease of life in a spellbinding reimagining from Christopher Wheeldon that bewitches you with its charm, its magic and its captivating dark undertones.
Presented by Sadler's Wells, where he is an Associate Artist, Christopher has collaborated with the Dutch National Ballet to create this imaginative reworking. For this is no rerun of the typical Cinderella story. Instead, this Cinderella is based on the version from the Brothers Grimm, rather than the traditional fairy-tale from Charles Perrault.
So the Fairy Godmother is out, along with her pumpkin coaches and friendly mice, to be replaced with a dead mother, a weak (and remarried) father, and a host of magical spirits that protect the young Cinderella as she makes her way through her challenging new life.
And from this version, Christopher has created a ballet that is ethereal and otherworldly, sometimes slightly sinister and occasionally almost gothic in its appearance. It is utterly captivating.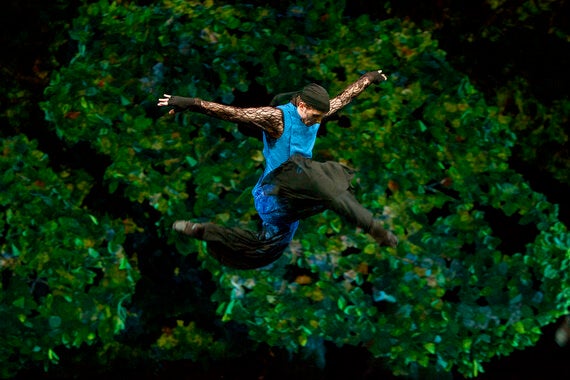 With change of course comes challenge and there are a few missteps along the way. For example, we're more used to the big meet between the Prince and Cinderella coming at the Ball, but this isn't what happens here.
Instead, whilst playing a game of high-jinks with his friend, the Prince, disguised as a pauper, happens upon Cinderella who treats him kindly. Yet all this happens in the corner of the stage with the main focus supposedly being on the Prince's friend who is performing a comedic piece with Cinderella's two step-sisters who have mistaken him for the Prince.
It's all distracting and confusing. When Cinderella meets the Prince, that should be the show-stopper. Instead we have two scenes going on at once, and the principal one reduced to a sub-story, which waters down the excitement of their first meet.
It didn't really work but as the ballet enters the second Act, it leaves these troubles behind and the focused narrative of Cinderella, the ball and the lost slipper returns, the storyline gains its focus and its narrative drive and the show really finds its stride.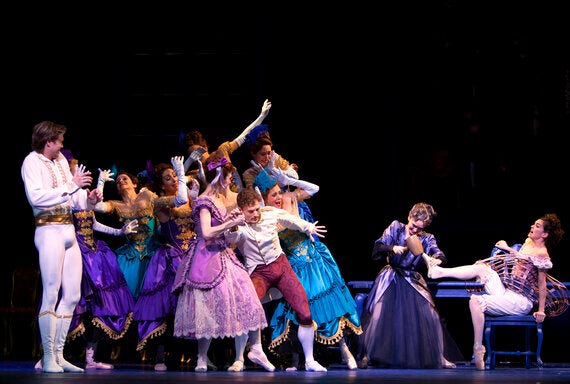 Thankfully, the show never loses its dark, romantic spirit. Prokofiev's jubilant score remains but as we watch Cinderella and the Prince bond and romance through increasingly intimate pas de deux, this feels very much like a meeting of broken hearts - two people burdened by their unhappy circumstance - finally finding someone who understands them. Christopher's ability to pull this emotion from the score is impressive and you are completely drawn in.
And this is emphasised with two excellent lead performances.
Anna Tsygankova makes for a wonderfully delicate Cinderella. There is a fragility to her spirit and a hesitancy that intrigues. This isn't a starry performance full of smiles and grand gestures but one of a young woman still mourning the loss of her dead mother and trying to find inner confidence. Anna's ability to blend this sentiment with her excellent ballet performance is most impressive.
Anna's Cinderella is regularly shadowed by the four Fates, the spirits that have protected her since her mother's death, and their movement together is, for me, the highlight in the production. You feel the weight of Cinderella's reliance on them and yet the rush, the strength and the grace they bring to her when they are near.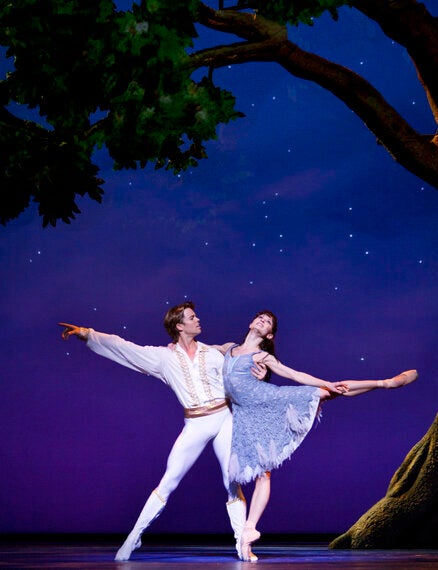 Matthew Goulding as the Prince is very much the star draw. He's just got it all - a superb actor as well as a wonderful ballet dancer. And throw his charisma and good looks into the mix and he makes for the perfect Prince. His performance is full of expression and his dancing a wonderful blend of power and poise. Perhaps his skills are under-utilised in the role but nevertheless, his performance is excellent.
Christopher Wheeldon's choreography is at its best for the full corps de ballet. The group scenes are superb and the fluidity is mesmerising, with the dancers ebbing and flowing like tides to emote the presence of magic and emotional surges. It is fresh, emotive and it just sweeps you up.
And this enthralling choreography is enhanced by the production design of this show which is, quite simply, out of this world. It's a stunning series of sets and visual design from Julian Crouch , which varies from the richly decorated sumptuous balls and jewelled dresses, to the more creepy magical spirits with giant bird heads.
The emotional impact in this reinterpretation is profound. The darkness, the magic of twilight and spirits is such a fresh and challenging change from the more common - and more saccharine - version of Cinderella we are more familiar with it. I hope I get to see it again.
London Coliseum, until July 11, 2015
All Images: Dutch National Ballet, Cinderella. Photos by Angela Stirling.