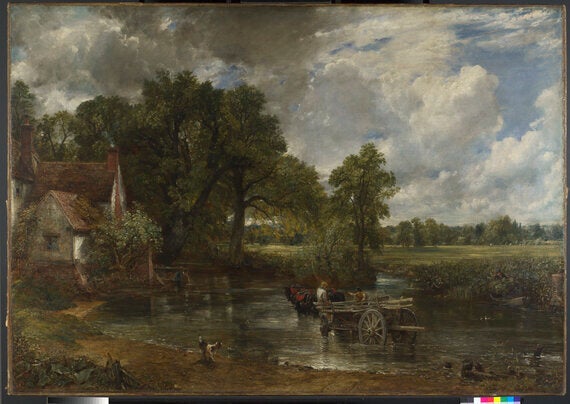 John Constable remains one of Britain's best-loved artists and I don't think you will ever see a more thorough examination of his approach to and design of his work than this new exhibition at the Victoria and Albert Museum.
This exhibition brings together over 150 works of art including oil sketches, watercolours, drawings and engravings, as well as some of Constable's most famous completed paintings.
And the purpose of such a comprehensive collation? To explore how Constable studied and learnt from the works of other great painters to develop and hone his technique, and then how he constantly sketched and invested in preparatory work to finalise his major works.
There is often a presumption with Constable that he was a painter who worked directly from nature. However though he studied natural landscapes extensively, Constable revered painters such as Claude Lorrain, Rubens and Turner and studied their techniques and compositions in great depth.
And the impact of those studies is highlighted here as the V&A has put a few paintings from Gainsborough, Turner and Claude Lorrain alongside some of Constable's work to show how Constable replicated certain elements.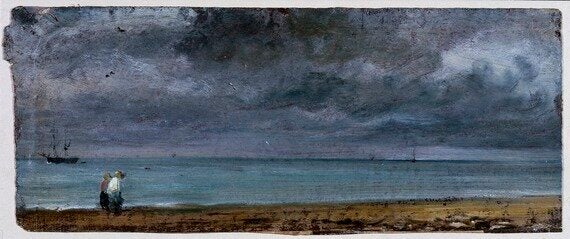 I understand the purpose of this but often I found Constable's work did not always compare favourably. For example, Constable studied Rubens' Landscape by Moonlight and attempted to replicate the impact of light falling on figures in the night in a painting of his own but not with the same success.
But then again, his Dedham Vale 1802, which is based on a composition from Claude Lorrain's Landscape with Hagar and the Angel, was wonderful. Swings and roundabouts, I guess.
A significant number of Constable's most famous works are included in the display, secured through loans from the Tate, the Royal Academy, the National Gallery and Philadelphia amongst others.
Many are familiar with works such as The Hay Wain, The Leaping Horse and Salisbury Cathedral from the Bishop's Grounds. But here the V&A has shown these alongside much of Constable's vast preparatory work that he undertook for each painting. Dozens and dozens of sketches where he'd work on composition, colour, and light and shade are a great testament to Constable's forensic preparation and his admirable work ethic.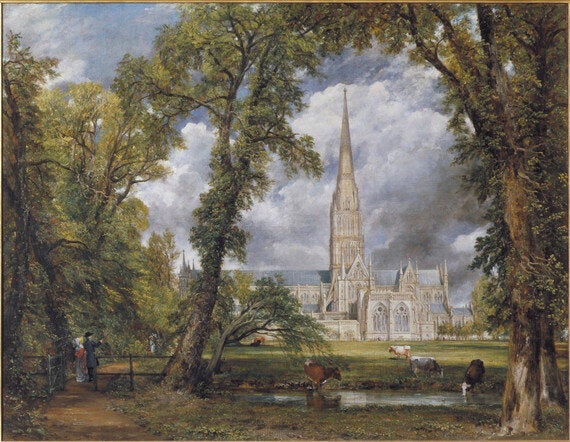 As an example, on show is Willy Lott's House, an oil sketch of a rural scene of a dog by a river that would eventually form part of The Hay Wain. Only this sketch was made 10 years before The Hay Wain was completed, which gives you some idea of how long Constable weighed up and worked on his ideas.
Seeing this preparatory work was, for me, the real highlight of the exhibition. In particular, his oil sketches of locations as varied as Brighton beach, Weymouth Bay, Hampstead Heath, even his cloud studies were wonderful. Indeed I found them more emotive than many of his larger finished works.
Supporting these pictures, the V&A has also put on display a number of Constable's sketchbooks, which he'd use on his travels. The detail in the drawings within them is almost forensic, a great testament to the effort Constable put in to studying what was around him.
But in spite of its impressive scale, whether you think this exhibition is 'good' or 'great' I suspect will come down to whether you actually like Constable's paintings.
Constable is certainly a divisive artist with as many detractors as fans. His often tranquil, idyllic landscapes lack the energy and bold brushwork of Turner, who was painting at the same time as Constable (and who has his own exhibition currently at Tate Britain) and even at the time critics were not always kind to Constable, finding his use of highlights in pictures such as The Opening of Waterloo Bridge distracting in their extravagance (but then what do critics know).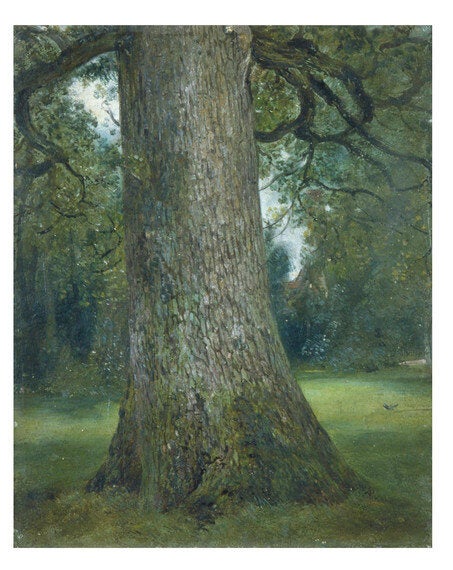 However though I may not be Constable's biggest fan, I found this exhibition encouraged me to reconsider my assumptions of him. In addition to the oil sketches I also loved his more detailed work on natural landscapes, such as Study of the Trunk of an Elm Tree and Trees at Hampstead.
Quite whether Constable was a 'Master,' as suggested by the title the V&A has chosen for this exhibition, might be questionable. But what isn't in question is the work that has gone into bringing together this undeniably detailed and wide-ranging exhibition. As an examination of Constable's method, this show is excellent.
Victoria and Albert Museum, London to January 11, 2015
1. The Hay Wain, Oil on canvas Artist: John Constable Date: 1821 Credit line: © The National Gallery, London 2014
2. Brighton Beach, Oil on paper Artist: John Constable Date: 1824 Credit line: © Victoria and Albert Museum, London
3. Salisbury Cathedral from the Bishop's Ground, Oil on canvas Artist: John Constable Date: 1823 Credit line: © Victoria and Albert Museum, London
4. Study of the Trunk of an Elm Tree, Oil on paper Artist: John Constable Date: c.1824 Credit line: © Victoria and Albert Museum, London
Related