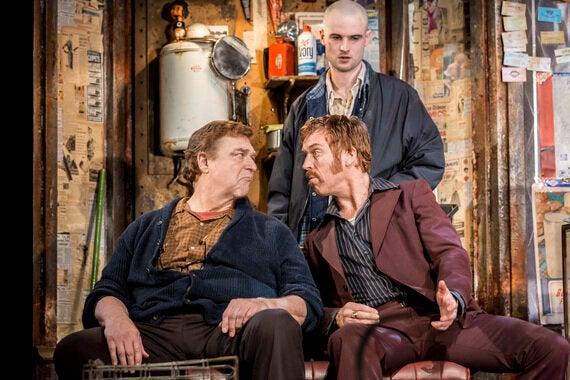 With Damian Lewis and John Goodman in the cast, this production of David Mamet's American Buffalo was always going to be a box-office success. However, whether all those who pile in to see this show will come out raving about it, I'm not so sure.
American Buffalo is a small story about three no-hopers and their desperate and desperately terrible plan to rob a valuable nickel. The production has some excellent acting performances but narrative drive is incredibly slight with the dialogue-heavy script far more focused on circular conversations than driving any story forward.
I, however, enjoyed this show - more than I expected to. And the principal reason for that is the acting, which really is top drawer.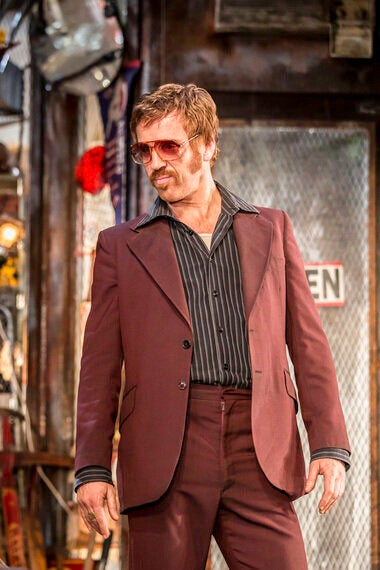 John Goodman is Don, a junk store owner who's smarting from underselling a valuable nickel - one with a Buffalo Indian on it - to a customer. He wants his coin back and has roped in Bobby (Tom Sturridge), a fractured, fragile junkie, to monitor the customer to enable a potential robbery.
Only local hustler Walter (Damian Lewis) hears about the plan and steps in, offering his more reliable services over Bobby's. And what transpires is the unravelling of what was already a terrible idea.
What attracts is that these are three very, very, very different characters. You can't imagine there being much that would bring these three men together other than the fact that they are all down on their luck and desperate. But the interplay between the actors is tremendous.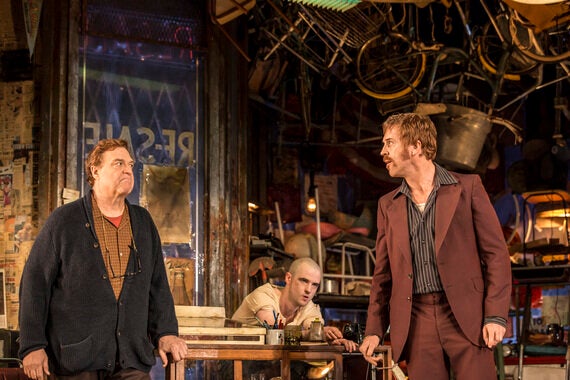 John Goodman and Damian Lewis bounce off each other with relish, really mining all of David Mamet's rich dialogue for all the humour and drama they can wring from it. Yet it's Tom Sturridge as Bobby who impresses most of all. His dependency both on drugs and Don are played beautifully and he is very much the heart and soul of the story. His is the character who seems most elusive, most difficult to pin down.
The set design from Paul Wills caused audible gasps from some in the audience when lights went down. Perhaps their response was a little OTT but it did reflect not just how many in the auditorium were not regular theatre-goers - a reminder on the draw of star-power on the West-End stage - but also how good the set really is.
American Buffalo is a single setting play that takes place in Don's junk shop. And the opportunity has been taken to really invest in a wondrous design with the whole stage filled, from ceiling to floor, with junk. Tons of junk, and all dirty, in disrepair and covered with dust.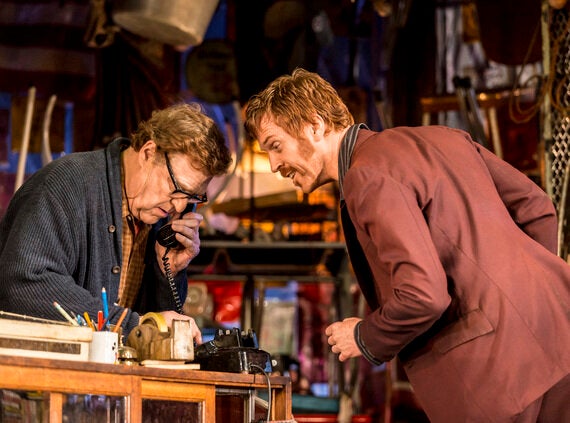 Direction comes from Daniel Evans and it's subtle and unobtrusive, the three characters ever coming and going from the junk store. Yet there is one big directorial decision that was made that intrigues.
Bobby's fragility is paired against Don's paternalistic affection for him, giving him a protection that plucks the heartstrings. I've not seen American Buffalo performed before but there is clearly another interpretation that could have been made - that there could be a sexual element that feeds Don's protection. The decision to shy away from that is a shame but nevertheless, the ending is still tender and moving and wraps up what is a surprisingly enjoyable production.
However whether this production will encourage many of those new theatre-goers drawn to this show for its stars to see more theatre, I don't know. I enjoyed this but there were plenty of murmurs from others leaving the audience that they didn't understand what it was about, thought Damian Lewis looked Tom Selleck and that there was way too much swearing. Oh well, horses for courses but that is the beauty of theatre - come again and try something else.
Wyndham's Theatre, London to June 27, 2015
1. John Goodman (Don), Tom Sturridge (Bob) and Damian Lewis (Teach) in American Buffalo at Wyndham's Theatre. Credit Johan Persson
2. Damian Lewis (Teach) in American Buffalo at Wyndham's Theatre. Credit Johan Persson
3. John Goodman (Don), Tom Sturridge (Bob) and Damian Lewis (Teach) in American Buffalo at Wyndham's Theatre. Credit Johan Persson
4. John Goodman (Don) and Damian Lewis (Teach) in American Buffalo at Wyndham's Theatre. Credit Johan Persson