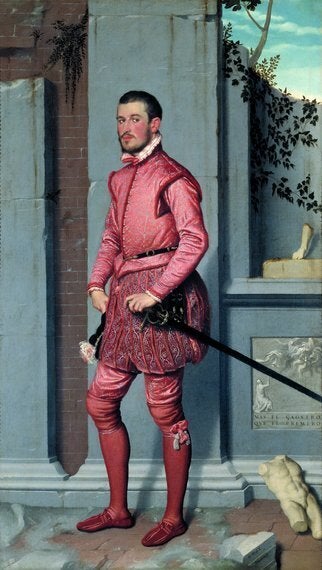 Moroni is widely regarded as one of the finest painters of the 16th century, and a critical innovator in portraiture, in particular. Yet his name is not widely known by the general public so this new exhibition at the Royal Academy, the first ever large-scale display of his work outside Italy, is an important contribution in correcting this.
Moroni, born in Albino in c. 1520, spent most of his days working in and around Bergamo in Northern Italy at a time when most Italian artists headed to Venice. Being away from the centre of all things often meant his work was overlooked or marginalised, both at the time and subsequently.
Yet by working in Bergamo, Moroni established himself as the main figures of Lombard art, a style that replaced the idealisation and artifice that dominated portraiture at the time that with a more realistic, more natural and character-revealing style.
And his tremendous skills are laid out for all to see in the 45 paintings that the Royal Academy has brought together in this show.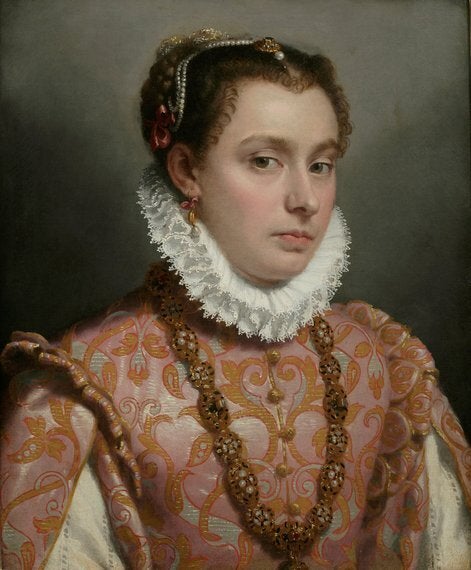 Moroni could capture the inner life of his sitters as much as replicating their likeness. His portraits are infused with such penetrative insight as well as wonderful observation of the changing fashion such as the sudden penchant for open sleeves. But what really exalts his work is its realism.
Sitters are slouched in chairs or casually leaning against plinths or walls. Sometimes their gaze is direct- are they intimidating their audience or curious about their presence? Other times the sitters are gazing off into the distance, lost in their own thoughts.
Moroni painted not just the political elite in the region where he lived but also poets, tailors and even anonymous people he simply wanted to capture in his work. Yet all of them are given the opportunity to pose as if for state portraits, in either full length paintings or in close up three-quarter style.
Taking Young Lady above as just an example, the exquisite detail in her dazzling jewels that catch the light, the intricacies of her lace collar and the detail of her rich robes are all there. But what draws us in are her eyes.
Her head is bathed in a soft light that causes us to focus on her face. And that tilt of her head and the inquisitiveness if her gaze is intriguing. It's as if we're forming a relationship with her rather than passively over serving her. Her portrait is immediate and intimate.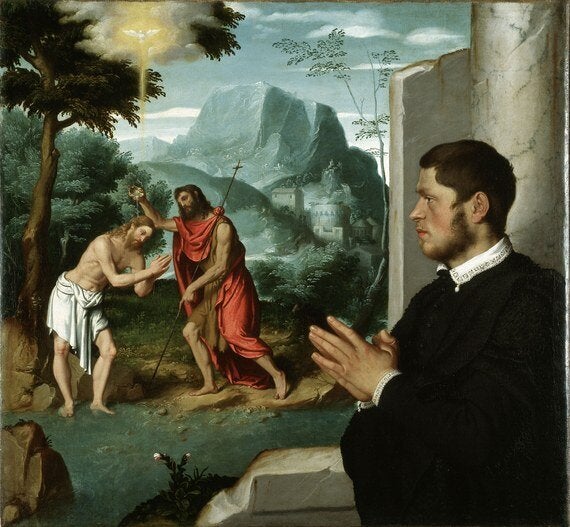 Moroni also did many religious works. He was very much involved in the Counter-Reformation movement, which sought to redress and revitalise Catholic imagery in the face of Protestant criticism.
Some of these works are included in the exhibition, such as A Gentleman in Adoration before the Baptism of Christ above. Paintings such as these, where devotional prayer could conjure up visions of a sacred scene reflected popular Catholic doctrine of the time yet Moroni still left his mark on the interpretation.
The austere pious demeanour and wardrobe of the man in contemplation is in stark contrast with the bright colours of the religious scene he witnesses. And Moroni's composition, with the gentleman in the foreground yet his focus being not on us but on John baptising Jesus, draws us in.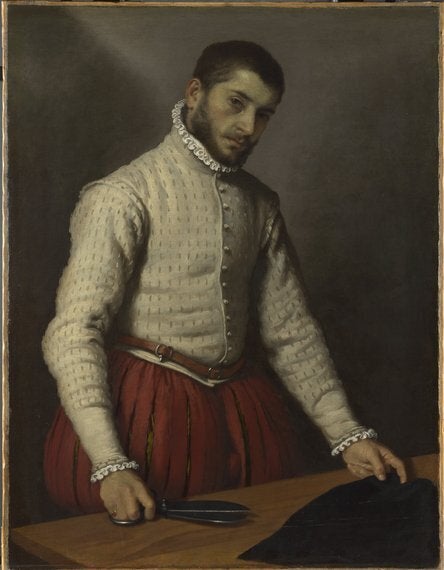 The exhibition ends with, perhaps, Moroni's finest painting The Tailor (1565-70). The man in the painting is unknown - is he an aristocrat who ended up selling fabric or is he a wealthy tailor who was responsible for dressing the elite? But in this painting, all of Moroni's profound skills are on display.
The muted tonal effects of the painting, with the faded rusty red and the warm browns offset by the silvery tones in the grey background and the man's ivory shirt, are exquisite and in such sharp contrast with the bright colours of the more Venetian style of portraiture.
The sharp steel of the scissors catch the eye, drawing us in to a man at work rather than a man posing for a picture. His head is angled towards us, as if we're interrupting him. And this tilt of the head and the inquisitive gaze are all so much more intriguing. And with the pale parlour of his skin and his pursed lips, much more natural than the more contrived sittings prevalent elsewhere.
Moroni's portraiture, with its psychological slant and unprecedented realism, was ahead of its time. This exhibition at the Royal Academy rightly puts his talents back in the spotlight and hopefully goes far in furthering people's knowledge and appreciation of this fine artist. It certainly has with me.
Royal Academy of Arts, London to January 25, 2015
Admission: £13.50 (concessions available)
1. Giovanni Battista Moroni Gian Gerolamo Grumelli, c. 1560 Oil on canvas, 216 x 123 cm Fondazione Museo di Palazzo Moroni - Lucretia Moroni Collection, Bergamo. Photo Fondazione Museo di Palazzo Moroni - Lucretia Moroni Collection, Bergamo. Photography: Marco Mazzoleni.
2. Giovanni Battista Moroni Young Lady, c.1560-65 Oil on canvas, 51 x 42 cm Private collection Photo: Private collection
3. Giovanni Battista Moroni A Gentleman in Adoration before the Baptism of Christ, c.1555-60 Oil on canvas, 112.8 x 104 cm Gerolamo and Roberta Etro Photo: Gerolamo and Roberta Etro
4. Giovanni Battista Moroni The Tailor, c. 1570 Oil on canvas, 99.5 x 77 cm The National Gallery, London Photo c. The National Gallery, London