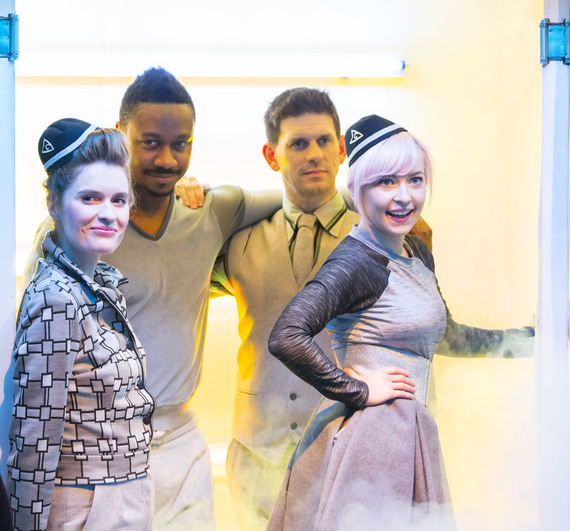 Gastronauts is a fun, innovative and absorbing production that looks at our relationship with food.
Created by April De Angelis, Nessah Muthy and Wils Wilson, this immersive theatrical production seats its audience in a futuristic restaurant whilst around them little snippets and scenes are played out by the small cast.
The purpose of the play is to examine our relationship with food. How we connect to it emotionally, how we have perverted its production to satisfy mass consumption and how those at the end of the scale - the farmers and workers - are exploited for financial gain.
The decision to make this an immersive experience, with audience participation, is a smart one. Tasters and canapés are distributed around and the audience is encouraged to appreciate the food with all their senses, to reconnect with food not just as fuel but emotional fulfilment. It prevents the piece being sterile and a lecture rather than a show.
The futuristic fine-dining set by Lizzie Clachan has a great dystopian feel to it, which is a perfect partner for the writing as the play descends into its dark centre where we are forced to realise where our exploitation of our natural resources is leading us.
The piece is well directed by Wils Wilson. It's pacey and the audience really is at the centre of the action as the cast use all the space available to play out the drama.
The small cast (Andy Clark, Imogen Doel, Nathaniel Martello-White, Justine Mitchell and Alasdair Macrae) work hard and show great versatility. The production combines light-hearted musical numbers with emotional drama and all the cast handle the audience participation with humour.
As always with theatre that has an explicit message - in this instance, how our mass production of food is destroying our own health and our balance with the natural world - there is a fear that the desire to make the point overcomes the dramatization.
Sure, some of the playlets are better than others. In particular, the running plot throughout the evening of Imogen Doel's character battling her food demons is the piece with the most emotional heart and the most engaging. But overall, Gastronauts strikes a fine balance, ensuring there is always more 'show' than 'tell'.
To December 21, 2013
Jerwood Theatre Upstairs, Royal Court, London