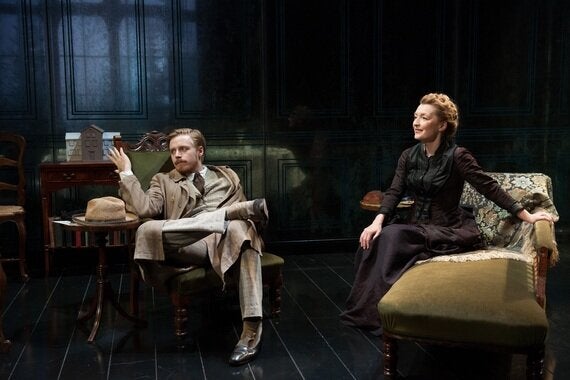 I don't think you could ever witness a better version of Henrik Ibsen's Ghosts than this Richard Eyre-helmed production at the Trafalgar Studios. Genuinely moving but never melodramatic or overwrought, this story of a family trying to escape the ghosts of their past is an exceptional piece of theatre that will resonate long after the curtain falls.
Helene Alving's (Lesley Manville) plans are going as she'd hoped. It is the evening before the tenth anniversary of her husband's death and her son Oswald (Jack Lowden) has returned from Paris to support her as she opens an orphanage in memorial to her husband. And she's not the only one thrilled at her son's return - so is her young maid Regina (Charlene McKenna).
Helene is a modern woman. Since her husband's death she has run her household and managed its finances. She reads feminist literature and supports her son's decision to lead the bohemian life of an artist in Paris. But like everything in this small world of Ibsen's creation, honesty, truth and valour are only skin deep.
As she confesses to her Pastor (Adam Kotz), she has planned to tell her son the truth about his father and the kind of man he actually was. But in one night, events tumble out of control and the ghosts of the past unravel all the secrets and lies that these characters have kept buried deep down.
After a highly acclaimed - and sold out - run at Almedia Theatre in 2013, this harrowing tale of the corrosive effects of living lies and harbouring secrets transfers to the West End. And it is a most welcome transfer.
Richard Eyre, former Director of the National Theatre, is one of this country's finest directors and in his hands this Ibsen, which could be heavy and maudlin, is eminently watchable, with moments of humour that ensure the pangs of despair are all the more profound.
The acting on show is of the highest calibre but it's Lesley Manville in the lead role that breaks your heart. She gives a truly extraordinary performance as a spirited woman undone by the ghosts of the lies that have engulfed her house and her family. It's a performance that moved me to tears.
Lesley Manville's portrayal is of such a standard that it was the source of much controversy last year. At the Evening Standards theatre awards, Helen Mirren took home the gong for Best Actress for The Queen - a result which raised eyebrows from members of the judging panel who had expected Lesley Manville to get the nod.
Both were exceptional performances but Helen Mirren is a household name and her role received much publicity. In contrast Lesley Manville isn't but deserves to be. With this in mind, I urge you to take the opportunity to see this performance and this show before it finishes in March. An Ibsen play may not initially strike you as a good night out but this is a harrowing, poignant piece that reaches deep into your heart and soul.