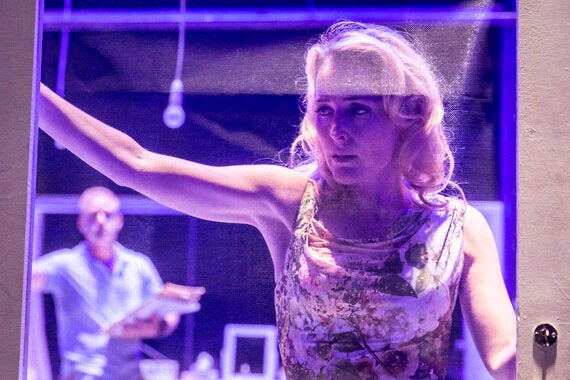 A Streetcar Named Desire is Tennessee Williams' finest play and in this deeply affecting production at the Young Vic, Gillian Anderson gives quite probably her finest performance as Blanche DuBois, the desperate woman whose life falls apart under the overwhelming pressure from reality and the crushing brutality of Stanley Kowalski.
Gillian Anderson's performance as Blanche, the woman who is hiding a lot of secrets and damage behind her charming façade is captivating. Her Blanche is so fragile, so delicate. You sense that she is just teetering on the edge of sanity, that her walls are so frail that they could come down at any moment.
And of course, it is Stanley Kowalski, her sister Stella's thuggish partner, who smashes down those walls, shattering Blanche's reality for good.
Gillian's performance is superb and she is supported by an excellent Vanessa Kirby as Stella, the passionate young woman whose desire for her Stanley is as strong as her willingness to protect her vulnerable older sister.
Ben Foster's Stanley is brutish but, for me, lacked the raw sexuality and the charisma that is crucial in depicting Stanley as the complex man that he is. Foster's presence is intimidating but not as overwhelming, as suffocating, as he could have been.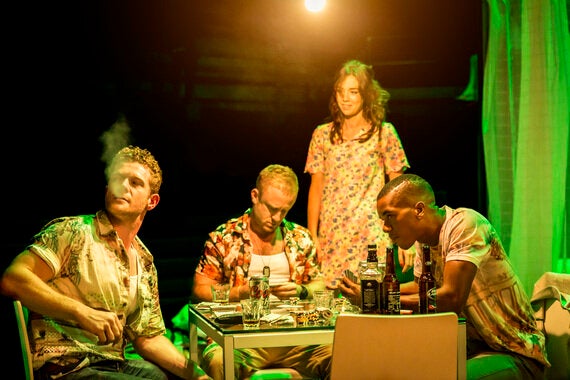 Directing the modern-dress production is Benedict Andrews and his pacing of the piece is superb, giving space to the actors to allow the power play between Blanche and Stanley to play itself out with Stella as their battleground.
Blanche, complete with her designer shades and Vuitton luggage, arrives unannounced at her younger sister's run-down place in New Orleans. Her refined airs and graces are at complete odds with Stanley's thuggish outlook yet these are both defensive, needy people and there's plenty of tension in the first half as these two adversaries circle each other, desperate to keep Stella for themselves.
There's a real spirit to Gillian Anderson's Blanche in this part. You sense she is a real fighter as she urges her sister to see sense over the violence in her relationship with Stanley. But you also feel Stanley biding his time, working out how to outmanoeuvre the interloper in his home and it is in the second half of the play that we see Stanley gain the upper hand as he starts to tear down Blanche's defences, literally and metaphorically.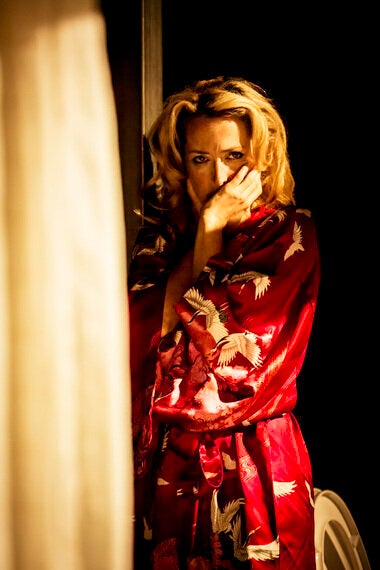 A word also for the set design from Magda Willi. Its simplicity is deceptive, with flimsy curtained partitions and non-existent walls working on so many levels. And the set revolves slowly throughout, which you'd think would be distracting but actually just adds to the unsteady emotion in the play.
But for all that is great about this production, it is Gillian Anderson's central performance that will stay with you long after the curtain falls. She is astounding. Her acting is so intense, so believable that your heart just breaks for Blanche. It's an incredibly affecting, moving performance.
Yet such was the expectation that Gillian Anderson would deliver such a seminal performance that this show was the fastest-selling production in the Young Vic's history. Advance tickets for the run have therefore already all sold out.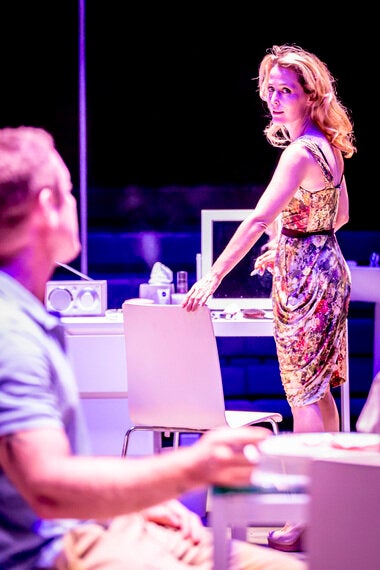 However the Young Vic does release tickets every day as part of its day lottery. Head on down to the Young Vic at 5pm each day and they'll take your name. Names will be drawn at 5.30pm with all tickets £20, with a £10 concession for Under 26s. Returns will also be on sale.
And if this proves impossible, the Young Vic has teamed up with NT Live to broadcast A Streetcar Named Desire live to over 1,000 cinemas around the world on September 16th so do have a look at the NT Live website to see if your local cinema is included.
Young Vic Theatre, London to September 19, 2014
1. Ben Foster and Gillian Anderson in A Streetcar Named Desire, Photo by Johan Persson
2. A Streetcar Named Desire at the Young Vic, Photo by Johan Persson
3. Gillian Anderson as Blanche DuBois in A Streetcar Named Desire at the Young Vic, Photo by Johan Persson
4. Ben Foster and Gillian Anderson in A Streetcar Named Desire at the Young Vic, Photo by Johan Persson