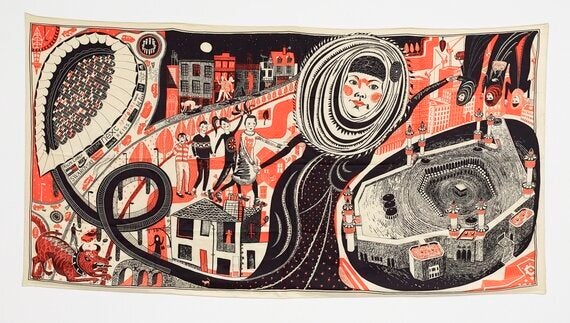 Celebrated artist Grayson Perry has been examining identity and how we define ourselves in his programme on Channel 4, Who Are You? The 14 works of art he created off the back of the interviews and experiences he had on this journey are now on show in a free exhibition at the National Portrait Gallery.
But rather than hive these works of art off into a separate exhibition with admission charges, the Gallery has scattered the pieces throughout its free galleries and visitors are encouraged to follow a trail that connects one piece of art to the next. It's like an extraordinary treasure hunt.
The trail starts with Grayson's self-portrait, Map of Days, an examination of his own identity. But this is no obvious literal depiction of himself. Instead Grayson shows his mind as a fortified town and inside the walls is a crazy, fluid mind map filled with concepts and contradictions. And intriguingly, Grayson has left the centre of this fort, the nucleus, blank - a clear, open space.
Each piece on display has a few comments from Grayson alongside and as he comments here, he sees identity as "a lifelong shifting performance." Our identity always evolving, always changing.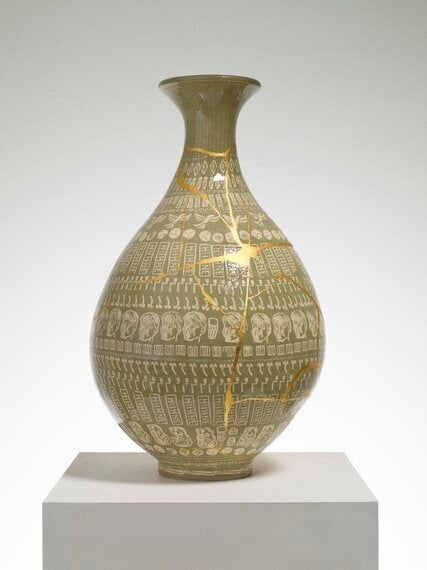 For Who Are You?, Grayson met with people from different backgrounds who were at a crossroads or crisis in their own identity to listen to them and then make works that try to capture each of them in a single, revealing image.
The variety of mediums Grayson has used is impressive with tapestries, ceramics and brass figures all on show.
Melanie, Georgina and Sarah is a collection of three ceramic figures where Grayson has taken the familiar outlines of goddesses of fertility, with their big stomachs and generous curves, and subverted these for the modern age. Back in time, these symbols of fertility were highly desirable but to modern eyes these figures seem overweight, even obese. The figures haven't changed but our opinions of them have.
Memory Jar is a very powerful piece. Christopher has Alzheimer's, an incurable disease that is destroying his memory, robbing not just him but also his partner Veronica of their shared memories, their life together. Here Grayson has Christopher's memory as shards, fragments, jagged edged images that are jumbled together. The piece is angry and chaotic and quite profound.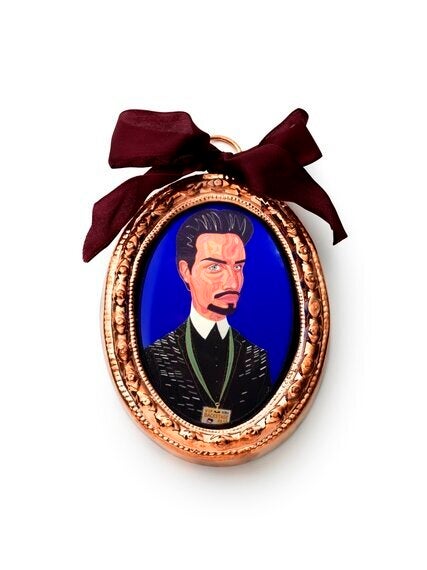 There is a real sense of provocation in Britain is Best, a bright tapestry that Grayson made after meeting members of the Ulster Volunteer Force (UVF) in Belfast. The tapestry is styled like a banner often used in UVF marches. Only Grayson has subverted the aggression of the UVF with his use of vivid pinks and the quite idealised, romantic image of five people on the back of a prancing blue and red horse wearing a crown.
The Ashford Hijab I found fascinating. I hadn't imagined that young white women converting to Islam was common but apparently it is. Here Grayson investigates what push and pull factors exist for a woman wanting to make such a profound move. On this screen printed silk, the young woman is leaving behind a world dominated by consumerism and binge drinking for a community of strong sisterhood.
Whatever you think about it, celebrity is deeply entrenched in our modern culture. People desire it, many see it as an ambition in itself. We are not the first generation to suffer with this but in our world of You-Tube and reality TV shows, fame can be immediate and obtained without a notable or worthy achievement.
Grayson looks at this in The Earl of Essex, an Elizabethan-style mini portrait of Rylan Clark, a previous contestant of The X Factor who also won Celebrity Big Brother. Rylan has been very open about his pursuit of celebrity and it's interesting how Grayson has added a reflective surface to his portrait - a reminder of the shiny surface of our modern smartphones.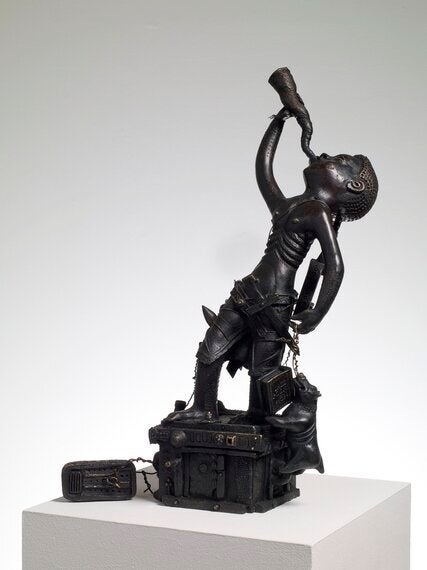 There's real tenderness in I am a Man, a small patinated brass figure of young female-to-male transsexual Alex. The piece reflects Peter Pan, Alex's favourite fictional character which, in turn, has echoes of unusual identity - the boy who never grew up and a male character that is often played by women. The style of the piece also has a nod to some of Perry's favourite sculptures, the Benin bronzes of West Africa.
This exhibition is wonderful, a brilliant collection of pieces that provoke and challenge. Given how well-known Grayson Perry has become, it's sadly easy for many to knock him so this collection is a timely reminder of how talented Grayson is. Away from the television screen you can see his artistry and the layers in his work for yourself to appreciate the artist behind the dress. Glorious and highly recommended.
National Portrait Gallery, London to March 15, 2015
1. The Ashford Hijab, 2014Courtesy the Artist and Victoria Miro, London Copyright: Grayson Perry
2. The Huhne Vase, 2014Courtesy the Artist and Victoria Miro, London © Grayson Perry Copyright: Grayson Perry
3. The Earl of Essex, 2014Courtesy the Artist and Victoria Miro, London Copyright: Grayson Perry
4. I am a Man, 2014Courtesy the Artist and Victoria Miro, London Copyright: Grayson Perry
Popular in the Community