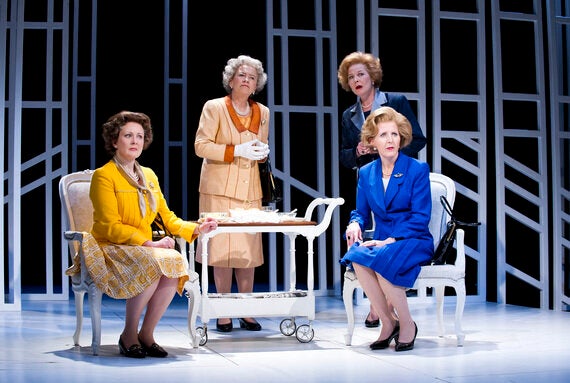 Handbagged is a magnificently funny dramatization of the clash of personalities between the two most iconic Brits of my lifetime - Margaret Thatcher and Queen Elizabeth II.
Loved and loathed respected and reviled but both women are so instantly recognisable in almost every aspect of their appearance, mannerism and even politics. Yet this well-crafted production avoids the clichés and pitfalls of caricatures to create a genuinely laugh-out loud comedy that brings out the clash of personality, politics and power wonderfully.
The play is based around the ritual weekly meetings between monarch and Prime Minister, a practice that is meant to be an opportunity for both to confide and consult (as well as be consulted). It's a dramatic setting that allows for these two women to reveal themselves - intentionally or otherwise - as well as giving a great sense of intimacy.
These meetings were of course the basis for another recent West-End show and I was fearful that this could be 'The Audience without Helen Mirren.' I couldn't have been more wrong. This play was effervescent with humour and energy, and the acting was also of the highest calibre.
As well as being a comedy, writer Moira Buffini avoids too much of a direct comparison with Peter Morgan's drama by adding the presence of both an older Maggie (Stella Gonet) and an older Queen (played by Marion Bailey who is so good, you think she could be the real thing) as ever-presents on the stage.
These two women watch over their younger selves like hawks, correcting and embellishing their dramatization as they go. A special mention must go to Fenella Woolgar as the younger Maggie, who caused jaws to drop with just how accurately she portrayed the PM's phrasing, her tilt of her head, and that calm but ever so patronising tone of voice. Awesome. And frightening!
It sounds like a nightmare combination - two Maggies and two monarchs - but the resulting crossfire of wit and wry observation is wonderful.
The Queen is known for having a really wicked sense of humour, and that is brought out here so well, especially as it crashes against the rocks of the humourless Thatcher. Yet Thatcher is rarely outplayed in repartee and it's left to the Prime Minister to point out to her seemingly left-leaning monarch that she is the only socialist who doesn't pay tax.
As this play leads us through the twists and turns, the highs and lows, of Thatcher's (many) years in office, it is funny, yes. But this is a very intelligent play that also weaves in moments of real poignancy, real pathos.
As the two icons exchange their experiences - their pain, their loss and their suffering - at the hands of the IRA with the bombings of both Mountbatten's yacht and at the Conservative conference in Brighton, you sense a moment when these two women finally connect.
It also addresses the violence and the injustices of the poll tax and the miners' strike with as much truth and honesty as the wit and humour it brings to Thatcher's exaggerated curtseying and her loathing of her visits to the Queen's residence at Balmoral.
The direction from Indhu Rubasingham is so nimble, so deft that these moments of poignancy hang just long enough for us to feel them before the production zips back into its fabulous witty verbal sparring.
The four women in the cast are ably supported by Neet Mohan and Drop the Dead Donkey's Jeff Rawle, who play a myriad of supporting characters including Dennis, Geoffrey Howe, Prince Philip, Arthur Scargill, Ronnie and even Nancy Reagan.
There's a real indulgent pleasure in watching these two icons go at each other hammer and tongs. Yes, most of us will know the ground this play treads and the stories it tells but there's something warm, something comforting about that familiarity.
I would recommend this show in a heartbeat. The writing was tight and the show kept up a great pace through its 2h 15min running time. I was completely immersed.
A quick thought though for anyone, like me, who plans to go as a last-minute thing. I hadn't bought tickets in advance and baulked at the top ticket prices of £70 and £50. At 6pm, I was able to get top price tickets for only £30 from the TKTS booth in Leicester Square. 4th row.
A great show and a wonderful evening's entertainment. Originally a Tricycle Theatre production, its West-End transfer is well-deserved. A definite go-see.
Vaudeville Theatre, London to August 2, 2014
Image credits: Handbagged at Vaudeville Lucy Robinson (Liz) Marian Bailey (Queen) Fenella Woolgar (Maggie) Stella Gonet (Thatcher) photo credit Tristram Kenton