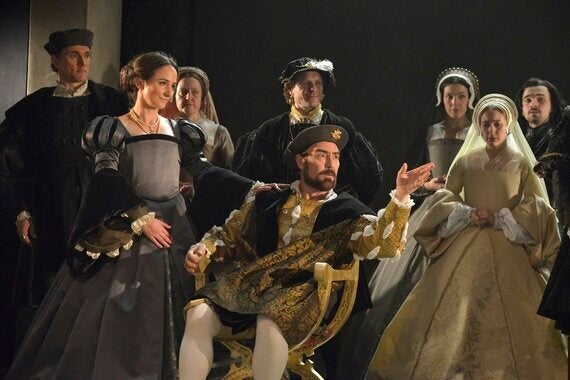 The stage adaptation of Wolf Hall is extraordinary. It's dark, absorbing, full of intrigue and historical detail. Yet it is also pacey, at times even funny. And incredibly it even feels modern and fresh.
Loyal to the novel, Wolf Hall is the story of Thomas Cromwell's tentative steps from observer to manipulator in the court of Henry VIII. As Henry's previously trusted coterie of advisers fluster and flounder in the face of his determination to divorce from Queen Katherine in favour of Anne Boleyn, Henry finds in Cromwell a man who can make bold, difficult decisions.
To translate Hilary Mantel's extraordinary work onto the stage must have been a huge challenge. The result is a resounding success as there is so much to applaud in this quite brilliant production.
In his adaptation of the book, Mike Poulton has created an engaging, absorbing play. Mantel's book is, of course, superb - but it is long and full of detail. Poulton's writing really brings energy to the piece, keeping the plot driving forward.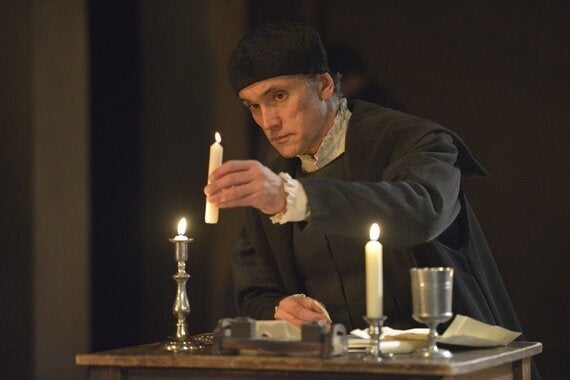 There's a lot of ground to cover in Wolf Hall but never once does this play drag, nor does it feel over-edited. Instead Jeremy Herrin's direction is nimble, weaving its way effortlessly through the plotting and scheming of the courts cliques, across locations, taking in a myriad of characters. There's also a smart use of humour to balance out the drier aspects of court politics.
Herrin must have had a few sleepless nights trying to figure out how to juggle all the many aspects to this play. There are so many themes going on here - religion, class, gender, power versus authority, justice versus the law - yet it all has come together in an engaging blend.
The acting on show is of the highest calibre. These are characters, figures from history, which we all know so well. How do you go about preparing, personifying, such familiar figure as Henry VIII and Anne Boleyn? Credit to every member in this cast as each of them was faultless.
It seems almost unfair to pick actors out from an extraordinary ensemble but special mention must go to Nathaniel Parker, who showed a real deft touch in his portrayal of King Henry VIII as a monarch with such potential slowly, but surely, become corrupted by his power and vanity.
Paul Jesson was also superb as Wolsey, the Cardinal hopelessly outmanoeuvred by events out of his control, and I also thought John Ramm brought a quite moving dignity to his Thomas More.
But there's no doubt that it's Ben Miles as Thomas Cromwell that is the heart and (sinister) soul of this production. The highest compliment I can give him is that it will be a very tough race between him and Mark Strong (for A View from the Bridge) for Best Actor come awards season.
As Cromwell is an observer for much of this part of the story, Miles had a real challenge in creating a character that is engaging, that the audience feels drawn to. Miles achieved that in spades, using a rather dry, acerbic wit to make Cromwell likeable, as well demonstrating a profound loyalty to those who have supported him, and to those he considers family.
But there were also surprises in this production.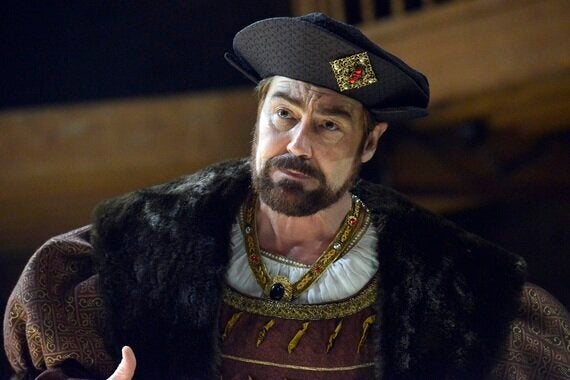 Set in a Tudor court, I came with expectations on what the set design would be. Expecting the traditional fair of dark wood, rich colours and heavy tapestries, I was blown away with the simple but incredibly clever set design from Christopher Oram (who impressed so much with his sets for the recent Michael Grandage season).
The backdrop is bare, stark - except for a large cross cut into it. Ambiguously it could be either the bare cross of the new protestant religion or it could be the cross of St George. I expect it is both - a beautifully, ominous shadow of how this complex intertwining of country and religion will be cleaved apart by the story taking place in front of it.
Wolf Hall has the perfect blend of character and plot. It is dark, scheming and it will grab you and absorb you till the very end.
The play's run has recently been extended to October. Given that much of the original run sold out, I urge you to get tickets soon for the new dates. You will not be disappointed.
Aldwych Theatre, London to October 4, 2014
1. Ben Miles, Lydia Leonard, Lucy Briers, Oscar Pearce, Nathaniel Parker, Madeleine Hyland, Leah Brotherhead Pierro Niel Mee. Photographer Keith Pattison.
2. Ben Miles (Thomas Cromwell). Photographer Keith Pattison.
3. Nathaniel Parker (Henry VIII). Photographer Keith Pattison.
Related