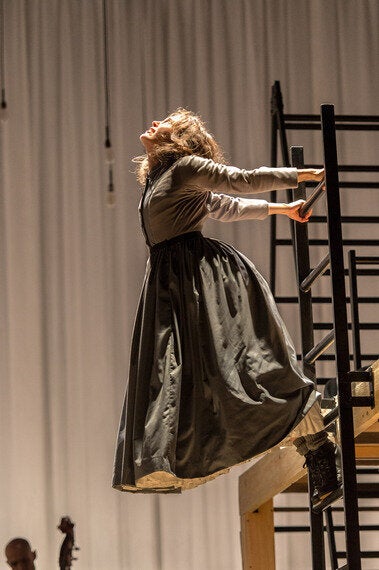 This adaptation of the much-loved book, Jane Eyre, is a really ambitious attempt to translate the entire novel into a dynamic, energetic production. The result is a whistle-stop trip through the story that touches on every single event in the book, but doesn't always capture the emotion.
Added to that, director Sally Cookson employs so, so many tricks and devices in the production that you feel a bit overwhelmed, a bit numb, and the heart of the story gets left behind.
Not that you don't know the story already.
Charlotte Bronte's tale of an orphan who battles extraordinary cruelty and injustice throughout her life, yet shows indomitable courage to shape for herself a life of love and compassion, is a classic. However stage adaptations require a choice to be made - what should be kept and what should be left behind?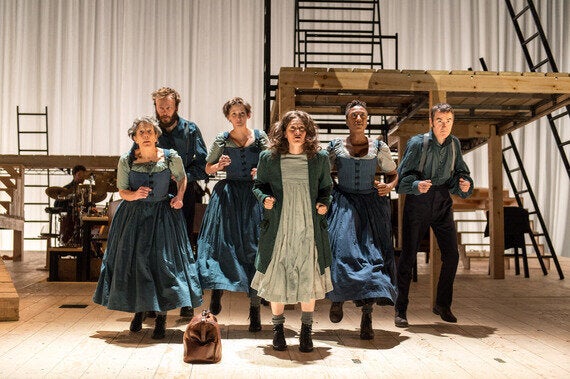 The issue is almost nothing is left behind. It's all here - Jane's birth, the death of her parents, death of her uncle, the cruelty of her Aunt, her friendship with Bessie, being carted off to Lowood Institution, her friendship with Helen, Helen's death, becoming a teacher, advertising as a governess, going to Thornfield Hall, meeting Rochester.... And all that is before the interval. I was exhausted.
But the profound impact of covering all of this ground is that you're not emotionally grabbed. I just wanted to halt the production and just go, 'stop, stop! Please, someone have a conversation with Jane for more than a minute.'
I was just longing for some emotional attachment and the speed in the production, its energy, is actually a real barrier to that.
To compensate, director Sally Cookson invests in an impressive production design. The Lyttleton is stripped bare and the play is staged on a two storey wooden platform, utilising a versatile company and many theatrical devices to turn this into a multi-functional space and an exciting piece of theatre.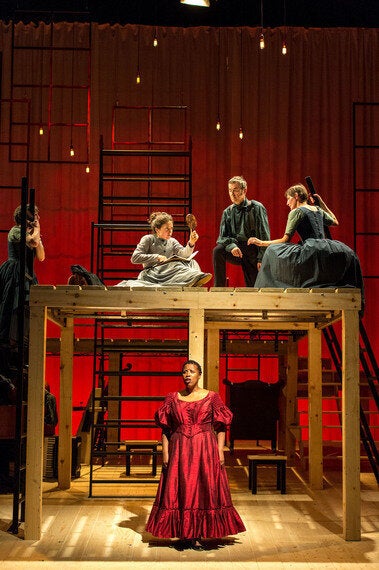 There's music and physical movement, on-stage costume changes and clever use of lighting and props. The company work their socks off playing the myriad of characters in Jane's life, and the ghostly noises from the attic are atmospheric and intriguing.
But often these tricks and devices were used again and again. And again. Such as Rochester's beloved dog, played superbly by Craig Edwards. When Craig first morphs into the dog, it's funny, unexpected and his replication of dog behaviour is extraordinary. But when it happens for the fifth, sixth, seventh, even eighth time, well, it's overdone. And distracting. You end up watching the dog and not the drama.
Similarly for the running. Endless running. Whenever Jane was on the move, the company would come together into the centre of the stage and, focus forward, run together in unison. The first time it happens, you think, wow. But second, third, fourth time... Yes, you get the picture.
One that is effectively used is the subtle use of the company as a chorus, verbalising the internal conflict in Jane's head. Credit to dramaturg Mike Akers for pulling that out of the book and on to the stage. A wise and clever choice over the more obvious soliloquy.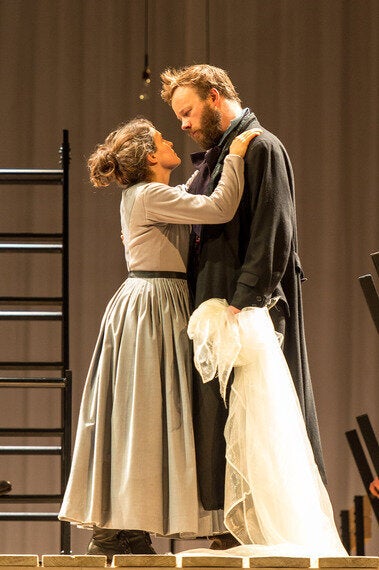 There is no doubt that the staging is impressive but there's the sense that director Sally Cookson has pulled all the tricks out of her bag. No need. Keep some in the bag. It's evident that she is a real talent with great vision. She didn't need to overplay her hand.
Having said that, perhaps the Lyttleton, with its traditional proscenium arch layout, was not best suited for this production. The Dorfman would have been far more appropriate. The set design from Michael Vale would shine in the round and it's a shame it's not given that opportunity here.
The acting though is impressive from all. Madeleine Worrall gives a spirited performance as our heroine, always challenged by what life throws at her but never broken. And she works hard, never leaving the stage. And Felix Hayes is a commanding, tormented Rochester.
Yet when their dramatic reconciliation comes, it doesn't hit hard. It's then that you realise that too often this production plays the head and not the heart, which is a shame. There is the essence of a really interesting production here but just too many ingredients. Less would have been so much more.
National Theatre, London to January 10, 2016
1.Madeleine Worrall (Jane), Jane Eyre at National Theatre. Photo credit: Manuel Harlan.
2.(From l to r) Maggie Tagney, Felix Hayes, Laura Elphinstone, Madeleine Worrall, Simone Saunders and Craig Edwards. Jane Eyre at National Theatre. Photo credit: Manuel Harlan.
3.The company of Jane Eyre. Jane Eyre at National Theatre. Photo credit: Manuel Harlan.
4.Felix Hayes (Rochester) and Madeleine Worrall (Jane). Jane Eyre at National Theatre. Photo credit: Manuel Harlan.
Popular in the Community