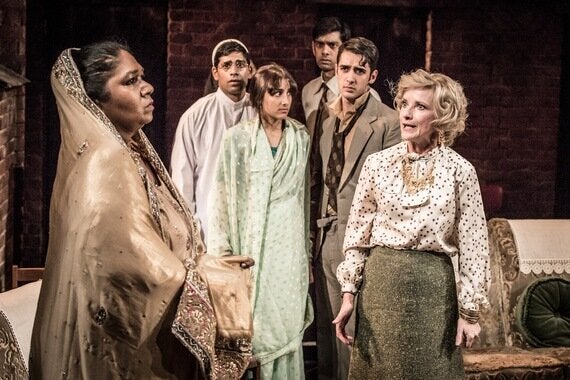 East is East is a bright, well-observed comedy about the issues facing second-generation Pakistani children born and raised in the UK. Starring the gloriously talented Jane Horrocks and writer Ayub Khan-Din, the play has a terrific pace with an excellent balance of humour and pathos to keep you hooked.
The play is set in Salford in 1971 against the background of the Indo-Pakistani War in Kashmir. Zahir "George" Khan, a middle-aged man and father of seven, is incredibly affected by the conflict but his kids aren't interested at all - Pakistan is not home to them.
Instead the kids are more concerned with rebelling against the suffocating authority of their father. The young Sajid has a late circumcision forced upon him when his Dad finds out this was skipped when he was younger and there are rumours of pending arranged marriages for his two older sons Abdul and Tariq.
Jane Horrocks brings a warm humanity to her portrayal of Ella, George's British wife who, for the sake of her family, has her two feet planted in two very different cultures whilst also dealing with the shadow of her husband's first wife back in Pakistan.
Ayub Khan-Din's casting as her husband is an interesting one as he wrote both this play and the screenplay of the 1999 film. I have not seen the film and was too young to see the play when it opened at the Royal Court back in 1997 so this was my first encounter with this popular story.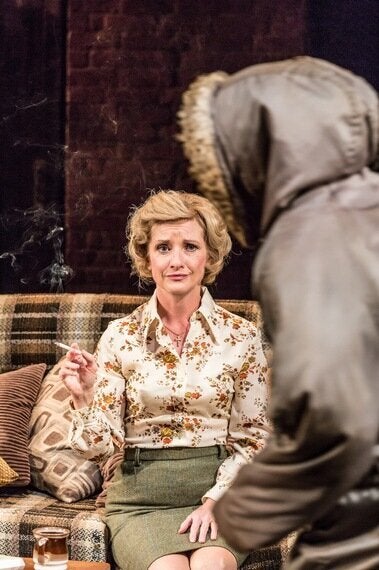 What grabbed me, what I loved, was that this show is very funny, yes, but it has teeth. There is a dark side.
The kids seem to jokingly refer to their Dad as "Genghis" and at first you think nothing of it as we all think of our parents as dictators when we're kids. But when George is revealed to be a violent husband and father, the sudden change in tone really lands.
However I did feel a sense of hesitancy, of tentativeness in the violence. Ayub Khan Din's George didn't seem as much of a tyrant as his kids were building him up to me. Perhaps the ferocity had been turned down a bit too much.
But for all the understandable emphasis on the star casting of the parents, it is the six children who really grab you, each actor delivering a superb performance. Their work individually and together really evokes a strong family bond. Though they bicker and tease each other mercilessly, the unspoken love between them is obvious in their willingness to confront their parents for the sake of each other.
The direction from Sam Yates is superb. The scenes flow effortlessly into one another, keeping the energy and drive throughout the two-hour running time. Yet though the pace is fast, it is broken up by these sudden flips in tone which really surprise you and they're always given just the right amount of time to hang in the air.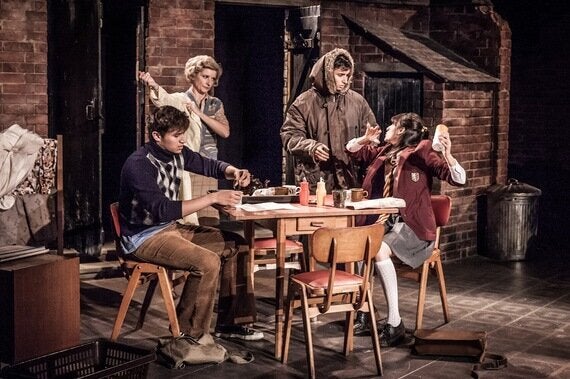 A mention must go to the set design from Tom Scutt. Really bold sets have been a feature of Jamie Lloyd's Trafalgar Transformed seasons and the run continues with an evocative inside-out design that sees Coronation Street-style terraced houses furnished with 1970s style chintz décor.
But though I did enjoy the play, I'm not sure how much it speaks to us now. It's interesting how much I felt this was a play of its time.
The children are adamant that they are British rather than Pakistani and this is shown again and again throughout the play - a stand-out moment being the troubled Sajid shouting "Here come the Pakis" when the Pakistani family arrive to discuss the arranged marriage of his two elder brothers.
Would this be a universal truth today? As a white woman, I cannot say for sure, obviously. But in this post 9-11 age, I feel that cultural identity is a lot more confusing for those of both British and Pakistani heritage.
I enjoyed this production very much but it's interesting how quick it has become dated. I came away more interested in what East is East would be like if it were written today. Still funny? Hopefully, but darker, for sure.
Trafalgar Studios, London to January 3, 2015
1. L-R Mrs Shah (Rani Moorthy) Maneer (Darren Kuppan) Meenah (Taj Atwal) Tariq (Ashley Kumar) Abdul (Amit Shah) Ella Khan (Jane Horrocks) in East is East. Photo by Marc Brenner.
2. Ella Khan (Jane Horrocks) in East is East. Photo Marc Brenner.
3. L-R Saleem (Nathan Clarke) Ella Khan (Jane Horrocks) Sajit (Michael Karim) Meenah (Taj Atwal) in East is East. Photo Marc Brenner.
Related