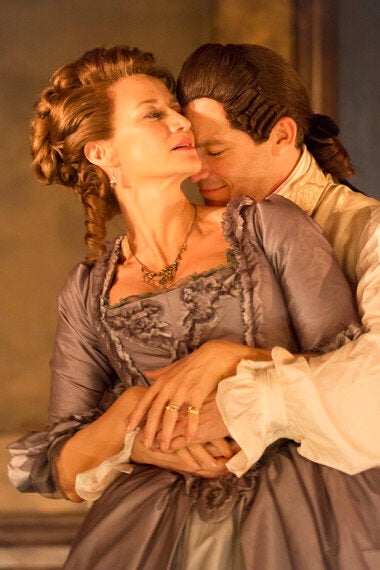 Les Liaisons Dangereuses really is such a terrific play. Christopher Hampton's adaptation of Choderlos de Laclos' novel is just so good - full of passion, intrigue, betrayal, loss and gender politics. And all these themes wrapped within this well-known story of a pair of schemers in pre-Revolutionary France.
Marquise de Merteuil (Janet McTeer) and her former lover, Vicomte de Valmont (Dominic West) pass their time sabotaging the love and relationships of those unfortunate enough to cross their paths in French high society.
The latest game is set by the Marquise - she wants Valmont to corrupt the innocent Cecile de Volanges (Morfydd Clark), who is about to be married, simply because Cecile's fiancé is an ex-lover of the Marquise. Valmont though doesn't see this as much of a challenge, preferring instead to go for the virtuous and married Madame de Tourvel (Elaine Cassidy).
Slightly put out that Valmont may have interests elsewhere, the Marquise adapts her proposal to ensure both she and Valmont get what they want - and that Valmont does not replace the Marquise at the top of his list with someone else.
But of course, none of this is going to end well.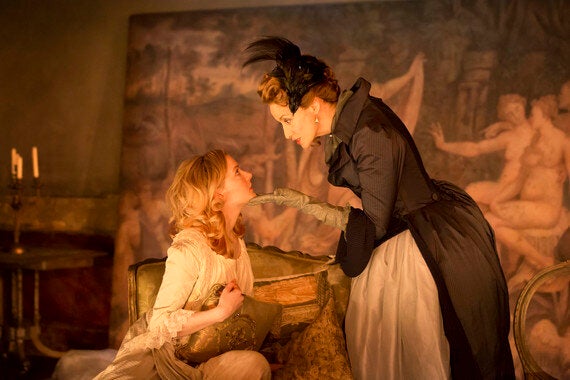 This production at the Donmar has all the tight bodices, powdered wigs and huge chandeliers you could hope for. Yet this is a clever set design from Tom Scutt as these chateaus and their inhabitants start off covered with plastic dust sheets, paint flaking off from the crumbling walls and the paintings shoved up against the walls.
This is history coming to life. This is a story from the past, memories, lessons coming back to remind us.
Janet McTeer is glorious as the scheming Marquise. Positively luminous. She oozes malevolence and dangerous insincerity. Her interpretation may not be overtly sexual but this is an impressive performance that perfectly captures a tender fragility as the Marquise realises she is playing a game with something and someone that she can't bear to lose.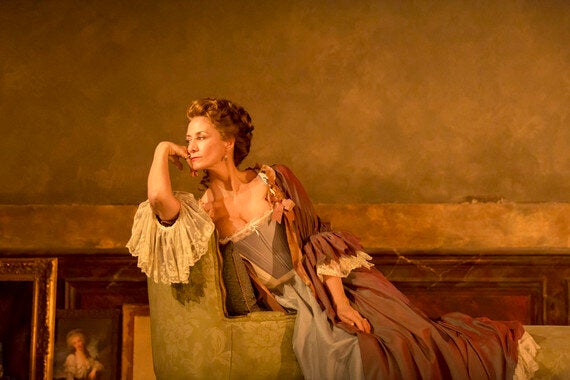 Sadly though I didn't feel she was matched by Dominic West as Valmont. He was still fluffing his lines, though we are quite a way into the run now. But more fundamentally I wasn't sure that this was a Valmont that gripped and menaced.
Here, Valmont is played as a swaggering cad, and so there was none of that Machiavellian spirit which Valmont should exude. Here he's more Jack the lad. Valmont should be sinister, threatening even. Here he's more your quintessential 'bad boy,' which doesn't really work.
As a result, there is a lack of chemistry between these two schemers that does draw the delicious poison out from this production somewhat.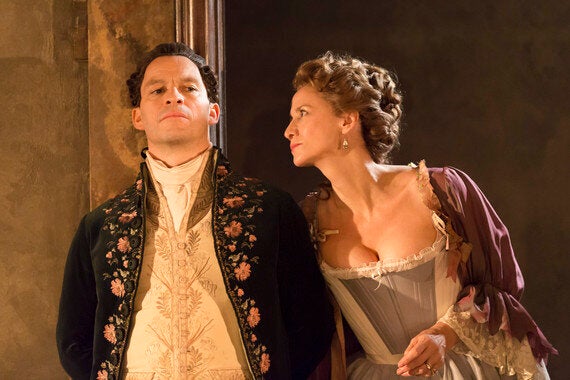 But what excited me most was just how bitingly relevant the gender politics in the writing remains. Yes, these women are restrained by the assigned gender roles of 18th century France but, tell me, has this changed much?
And clearly director Josie Rourke agrees that little has moved on as there was a knowing relevance in the Marquise's outburst that the promiscuity that society exalts and applauds in men is condemned and shamed in women. Just as true today. Time moves on, empires rise and fall, yet still nothing changes for women.
That's not to say that this play isn't without its challenges for modern audiences. Most notably the scene where Valmont 'seduces' Cecile. Fresh out the convent, Cecile is completely out of her depths in French society, let alone as a plaything in the Marquise's and Valmont's games.
This seduction scene is, at best, sexual assault. At worst, this is rape. Yet somehow, by the end of the scene, we have to get to the conclusion that Cecile likes sex.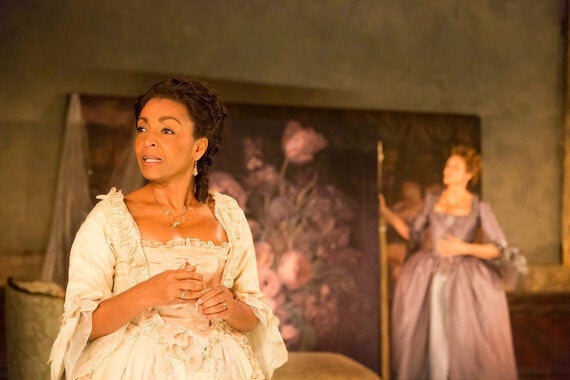 This is an undeniably tricky scene and it's not an easy one to watch. My anxiety wasn't helped by guffaws of laughter from many in the audience. But credit to Josie Rourke, this scene is not played for laughs at all (I'll charitably conclude that many in the audience were perhaps laughing because they felt uncomfortable. Perhaps).
What makes this scene (just about) bearable is a perfectly pitched performance from Morfydd Clark whose Cecile is nuanced and conflicted enough to make this work.
This is a great revival of a terrific play with much in its message that still (sadly) resonates 30 years after it first opened.
Les Liaisons Dangereuses is sold out for the rest of its run, with only returns and the mad dash that is the weekly Barclays Front Row lottery as the options available to get tickets. However this will be broadcast live in cinemas in partnership as part of NT Live on 28 January 2016.
Donmar Warehouse, London to February 13, 2016
1.Janet McTeer (La Marquise de Merteuil) and Dominic West (Le Vicomte de Valmont) in Les Liaisons Dangereuses at the Donmar Warehouse - photo by Johan Persson
2.Morfydd Clark (Cecile Volanges) and Janet McTeer (La Marquise de Merteuil) in Les Liaisons Dangereuses at the Donmar Warehouse - photo by Johan Persson
3.Janet McTeer (La Marquise de Merteuil) in Les Liaisons Dangereuses at the Donmar Warehouse - photo by Johan Persson
4.Dominic West (Le Vicomte de Valmont) and Janet McTeer (La Marquise de Merteuil) in Les Liaisons Dangereuses at the Donmar Warehouse - photo by Johan Persson
5.Adjoa Andoh (Madame de Volanges) in Les Liaisons Dangereuses at the Donmar Warehouse - photo by Johan Persson