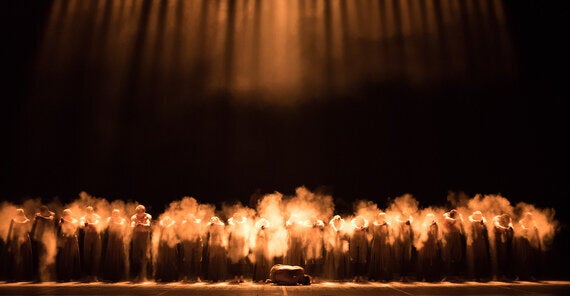 Lest We Forget is a powerful and extraordinary collection of three dance pieces that English National Ballet (ENB) premiered in 2014 to commemorate the centenary of the First World War. Universally critically acclaimed, the show went on to win The South Bank Sky Arts Award for Best Dance.
Like many others, I was so disappointed to miss the shows that ran at the Barbican Centre last year so I was genuinely thrilled when the ENB announced a new run. Often having high hopes for a show is not a good idea - that risk of being disappointed - but there's no chance of that with Lest We Forget. Its impact is as devastating as its technical excellence is profound.
Three of the most sought-after choreographers - Liam Scarlett, Russell Maliphant and Akram Khan - were each commissioned to create a piece and the results are a beautiful collection that reflect not just the conditions of the War, but also the impact on both combatants and society. And the blend of modern choreography with the discipline of ballet in each piece adds to their dramatic effect.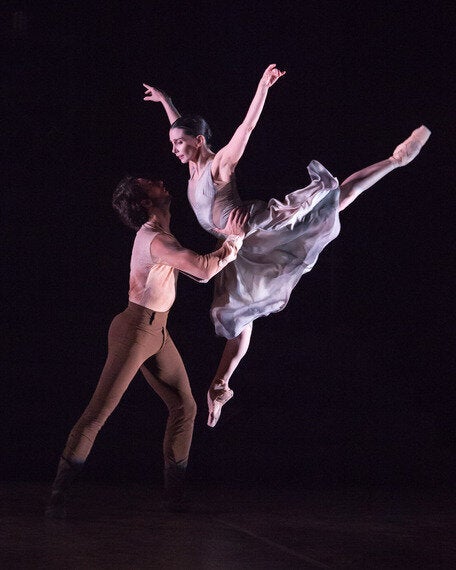 Liam Scarlett's No Man's Land opens the show and it is a gripping and innovative performance that shows the effect of the War both on the men sent off to fight, and the transformative effect on the women who were left behind.
The choreography is impressive, with a fascinating contrast between the punishing effects on the men, who become broken and traumatised, and the whirling transformation of the role of women, as they fill the production lines in the factory, rhythmically completing their tasks that are freeing them from the trappings society caged them in before.
There is, of course, something perverse and awful in the fact that women prepared the bullets that their fathers, sons and husbands used to kill the husbands, sons and fathers of other women. And this dance captures that terrible irony so well.
It is though only right that the piece ends on a note of loss. Obviously not all men came home and that is beautifully reflected in a tender pas-de-deux between a woman (Alina Cojocaru) and the ghost of her lover who went but did not return (James Forbat).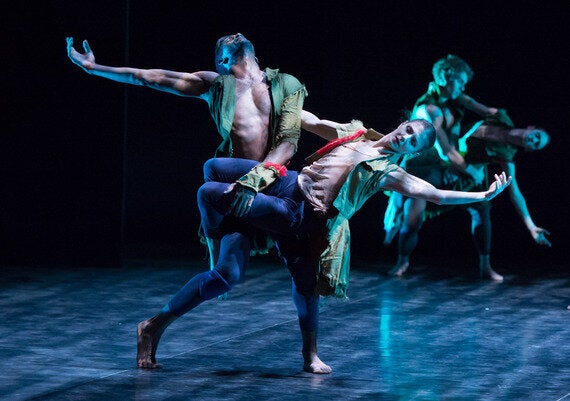 The second piece, Russell Maliphant's Second Breath, is a far more emotional reaction to the loss and trauma of war, with no obvious narrative in the choreography.
Leading the dance are Alina Cojocaru and Junor Souza, who I've seen perform before and who I think is a real rising star. And his seemingly effortless power and grace were a perfect foil for the delicate elegance that Alina Cojocaru always brings to the stage. The mix of her fragility and his strength was beautiful.
The finale is the much-lauded Dust by Akram Khan - it won Best Modern Choreography at last year's Critic's Circle National Dance Award - and to see it is to understand why this piece has become so celebrated. It is awesome, it really is.
Tamara Rojo, of course, impresses as the woman waiting at home for her man but it is the physical performance from the two male soloists - James Streetar and Fabian Reimair - that grips you. For this is a piece about the trauma of war, about PTSD. About how a soldier never really leaves the battlefield, even after the war is over.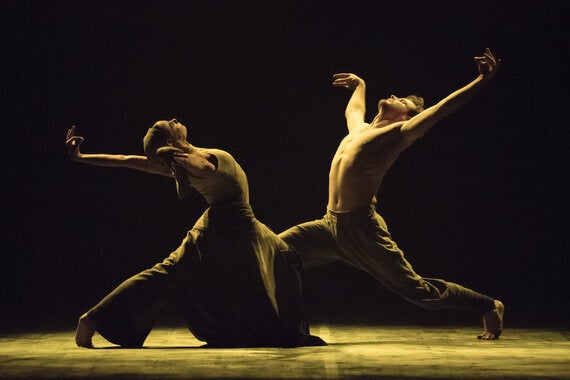 Each piece is superb but Dust, for me, really brought home that for many soldiers, the war never ends. Dust resonates, it really does. It haunts you. Its impact will stay with you long after the curtain comes down.
This show is running at Sadler's Wells for one week only and, considering its critical acclaim, expect tickets to fly. It then goes on to Milton Keynes and Manchester so catch it if you can. Lest We Forget is an extraordinary blend of dance styles and, when mixed with such a profound emotional impact, it is unforgettable.
◾Sadler's Wells, London to September 12, 2015
◾Milton Keynes Theatre, October 20, 2015
◾Palace Theatre Manchester, November 24, 2015
1.Lest We Forget, English National Ballet. Dancers of English National Ballet in Dust by Akram Khan. © Photography by ASH
2.Lest We Forget, English National Ballet. Tamara Rojo and Esteban Berlanga in No Man's Land © Photography by ASH.
3.Lest We Forget, English National Ballet. Alina Cojocaru and Junor Souza in Second Breath © Photography by ASH.
4.Lest We Forget, English National Ballet. Tamara Rojo and James Streeter in Dust by Akram Khan © Photography by ASH