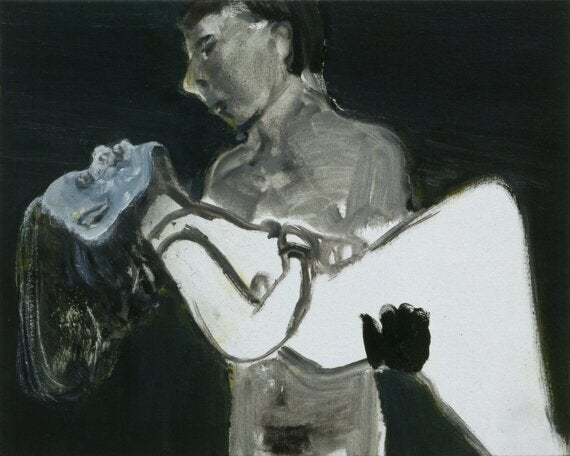 Marlene Dumas is one of the most prominent painters working today. This retrospective at the Tate Modern is one of the most significant exhibitions of her work ever to be held in Europe and showcases her compelling output which explores the psychology of our society today, the importance of the image, and is a fascinating examination of the depiction of women in today's culture.
Marlene was born in South Africa at a time of apartheid and censorship, where simply a picture of Nelson Mandela was considered to be so dangerous that it was banned. This deep and profound relationship between banning an image and infusing it with power and meaning must have made an impact on Marlene as it has shaped her work.
Marlene moved to Europe, to Holland, in the 1980s but she remained fascinated with the image. Preferring to work from photographs and media images rather than real life, Marlene takes pre-existing pictures and re-examines them in a way which brings out their inner reality.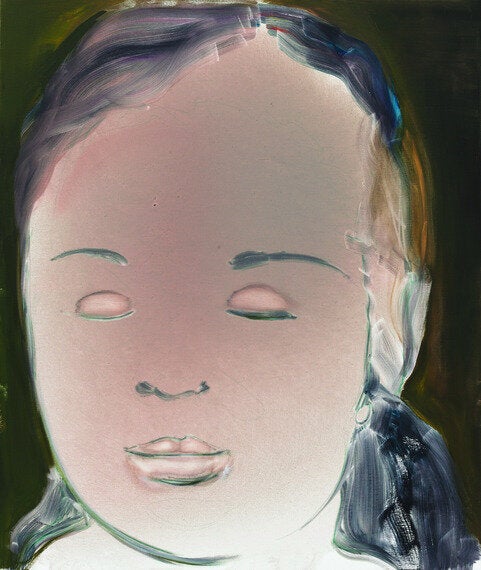 The result is a catalogue of intense, psychologically-charged paintings, which mix art history with popular culture and current affairs. The works reflect on love and death, gender and sexuality, and mass media and celebrity.
Marlene once said, "You change the colour of something and everything changes" and such is the power of the colour palette Marlene works with that her paintings pack a real punch. Whether it's Amy-Blue (2011), the close-up of Amy Winehouse drenched in depressing blue hues or The Painter (1994), the naked child whose deathly pallor is contrasted with the blood-red paint that covers her hands, the colours infuse Marlene's work with a haunting, dangerous, almost sinister feeling.
And this impact of a change in colour is brought out explicitly in Reinhardt's Daughter (1994) and Cupid (1994), two paintings hanging side by side. It's the same image - a baby asleep on a bed - but in one painting the soft pink skin tones exudes warmth and comfort, in the other the angry reds and severe blacks evokes fear and anger.
This exhibition is called The Image as Burden, a title taken from one of the many powerful images on display. This small painting, which is based on a film still of Greta Garbo in Camille, shows one figure carrying another yet it's a pose that resonates with us as it brings to mind images of political violence, with the dead and wounded being carried away, and even the dead Christ in the arms of Mary.
So many of Marlene's paintings are loaded like this. This search for meaning, this heavy weight, the burden of the artist trying to find meaning in an image, fills many of the works on show.
A personal favourite, Losing (Her Meaning) 1988, shows the deathly pale body of a woman face down in water, whilst next to it in Dead Man, a man is floating dead in the water. And opposite is Waiting (For Meaning) 1988, where a naked body lies prostrate over a draped coffin. What does it all mean? The pictures have so much anguish in them.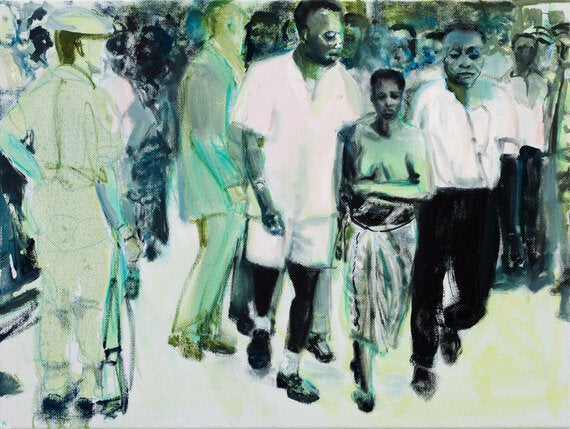 The power of images fascinates Marlene, whether those images are ones we see in popular culture and in the media, or whether it's the general politicisation of the female body itself.
One room in the exhibition is set aside for Marlene's studies of the female naked body and pornography. In these paintings, a series of naked men and women are painted in a series of provocative poses either masturbating or exposing themselves. As a compare and contrast exercise, it is potent.
As Marlene herself has said, these paintings aren't supposed to be anatomically correct. In fact, far more is hidden than shown but it demonstrates how a picture of a woman touching herself is far more erotic, far more challenging to the viewer, than a naked man.
This censorship of the female form is something that Marlene returns to again and again in her work. In The Trophy (2013) and The Woman of Algiers (2001), Marlene's paintings are based on news photographs of naked women who had been captured and were being shown as trophies to the camera.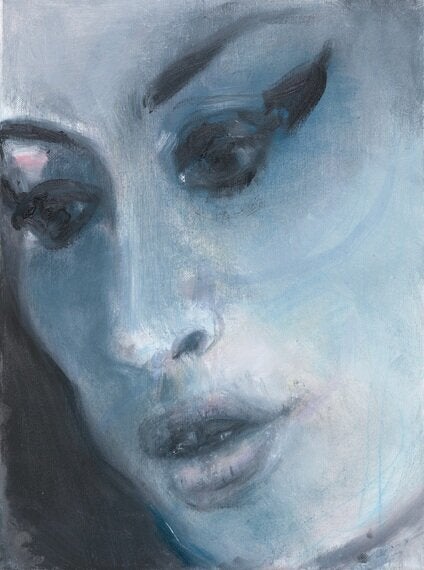 Only in the papers, the pictures of the naked women were shown with two thick censorship bars covering those parts of the female body that were considered necessary to censor. Marlene retains those censorship bars in her paintings and, as such, these are a reminder of how female bodies are portrayed in our culture and how, for women, their bodies remains political.
And though these images may be from old wars, Marlene brings this theme up to date in works such as Great Britain (1995-1997), where a painting of a naked Naomi Campbell, the black supermodel, is shown alongside the white princess - Diana - in her soft pink gown and tiara. The black woman naked, the white woman clothed. The pictures say it all.
This is such a stunning exhibition. The works are dark, yes, and they will haunt you but they are also extraordinary and necessary. Marlene Dumas is not an artist that many are familiar with so it is very exciting that this exhibition will bring her work to the attention of a new and broad audience.
The Tate is running a series of events throughout the course of the exhibition to discuss the ideas and themes in this show. Included in these is a talk from Marlene Dumas herself on April 16th, which is sure to be a fascinating discussion.
Tate Modern, London to May 10, 2015
1. Marlene Dumas, The Image as Burden, 1993 Private collection, Belgium © Marlene Dumas Photo: Peter Cox
2. Marlene Dumas, Helena's Dream, 2008 Kunsthalle Bielefeld © Marlene Dumas Photo: Peter Cox
3. Marlene Dumas, Evil is Banal, 1984 Collection Van Abbemuseum, Eindhoven, The Netherlands © Marlene Dumas Photo credit: Peter Cox, Eindhoven, The Netherlands
4. Marlene Dumas, The Widow, 2013 Private Collection © Marlene Dumas
5. Marlene Dumas, Amy - Blue, 2011 National Portrait Gallery, London © Marlene Dumas Photo: Peter Cox