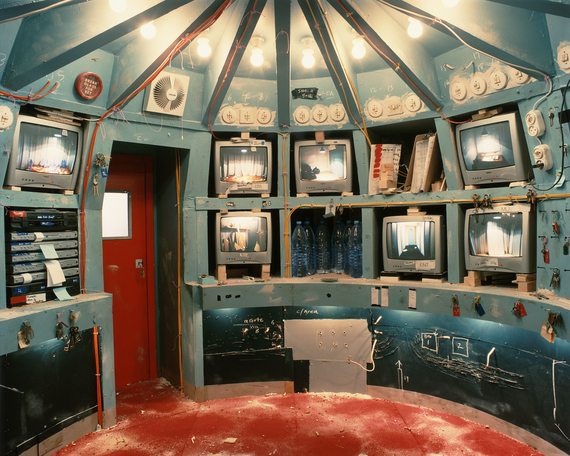 MIRRORCITY showcases new and commissioned work by artists living in London on the challenges and impact of living in a digital age. The exhibition presents artworks in a wide variety of media, from paintings to film, from sculpture to sound. But all of it questions that gap between our virtual lives and our reality.
It's interesting the different approaches the artists have taken, from the deliberately chaotic to the dark but definite. The deliberately chaotic I had expected. Disjointed images shown with unconnected and obscure objects were aplenty, as were sculptures whose purpose or even definition was unclear.
That's not to say there isn't worth in Ursula Mayer's dramatic film clips Gonda and Medea shown with her sculptures Visceral Flowers, Prosthetic Kiss and See You in the Flesh, or in Helen Marten's sculptural assemblages that lack any easy explanation. These pieces are well-observed and have a lot to say. Certainly the virtual world is chaotic, it does lack clean lines and simple definition but I found the unexpected more interesting.
For example, Aura Satz has created a sound installation, Dial Tone Operator, from the dial tone that used to accompany the old telephone exchanges. In this, the familiar tone has been edited into a piece of dance music that sounds like the hum, the buzz, of a city alive with communications - but communications that drown out the sound of humans.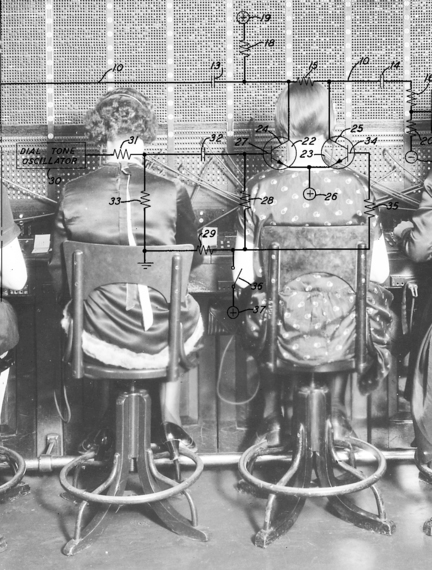 Lynette Yiadom-Boakye and Tai Shani brought a touch of the surreal to their works, which I really liked.
Lynette presented a series of, what seemed to be, portraits of young black men. They are beautiful pieces with a strong colour palette and a clear sense of the features and emotions of the sitter. Only it transpires that these are not real people but rather paintings of imaginary characters she has created from her imagination.
Whereas Tai created a whole new world in her work, Dark Continent. This installation piece, which incorporates video footage and the spoken word, is of a dreamlike world where a quasi-Ancient Greek temple is filled with glowing candles and projections of a non-earthly godlike woman.
Mohammed Qasim Ashfaq's works also stood out. I liked his dark Black Hole III. The piece is deceptive as from afar, this looks like a simple but dark circle. Yet on closer inspection you can make out groves, lines and even a variety of intensity in its darkness.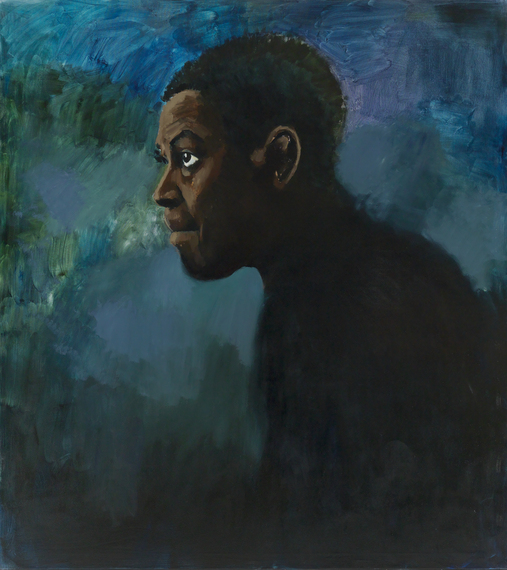 I find it interesting though that few of the artists looked at our virtual activity with much positivity. A possible exception to this was Karen Mirza and Brad Butler's work drawn from the Cairo protests that brought down Mubarak.
This was a revolution that was heavily influenced by use of social media and the internet. And in How To Protest Intelligently, they examine the communications and directions sent out to protestors to improve their effectiveness.
I also liked Tim Etchell's examination of the impact of the virtual life on our communications, only he took a more negatively slanted view.
In City Changes, Tim created a sequence of 20 prints where a simple passage about life in the City becomes continually manipulated, edited and exaggerated across the prints until finally, by the end, it bears little resemblance to the first print i.e. To reality. It's an interesting commentary on the manipulation of reality online and how we project ourselves too.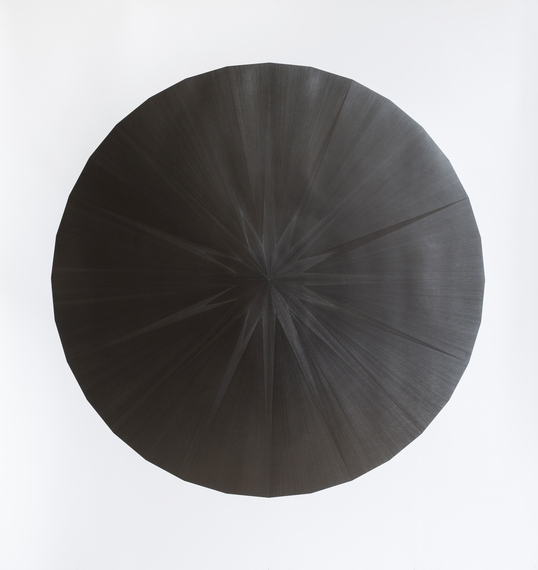 There certainly is a huge diversity of works in the exhibition. Some of it you may love, some of it may just pass you by. But that is a great sign of an exhibition that challenges its artists as well as its visitors.
An unintended highlight for me was watching a visitor, disengaged from the film projection in front of him, choosing to check his Twitter on his smartphone instead. Unintended irony like that, you couldn't make it up!
More and more, the lack of clear definition between our virtual and real worlds is becoming obvious, making this a timely exhibition. MIRRORCITY is certainly a challenging and thought-provoking collection of works and it really adds to our discourse on the gap between our virtual lives and the real world.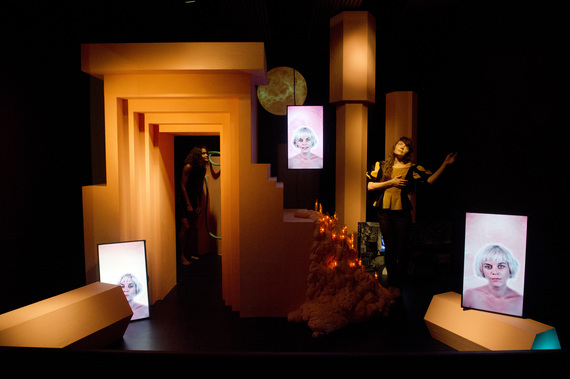 Hayward Gallery, London to January 4, 2015
Image Credits:
1. Anne Hardy Building, 2006 diasec mounted c-type print © Anne Hardy, courtesy Maureen Paley, London
2. Aura Satz Dial Tone Operator, 2014 © and courtesy of the artist, 2014
3. Lynette Yiadom-Boakye Uncle Of The Garden, 2014 Courtesy the artist, Corvi Mora, London and Jack Shainman Gallery, New York Photo: Marcus Leith
4. Mohammed Qasim Ashfaq Black Hole III, 2012-13 © the artist Photographer Damian Griffiths
5. Installation view, Tai Shani Dark Continent, MIRRORCITY at Hayward Gallery 2014. Photo: Linda Nylind