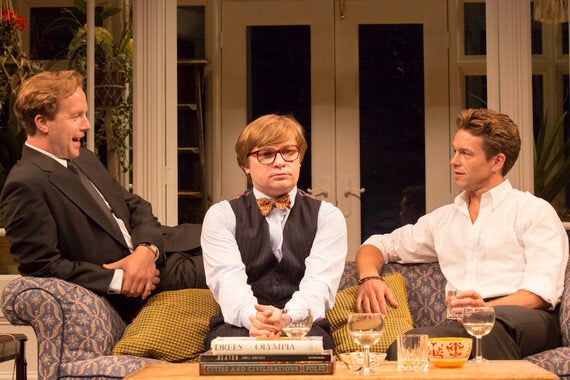 My Night with Reg is a funny, bittersweet play about a group of men and the complex web of friendships and relationships that connects them.
That this story is about gay men in the 1980s and that not all of them make it through to the end alive might give the impression that this is a heavy, depressing play. Not at all. In fact, this play is incredibly funny, with moments of real tenderness. I wasn't bored or depressed for a second.
Guy (Jonathan Broadbent) is a sensitive, romantic soul who's preparing for a house-warming. Yet little does he realise that this one, seemingly innocuous event, will start to unravel the bonds between his friends.
Guy's nursing an unrequited love for the charismatic and handsome John (Julian Ovenden). But John is oblivious to this, instead consumed with his secret relationship with the titular Reg, who just happens to be the partner of his on-off friend of many years, the passionate and extroverted Daniel (Geoffrey Streatfeild).
And complicating the situation even more is the unhappy couple of Benny (Richard Cant) and Bernie (Matt Bardock) who are trying desperately to mask the issues in their rapidly deteriorating relationship.
And thrown into the mix is the young, wide-eyed Eric (Lewis Reeves) whose youth and vitality is a sobering reminder to the middle-aged men of the inevitable passing of time.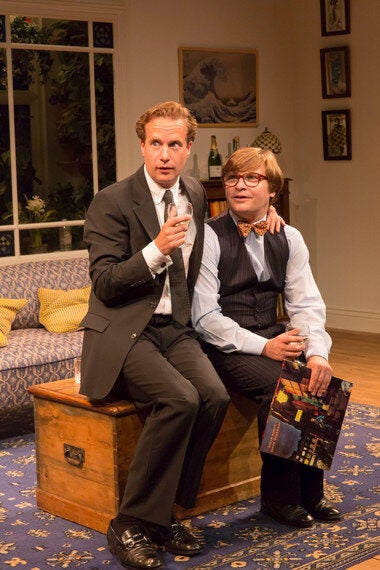 The acting in this play is superb. It seems unfair to pick out any of the six actors in particular as each brings real depth to their parts which, on paper, might seem clichéd. Each is so adept at bringing out the sub-text in the writing, which is so crucial in a play where everyone seems to be holding their cards close to their chest.
The direction from Robert Hastie is excellent. The production is paced perfectly, exploiting the sharp dialogue and witty one-liners in the writing, as well as allowing moments of revelation and tragedy to make their impact.
The time jumps are also cleverly disguised with us, the audience, often playing catch-up when we realise new scenes are set after a passing of time and our brains rush to fill in the gaps, to work out what's happened in-between.
This play was written by Kevin Elyot, who sadly died in June this year, just before this production opened at the Donmar - the first major revival of the play since its premier at the Royal Court in 1994.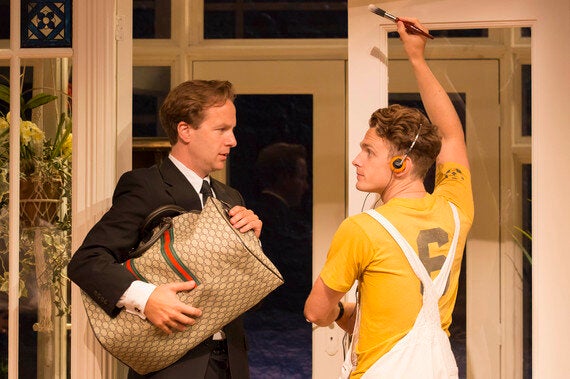 When this play first appeared, many categorised it as a 'gay play' but this is patronising as what I love about this play is how universal its themes are. Yes, this is a play with gay men, but it isn't necessarily a play about gay men. Its themes of love and lies are common to all of us.
That My Night With Reg is set in the 1980s is not hidden. Indeed the play bursts into life to the sound of The Police's Every Breath You Take. And given the prevailing issue of that time, it's no surprise that AIDS looms like a spectre over the lives of these six men.
Prior to seeing this play, I had been anxious that the impact of AIDS might overwhelm the play both dating it and reinforcing an uncomfortable stereotype. Thankfully I was wrong. Though not all the men survive to the conclusion of the play, and it's clear that AIDS is the cause, the disease isn't front and centre.
Instead the play is a beautiful investigation of the impact, good and bad, of an absence of truth and honesty in relationships and as a result, this play remains relevant as well as wonderful.
Donmar Warehouse, London to September 27, 2014
1. Geoffrey Streatfeild (Daniel), Jonathan Broadbent (Guy) and Julian Ovenden (John) in My Night With Reg. Photo by Johan Persson.
2. Geoffrey Streatfeild (Daniel) and Jonathan Broadbent (Guy) in My Night With Reg. Photo by Johan Persson.
3. Geoffrey Streatfeild (Daniel) and Lewis Reeves (Eric) in My Night With Reg. Photo by Johan Persson.